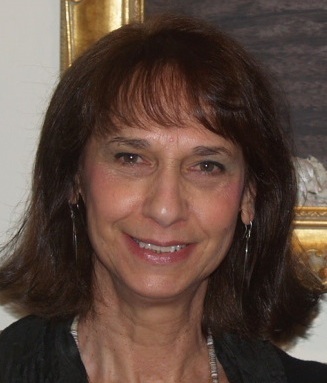 Laurie Hollman, Ph.D. is a psychoanalyst with specialized clinical training in infant-parent, child, adolescent, and adult psychotherapy. She has been on the faculties of New York University and the Society for Psychoanalytic Study and Research, among others.
She has written extensively on parenting for various publications, including the Psychoanalytic Study of the Child, The International Journal of Infant Observation, The Inner World of the Mother, and Newsday's Parents & Children Magazine. She writes her popular column, PARENTAL INTELLIGENCE, at Moms Magazine and blogs for Huffington Post. Her new book is Unlocking Parental Intelligence: Finding Meaning in Your Child's Behavior.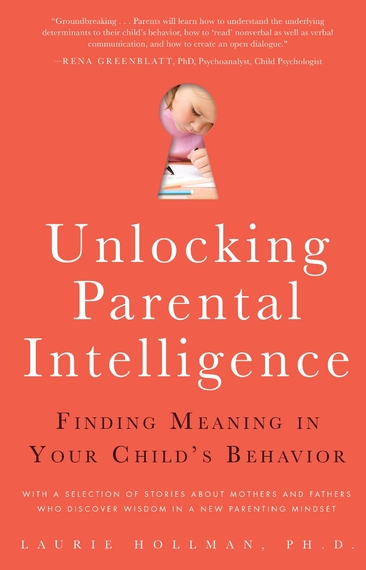 Unlocking Parental Intelligence: Finding Meaning in Your Child's Behavior reaches new or seasoned parents. There are always questions you have about your children. You don't understand why they can't just listen to what you say.Unlocking Parental Intelligence allows parents, of all walks of life, to answer the questions:
Why do children do what they do?
What's on their minds?
How can parents know their child's inner world?
Unlocking Parental Intelligence lifts the curtain on these questions by helping parents become "meaning-makers" who understand the significance behind their kids' behaviors. With five enlightening steps, parents will solve problems by learning what their kids think, want, intend, and feel. They will see actions as communications. The challenge is to understand their messages.
Parental Intelligence helps parents as they wrestle with the common and sometimes desperate vexations of family life. Experienced psychoanalyst Laurie Hollman, PhD, explains Parental Intelligence through compelling stories of parents who view distressing behaviors as catalysts for change by transforming them into open exchanges of ideas and feelings.
Stories about parents using Parental Intelligence to understand various puzzling behaviors include a fussy baby, a two-year-old with temper tantrums, a four-year-old with Asperger Syndrome, a six-year-old twin who hits his brother, an eight-year-old with ADHD, a thirteen-year-old with an anxious mother, a depressed fifteen-year-old with a messy room, and a lonely, brilliant seventeen-year-old.
Parents and professionals alike will find a new empathic approach from this uplifting book that will reshape families' lives and guide them through all stages of typical and atypical child development.
________________________________________
When did you decide to become a writer?
I've been a psychoanalyst for three decades and written scholarly international journal articles and book chapters for years. But more recently I decided to write about Parental Intelligence which is the approach I use with the parents and their infants, children, adolescents, and families so I could reach more and more people through a book than in my office.
I also have used Parental Intelligence with my two sons. The joy I get with and from them I wanted to share with many more parents. So writing down my parenting approach finally gave me the opportunity to reach more people and give back the pleasure of parenting that I've received.
Do you write full-time or part-time?
I am a psychoanalyst so I treat patients a great deal of the time. But when I'm not working I'm writing. I have the opportunity to write for Huffington Post as a blogger which gives me a constant opportunity to reach more parents than ever before.
Do you have a special time to write or how is your day structured?
I write whenever I have the time. I find it relaxing, though I know many writers don't. I love words! So formulating my ideas into well-formed paragraphs is a joy and sense of fulfillment for me.
Do you listen to music or watch TV/movie while you write?
I always write in quiet. That's how I do all my creative endeavors. I'm also a painter and enjoy the stillness that surrounds me when I create. It gives me my own space to enter and truly be myself.
Do you find promoting your books challenging or enjoyable?
Promoting my book is a new experience. When I wrote scholarly articles that was all done for me because people had subscriptions to the international journals. I'm fortunate to have a very active publishing house who works closely with me. I'm learning all the time how to reach my readers who are both parents and professionals who work with children and parents.
Any advice for aspiring authors?
I have found that as an author, reading is an essential. The more you read the more you learn ways to phrase ideas and your intentions become clearer. When I wrote the short stories for my book, I read a myriad number of short story writers who inspired my writing and taught me how to bring my characters alive. It was so important to me for the characters to feel real and emotional to my readers.
Unlocking Parental Intelligence is a book in three parts. The first part teaches the principles of Parental Intelligence with many examples and metaphors.The second part is eight short stories of parents applying Parental Intelligence in their daily lives. I believe adults, like children, learn through story telling. So this was the most delightful part of my writing. Each story is a fictionalized account of the people and problems I've dealt with for thirty years in my practice. Creating the characters, their environments, and the problems they struggle with came to me so naturally because of all my experiences with families.
The third part brings the book together with the chapter title, The Meeting Ground. This meeting ground is what the parents and children reach when their parents apply Parental Intelligence.
Also, in this third part my younger son wrote a beautiful paragraph about how it would be in society if Parental Intelligence were taught to all parents. He was raised with Parental intelligence and has come of age in the twenty-first century.
Here's a bit of his quote:
The only thing that can combat fear is knowledge: knowing there's a technique to deal with understanding what's happening in someone else's mind. And that technique is Parental Intelligence. If Parental Intelligence were taught, if people were encouraged to understand one another before reflexively trying to defend themselves, if trying to empathize and know others' minds was seen as a strength, we'd live in a more compassionate if not more efficient society.
Tell us more about your current book.
I have recently published, Unlocking Parental Intelligence: Finding Meaning in Your Child's Behavior. As you've read above, it presents parents with a new parenting mindset and approach to mothering and fathering where you keep your child's mind in mind as you go about solving problems together. Parent-child bonds are strengthened immeasurably. It's a book that gives child rearing an uplifting turn that you have throughout your life.
Who is your favorite character in your book and why?
Many of my characters are favorites for me. But to give you a taste--there is an identical twin boy who hits his brother because he is jealous of his ability to read when he is only in kindergarten. He surmises incorrectly that his father favors the other twin because of this aptitude. He thinks his father goes on long trips to get away from him (the son who's doing the hitting) because he disapproves of this twin who can't read. Of course, this isn't true. The trips are for business. But the dialogue between the father and son is so touching as the father learns to understand his child's confused mind. I had tears in my eyes when I wrote the dialogue. Of course, they work it out and their relationship only becomes stronger.
Another favorite, dare I add one more, is a 15 year old girl who feels too much distance from her mother. She is depressed. Her initial melancholy is due to the loss of her father who moved away when he divorced her mother and remarried. When he fails to come to her special dance recital as promised, she gives up dancing thinking then the grief will go away. Of course this doesn't work. She doesn't share her loss with her mother not wanting her to feel she isn't a good enough parent to have. The mother figures things out eventually and their relationship is repaired and recovers.
The emotional ties these parents develop with their children when they use the five steps to Parental Intelligence that I outline in the book is so moving and realistic based on my psychoanalytic experience, it's truly a deep joy to write. It kind of feels like a mission to have parents read my book, so they can have a deep experience with their children as they grow.
What is your next project?
Actually, my next project is to return to my painting! I've been spending so many years on this book with writing it, editing it, and now publishing and marketing it, I've let my painting lapse. So now my dear husband has built me my own art studio and I'm actively trying to find time to return to my painting. If you're interested, go on my website and take a gander at some of my paintings.
How do you write your books? Laptop, by hand, software?
I write on my laptop. It's so small and convenient. It's like an extension of my mind. I seem to get "in the zone" as my fingers move along expressing my voice.
Support HuffPost
A No-B.S. Guide To Life
Related
Popular in the Community