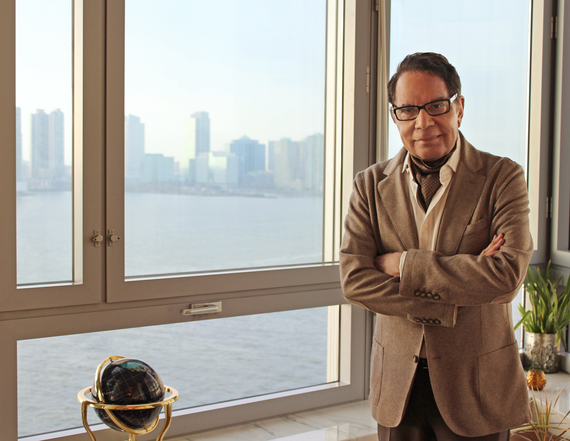 One of the main issues discussed in 2015 was immigration. With a diverse range of opinions, it is easy to forget how important it has been for America. As we welcome a new year, our nation also welcomes thousands of people who will later become part of the American Dream, the American History, the American Home.
For 2015, I wanted to choose a story around immigration that inspires and empowers immigrants amid a lot of negativity from various sources. We want people arriving in our country, our home, to feel welcomed and loved so that they contribute their best to America. I wanted to show that the American dream is not just a rags-to-riches story, but about people that leave our country a better world than that they came into. If Baldev Duggal, Immigrant to Icon, could be defined by one word, it would be visionary. He has redefined every industry he has set his eyes on. The ideas and vision that built this country is what the American dream is about.
Meet Baldev Duggal, Immigrant of the Year.

According to Baldev Duggal, his journey didn't end when he sailed into New York Harbor in 1957, it had just begun. An inventor and award-winning photographer by the age of 16, the young immigrant from India came to the US in pursuit of the American Dream. With no family in the States and just a fledgling Indian community in NYC at that time, Baldev had only $200, his native ingenuity and indomitable spirit to realize his ambitions.
Post-war America had its share of boundaries for immigrants, but Baldev plowed ahead despite them. He either won people over with his charisma or worked around them. Baldev parlayed a passion for photography and tinkerer's soul into Duggal Visual Solutions, a global graphics business, which produces images and displays for Fortune 500 brands, prestigious museums and renowned artists around the world. The company is as diverse as the streets of New York City, but the 350 employees are unified by the creative, hard-working culture that Baldev inspired. In building his company he helped transform the Flatiron District from a low-rent neighborhood to a leading center for design and technology.
He likewise transformed a dilapidated pier at the Brooklyn Navy Yard into the now famous Duggal Greenhouse, which has hosted the likes of Nike, Beyonce, and IBM. The company has supported creatives from its inception. Today, the Duggal Big Picture Foundation supports arts education in New York and around the world. Not one to stop dreaming, Baldev is now creating a better world using sustainable energy. With its two sister companies Lumi Ventures and Lumi Solair, Duggal is fostering innovation in the Cleantech industry. "America enabled me. Here my energies were channeled, my lessons learned and contributions made. I am proud to be an American."

Baldev, you were the first in your family to immigrate, did you have any concerns about moving thousands of miles away?
Quite the opposite actually, I was absolutely fascinated by the US and everything American. I'd spend my Sundays watching Hollywood movies all day. In my mind, I always knew I'd move when I finished school. Maybe I felt a bit anxious, but excitement trumped any fear.

When you arrived in 1950s New York, did you feel welcome or did you experience any discrimination?
No one greeted me at the dock when I arrived. I didn't get hugs, flowers or a helping hand, but I wasn't expecting them either. However, I did get opportunity and there were many people who helped me or encouraged me along the way. Were there some racist attitudes, I'm sure, but that's everywhere and I was oblivious to it. To leave a better world, you need to start by imagining one, later making it part of your living, your existence.

As an immigrant, what are your strengths?
I see problems as challenges and I can be optimistic when everything seems to be falling apart. Where others only see black clouds, I see a backdrop for a silver lining.

What is your driving force?
There was a time when I was driven by money because I didn't have any. But today I am driven by a totally different force: I challenge my own limits. I want to reinvent myself and redefine my business, and give something back. I really want to make a difference.
Any thoughts you have for your fellow Americans and future immigrants?
Don't be afraid to dream big. Ignore the naysayers. Do, try, fail, learn. Aspirations are not uniquely American, but they sure are uniquely enabled here. Our freedom is a blessing, a birthright and a gift to our children and to the world.
The story of Baldev Duggal is an American tale that begins on the shores of our country. As we welcome 2016, we need to welcome these dreams arriving in our country who will one day leave a better America than that they came to.
Related
Popular in the Community