True power is a combination of influence and action.

Only select people really possess the stamina and tenacity that is required to make change using the combination of written and spoken word. Meet Jay W. Foreman who is shaking up his community and changing mindsets with a pen and a microphone. I had the honor of interviewing this amazing change agent named Jay W. Foreman.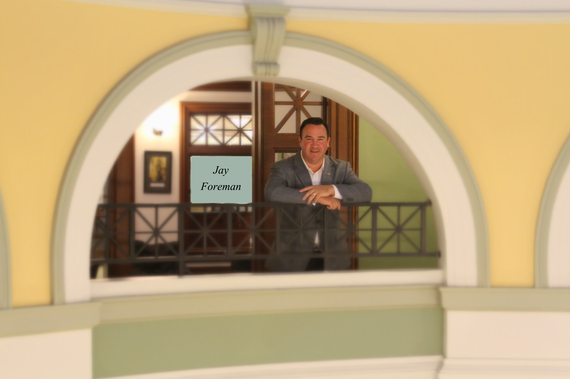 Jay W. Foreman is an award-winning author of thirteen published books, including three best sellers. In addition to writing, Jay conducts a wide variety of writing workshops for schools, including elementary, middle, high school and collegiate levels.
Jay is also an accomplished public speaker whose audiences have included national civic clubs, business leaders, churches, sales forces, and educational systems. He is a member of the National Speakers Association and has been featured on TV, radio, magazine, and newspaper. Jay lives in Winchester, VA with his wife Angie and children Kayla and Tyler.
1. What is your mission?

My mission in life is to help others view themselves more favorably. We tend to be our own worst critics. That can be a good thing, but it can also be very detrimental. One of my favorite quotes is by Zig Ziglar. He says, ""You were born to win, but to be a winner, you must plan to win, prepare to win, and expect to win." In any of my books, speeches, or writing workshops, I try to instill this message into others. We all have hidden potential that is waiting for us to tap into as long as we're willing to step outside of our comfort zones and take chances.
2. What is your area of expertise?

I feel my area of expertise is creative communication. The reason this is so important is that communication is one of the most sought after skill sets in the world today. If one can communicate effectively, a lot of doors open. My most effective communication comes in the form of story telling. It doesn't matter what the topic or the message is, when the theme is wrapped up in a story, it immediately becomes more relatable to the audience and studies show that the subject being shared is more easily retained.
3. You mentioned mentorship as a key to your success, tell us the importance of mentorship in your life?

Mentorship is vital in all of our lives. As the saying goes, "As iron sharpens iron, a friend sharpens a friend." We all need folks in our lives whose opinions, motives, and beliefs, we value. And we need to know that they care enough about us to give us genuine encouragement, sound advice, and constructive criticism when needed. Above all, they serve as a confidant and an accountability partner. They help keep us motivated and on the right path. And the beauty of having a mentor and learning from him or her is that we then have the opportunity to become a mentor ourselves and help others just as we have been helped. It's amazing how many lives become postively influenced through mentorship. In my opinion, it's vital in the world today and is one of the major keys to success.
4. Tell us about your book and your message to the world?

I have thirteen published books, including three bestsellers. This list includes eight children's books, two young adult novels, and three books for adults (all biographical in nature). In all of my books, I try to include what I call the 'Four Es'. Engage, Entertain, Educate, and Encourage. I try to engage my readers by catching them off guard and hooking them within the first couple of pages. Then my goal is to keep them reading by continuing to entertain them while they read. Somewhere along the way, I like to provide new information the readers may not be aware of and educate them on something new.
Finally, I like to leave my readers with a sense of encouragement and a feeling that they can go out and do something significant to change their life, their community, or even the world. And these 'Four Es' aren't specific to just my books. I think they can be incorporated into any facet of our lives. When we make a concentrated effort to engage with others, entertain folks, educate people with whatever knowledge we have to offer, and then give them the encouragement to go out and make a difference, great things happen...not only to us, but to all the lives we touch, as well.
6. What's a personal quote that you live by?

I have a Bible verse that I rely on each day. It's Deuteronomy 31:6, "So be strong and courageous! Do not be afraid and do not panic before them. For the Lord your God will personally go ahead of you. He will neither fail you nor abandon you." I believe we all have a unique and specific platform by which we can reach different audiences with our message to the world, whatever that may be. But we have to be willing to use that platform and believe that we can make a difference. And that can be a very scary concept. This verse helps me to relax, refocus, and remain confident in what I'm doing, even if it scares me to death. The first time I had to give a keynote speech to a crowd of over 500, these words kept me from hyperventilating!
7.What's the #1 message or tip you would give to young men in today's society?

Take a chance! Step outside of your comfort zone. That's the key to life, in my humble opinion. Nothing changes when we don't take risks. As painful and uncomfortable as it may seem, always step outside of your comfort zone when presented with the opportunity. Only one of two outcomes will take place when you do this...and each one is positive. The first possible outcome is that you will discover a new talent or passion that you didn't know you had. And you will then be able to add that to your resume and incorporate it in your everyday life. The second possible outcome is that you will discover that what you tried is something that you don't like. It's not for you. You don't wish to pursue it. And that's perfectly fine. You've tried it. You know it's not for you and now it's out of your system and off your radar. You can now dismiss this activity and narrow your concentration on to what you deem more important in your life. Basically, you've refined your focus. Whatever the outcome...you're in a better place than you were before you stepped outside of your comfort zone. This is a win-win and should be incorporated into our daily lives. When we do this, it's amazing how quickly we start seeing new levels of success in our lives.
8. Why do you Activate?

I think it's my responsibility. We all have only so many days in our lives. And we all have specific messages to share with the world and unique platforms by which to share them. Tomorrow is promised to no one. That's why it's so important to make each day count and to try to put something positive out into the world. There is an unforgettable line from a classic 80s movie, where Carl Weathers tells Sylvester Stallone in Rocky III: "There IS no tomorrow!" That message is as true today as it was thirty years ago. Make each day count. Go to bed each night exhausted and with no regrets. Simply put, when we Activate, the world becomes a better place. Many times, when we Activate, we encourage those around us to Activate, and so on and so on. The ripple effect continues and we never know just how far reaching our Activation becomes.
What's Your Backstory:
I left the world of commercial lending to pursue a dream of becoming an author. This was definitely stepping outside of my comfort zone. Little did I know that was just the beginning of a trend. By continuing to try new thing and being willing to be uncomfortable at first, writing led to speaking. Speaking led to writing workshop in the school systems. This led to one-on-one tutoring. This led to ghost-writing for clients. This led to corporate storytelling conferences with business leaders. Who knows what tomorrow brings, but it's been a fun ride and it's all thanks to a strong faith and being willing to step outside of my comfort zone whenever possible.
***Do you know of an awesome change agent who is doing great work in the community in which they work, live and serve? Let us know about them.***
Calling all HuffPost superfans!
Sign up for membership to become a founding member and help shape HuffPost's next chapter