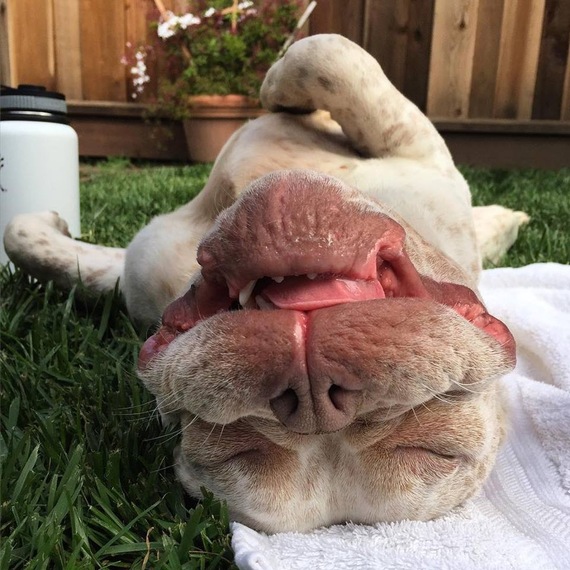 The Peninsula Humane Society & SPCA is an open door shelter, which means we accept every animal brought to us from this community regardless of age, health, behavior, even species. We get animals too young to be away from their mothers (right now, we have several baby hummingbirds brought down in their nests by recent windstorms, animals the size of the nail on your pinky finger which require feeding every 15 minutes, and with the start of Spring our kitten nursery is starting to fill up). We get lizards straight out of Jurassic Park (Google "black and white tegu" for an example). And we get dogs and cats in every stage of health.
Meet Charlie, an example of that "every stage." In fact, this is a picture of Charlie doing what he does best. Sleeping.
Best guess (an educated guess at that, made by our shelter veterinarians after a good deal of examination and tests) Charlie is a narcoleptic dog. Thought to be a genetic disorder, narcoleptic dogs take "cat naps" to a new level, literally and quite randomly falling asleep while in the midst of doing something else (like walking, eating, playing with their pals).
No need to worry, no one is suggesting you take him home. An open door shelter is full of people who don't know how to say "no" and Charlie was just adopted by one of our animal behavior staff. I just thought the photo was so adorable I wanted to share it with you.
Calling all HuffPost superfans!
Sign up for membership to become a founding member and help shape HuffPost's next chapter