The Malibu Library Speakers' Series features experts in a variety of subjects designed to appeal to a broad section of the community. Speakers were selected based on categories such as the Entertainment Industry, Literature, Science, Motivation, the Arts, Education, Sports, Travel, Food, and the Environment. Lectures are free and open to the public. Space is limited, so RSVPs are required.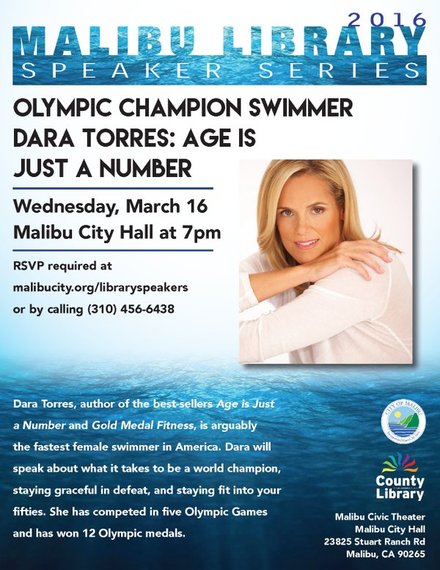 The series continues on March 16, and will feature Olympic swimmer Dara Torres. Torres has been called the fastest female swimmer in America. She competed in five Olympic Games and has won 12 medals throughout her Olympic career. She competed in her first Olympic Games in 1984 and her last at the Beijing Games in 2008.
Her resilience and heroism at the Beijing Games made her a crowd favorite, as she became the oldest swimmer to compete in the Olympic Games. She took home three silver medals and exuded integrity and class behavior that has made her an empowering role-model.
Torres is now a top-selling author. Her memoir, "Age is Just a Number: Achieve Your Dreams at Any Stage in Your Life," was published in 2009. Her second book, "Gold Medal Fitness: A Revolutionary 5-Week Program," went on sale in May 2010 and was a New York Times bestseller.
She will speak about competing at the highest level and staying graceful in defeat. Torres will also discuss balancing the life of an athlete and being a mom.
The free event will take place at the Malibu Civic Center Theater at Malibu City Hall, 23825 Stuart Ranch Road, Malibu, CA 90265 and RSVP's are required.
Related
Popular in the Community