Note to readers: In March 2018, Devonte Hart and five siblings, aged 12 to 19, were murdered by their adoptive parents in a vehicular murder-suicide. The parents were also alleged to have abused the children.
This blog post was written on HuffPost's contributor platform, which was decommissioned in 2018. Contributors to this platform were not paid by HuffPost for their stories, and their opinions do not represent HuffPost.
A young boy who was born into a life of drugs, extreme poverty, danger and destined for a bleak future is defying stereotypes in the most remarkable way. And his latest encounter at a grocery store is bound to open your eyes, widen your mind and capture your heart.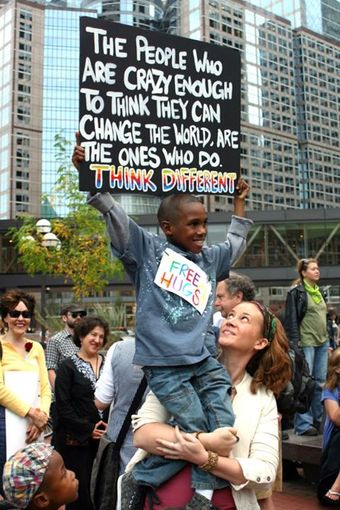 To truly understand just how incredible this encounter was, you need to know some history.
Devonte Hart entered the world 12 years ago with drugs pumping through his tiny newborn body.
By the time he was four years old he had smoked, consumed alcohol, handled guns, been shot at and suffered severe abuse and neglect.
He knew only a handful of words, including fuck and shit, and he struggled to identify with the names of food, body parts and everyday objects. Devonte was a violent toddler and his health was weighed down by a heavy list of disabilities.
It was a life with little hope and a future that seemed over before it began.
That is until Jen Hart and her wife Sarah entered Devonte's life and adopted him and his two siblings seven years ago.
Jen says the day she met Devonte was frightening and traumatic.
"That night, after we finally got him to sleep, I cried harder than I had ever cried in my life. I felt like there was no way we could raise this child, and the five others we had adopted."
Yet, she says, there was something inexplicable pulling at her heart.
"I felt more connected to this fragile little boy more than I had ever felt to anyone in my life."
With their unconditional love, nurturing natures, patience and acceptance, Devonte defied all odds and has grown into a young charismatic man with a heart of gold.
He inspires me every single day. He has proven doctors, psychologists and teachers wrong. His future is most definitely not bleak, he is a shining star in this world. His light shines bright on everyone on his path. People always tell us how lucky he is that we adopted him. I tell you, we most certainly are the lucky ones. Yes indeed he is living proof that our past does not dictate our future.
Devonte's charm and genuine kindness has surprised his parents on many occasions including the time he asked if he could spend his 11th and 12th birthday raising money for charity, or when he clung to musician Xavier Rudd And then again earlier this week while standing in the grocery store's checkout line.
An elderly man was standing at the end of the bagging area conversing with the woman checking us out. He spots our son -- looks him up and down.

Man: I can tell you are going to be a baseball player when you grow up.

Son: *Pauses, tilts his head and gives a closed mouth grin* Actually, no. Baseball isn't really my thing.

Man: Well, I can tell you are going to be a ball player.

Son: (As his mom, I can tell there is a slight frustration inside of him) No, I don't even play baseball.

Checkout lady: Oh, I bet you're going to be a basketball or soccer player then!

Son: No, I don't play any sports. It's just not my thing. There's nothing wrong with sports or anything, I just have other interests.

Checkout lady: (in a befuddled nearly astonished voice) WHAT!?!? I have NEVER met a kid that looks(!!!) like you that doesn't play sports.

Man: *chuckling* Right?! Never. They all do!

***My face was as red as my hair at this point. It was so obviously clear what was happening. While I wanted so badly to step in and protect my son from the ongoing racial stereotyping, I didn't. I let him step into his own power and he handled it brilliantly***

Son: Well, of course you've never met a kid like me. I'm one of a kind. There's not another person like me.

Man: Well, what do you want to be when you grow up?

Son: I'm here to help people. I'm here to inspire. Now.

Man: Oh, so you're going to be a doctor? (as he laughed while he said it -- not kidding)

Son: No, I'm not.

Man: Well, being a doctor is the best way to help people. What are you going to do to help and inspire people?

Son: (putting the last of the bags in the cart) I'm going to be myself. No matter how much people try to make me something I am not. Have a great night! *flashes ginormous smile*

"I think this kid will be alright. No matter what is tossed at him," Jen says.
Jen hopes the question, what do you want to be when you grow up?, extinguishes from our cultural lexicon.
"Perhaps we can replace it with questions that don't catapult children 20 years into the future. What are you passionate about? What inspires you? What excites you? What makes you feel good?
"I think society needs all the reminders they can get that they are not defined by their careers. And for the love of the universe, let's not categorise abilities by skin tone. Let's move forward, shall we?"
Related
Popular in the Community