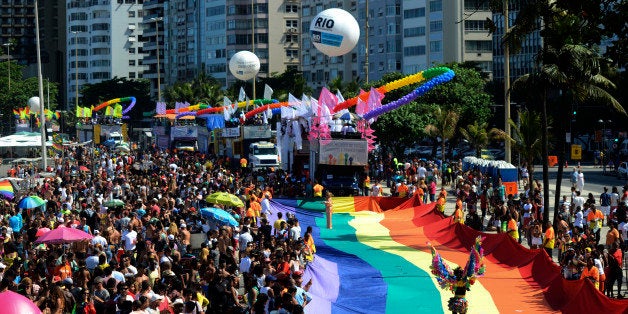 Giowana Cambrone is a charming woman with an incredible story. A transgender woman, LGBT activist, lawyer, professor of family law with a master's degree in public policy and human development from Rio de Janeiro State University, Giowana participated in the coordination of the Rio de Janeiro branch of Rede Sustentabilidade (Sustainability Network) -- a political party founded by Marina Silva-- and played a key role in preparing the Brazilian Socialist Party (PSB)/Rede coalition's program for the 2014 elections.
In an interview, she told us about her personal experience, her view on the hetero-cis-normative society she lives in, and explained Rede's views on sexual minorities.
Let me start with a personal question: How did you realize you were a woman? What was going on in your mind then?
I've known I was different from the hetero-cis-normative standard ever since I was a child. I remember watching the Silvio Santos show, a talent show where drag queens were performing. And then the host asked one of the drag queens how she felt. She gave an answer that would be considered inappropriate today, but I completely related to it. She said she felt like a woman trapped in a man's body. From that moment on, I got to know myself better and I thought: "I am not alone, there are other people like me." But I lived in the state of Minas Gerais, and there was a lot of prejudice. I didn't feel accepted. I felt guilty, abnormal and even sinful. But I overcame all that.
What has changed since?
A lot has changed. Today I feel like I've accomplished something. I lived a life that wasn't mine. I was unhappy. I was trapped for 30 years, with an identity that wasn't mine. Gender rules that are imposed on us are very strict, and they oppressively dictate our behaviors. The transition process was not without struggle and pain-- both emotional and physical. I had to deconstruct an identity shaped by the gender assigned to me at birth, and build another one that actually represented me. It was like I was impersonating a character. There was no Giowana in the old Giowana.
In an earlier interview, you said: "We live in a state with an imaginary heterosexual population." Could you explain to our readers what you meant by that?
Actually, this is a concept proposed by a feminist named Ochy Curiel, who developed the notion of the "heterosexual nation." Using this concept, I realized that heteronormativity and cisnormativity are very prevalent among the hegemonic ruling class. And this is reflected in public policies, legislation and the entire structure of the state. As a result, it is very hard to approve legislation that favors the LGBT population, even when it addresses very basic things, such as same-sex marriage or the recognition of trans as an identity. This suppresses access to essential citizen rights.
What do you think about the controversy around the Family Statute?
The Family Statute is a stillborn law. Today, the definition of family is much more pluralistic and diverse. Laws often become irrelevant due to the changes in the social dynamics, thus losing their purpose. But this law has been proposed without a social purpose. That is why I say it is stillborn. Moreover, they are proposing a Statute that goes against the interpretation of the Supreme Federal Court (STF), which is the guardian of the Constitution. In fact, it proposes a threatening political discourse. The main problem is that it is a prohibitive and hate-oriented discourse. The proposed Family Statute violates the constitutional principles of equality, fairness and freedom. They are trying to approve a law that discriminates against other, non-standard family configurations...This greatly concerns me. What defines a family is the bond of love and affection, which cannot be extinguished by a law. The families outside this imposed "normative standard" will exist, regardless of the law.
You were the first transgender person to be appointed as part of the Sustainability Network. How was this experience? Are you no longer a coordinator?
I participated in the coordination of Rede Rio. It was a very good experience. I had to leave for personal reasons. I was busy getting my master's degree and also going into the job market, which took up more of my time than I had hoped. But I'm still active with Rede and I'm dedicated to the project.
Many people mention the editing of Marina's campaign program in 2014. How do you feel about what happened then?
I helped prepare that program. We held meetings with representatives of the LGBT groups in the coalition, and I drafted the proposals that would be submitted to the program. As a human rights activist for many years now, I learned that one must go for the whole package. And that's what we proposed. However, we knew that there would be mediation. That is, the program would not include everything we proposed. Because a program means goals, for which you will fight with all your political capital to accomplish. In the meantime, between the proposals for the a program and the mediations, everything changed. Eduardo Campos died in an airplane accident, the campaign was reset, and Marina Silva had to take the lead. All of this disrupted the normal flow of events. On that Friday when it [the LGBT program] was launched, people called me and said: "The program is out, the program is out!" When I read it, I saw that the proposal had been published in full. They even kept my original punctuation. I was very pleased, of course, but I found it odd that they had published it in full. Obviously, there had been no mediation. The final, mediated version of the document was published the following day. I was very upset, not so much because of the program, which hadn't been changed substantially, but because of the mistake [in the editing process].
Nevertheless, one must recognize that the proposed program was still the most advanced compared to those of the other candidates, because they kept the chapter that allows adoption by same-sex couples in the program, and upheld the João Neri Act, which provides for the civil requalification of transgender people. However, the misunderstanding that took place during the publication stage unfortunately weakened the campaign, and we started being attacked and accused of having changed the program after Malafaia's (a conservative evangelical minister) opportunistic tweets.
Malafaia was never an ally of Rede, and is an extremely opportunistic public figure. Saying that Malafaia had a role to play in Rede means you know nothing at all about the movement. As I see it, Marina has no restrictions on LGBT civil rights. I think Marina is someone who is very open to this human rights issue. You just have to read the final version of the program to understand that. In the heat of the campaign, though, the winners were those who resorted to marketing strategies, rather than those who presented proposals and made written commitments.
Is there room for the LGBT population in Rede?
Of course! Rede was born with sustainability in mind. You cannot think of sustainability without considering diversity. Diversity applies to all aspects of life. There is cultural diversity, biological diversity, human diversity and, of course, sexual diversity. That's one of Rede's commitments.
It is a party that welcomes human diversity, a party that welcomes pluralism and the diversity of voices. Rede is not a party of one color. It was born with special attention to the human condition.
The Diversidade em Rede (Network Diversity) has used a horizontal approach and a knowledge-sharing exercise to discuss and build an LGBT agenda within the party. We have already gotten two resolution proposals approved, in Rio de Janeiro and São Paulo, to guide the party's policies regarding sexual diversity, as well as push for a secular state. Additionally, we have welcomed new congressmen and members of other parties, and shared our values and agendas with them.
Finally, what can people do to help improve the quality of life of the trans population?
There is so much, but at the same time it is very simple. The main problem is disrespect. It is as if society wished it could make transgender people invisible. But they exist. They are a reality that most people would rather not see. They are bodies that challenge the concept of gender. "Abnormal" when compared to social standards and relegated to societal margins.
The main problem is in not acknowledging transgender identities, which leads to other problems, such as difficulties in finding jobs. The labor market rejects them. There is a lack of opportunity. Today, approximately 90 percent of this population are employed as sex workers. No other oppressed or marginalized population, women, black people or any others, has ever been reduced to a single economic activity. I am not judging those who work in this industry willingly. The problem is when it is the only option.
If you don't work, you don't live and you don't eat. Some people think that the transgender population lives on air, or glitter, or glamour. No, transgender people have to eat, have to drink and have to dress. They must have at least two meals a day. They must have access to health care and education. Now. And from time to time, they should be able to go to the movies.
However, these needs are neglected. While the rest of the LGBT community is discussing and claiming their civil rights, transgender people still have to discuss their rights to the most basic needs. Even the physiological ones, such as which restrooms they are allowed to use, or social rights, like work, health care and education. Something unthinkable in the 21st century.
This article first appeared on HuffPost Brazil and was translated into English.
REAL LIFE. REAL NEWS. REAL VOICES.
Help us tell more of the stories that matter from voices that too often remain unheard.