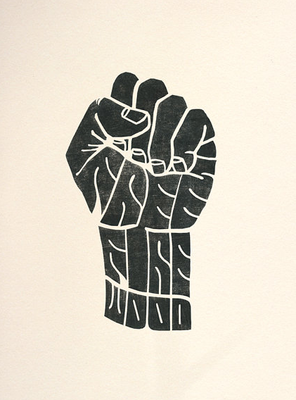 Given the time Martha Stewart has spent not dropping the soap, one would assume that her employees were properly primed on avoiding legal situations.
Apparently, one would assume wrong.
Yesterday, Venice-based artist Greg Beauchamp sued Martha Stewart Living Omnimedia for copyright infringement, claiming that the company copied one of his designs in the July issue of Martha Stewart Weddings. 
According to The Wrap, Beauchamp was hired to create a save the date design for a spring, 2010 issue -- which he did. But then the company took the liberty -- allegedly, of course -- of creating a very similar design that they used in last month's book.
We're not planning a Midwestern wedding so we didn't happen see the magazine in question. And we were unfamiliar with Beauchamp's work until, oh, about ten minutes ago. But one look at his Etsy store shows that his work is worth stealing.
His simple graphic prints of teepees, the alphabet and animals are accompanied by beautiful typographical words with endearing, straightforward messages. And each print -- which is signed and numbered -- comes complete with the story behind the work. A piece called "Food" was inspired by the shadow puppets he used to make in his parakeet's cage at age 10, while "Free Firewood" comes from lessons learned from his father during childhood trips to Michigan.
But perhaps our favorite page from Beauchamp's portfolio is a public art project he undertook in 2008, when he went around his Westside 'hood sticking John McCain flags into dog poo. Absolutely brillz.
While the damages he's asking for probably won't make a dent in one of Stewart's soufflés, we think we can guess what his next set of flags will say.
Photo: Free Firewood by Greg Beauchamp, $75.

Visit Style Section L.A. for the latest in Los Angeles fashion, style, shopping and culture.
Find us (and like us!) on Facebook for exclusive content.

Calling all HuffPost superfans!
Sign up for membership to become a founding member and help shape HuffPost's next chapter