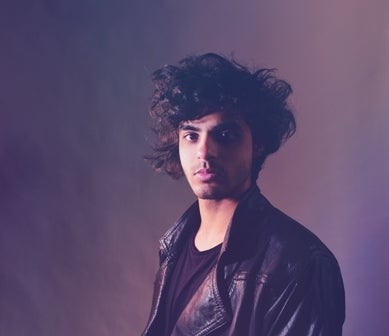 Harts is a singer, songwriter, and multi-instrumentalist who is already a household name in his homeland of Australia, receiving GQ Australia's "Artist of the Year." This month Harts debuted his single "Peculiar" from his upcoming album "Smoke Fire Hope Desire," set to be released in the US this summer.
Harts' new single "Peculiar" is a beautiful blend of diverse musical vibes including rock, pop, funk and improvisation reminiscent of jazz music. With such a sonically rich interpretation of rhythms, it's no wonder the late legend Prince gave the young artist a listen.
Check out the Q&A with Harts below:
Q: In addition to being a singer and songwriter, you are a multi-talented musician. What instruments do you play?
A: I play guitar, drums, bass, keyboards ... and I do all of the production and recording that you hear on all of my music.
Q: You have such a unique music style. What musicians/ recording artists inspired you and influenced your music style the most?
A: I am inspired and influenced by a wide range of music and artists, covering all sorts of genres and eras. Though, I think the ones that most inspired my sounds are Jimi Hendrix, Prince and Stevie Wonder.
Q: How did you get started as a singer/songwriter/musician? What event, or series of events, led to your professional career as a recording artist?
A: What's strange is I didn't grow up with the ambition of being a musician. I started getting into music and playing instruments late in high school when I was about 16. I started playing drums first, after seeing friends of mine start getting into playing guitars and things. From there, I think I slowly started falling in love with music and started discovering music I liked. Eventually that led to me experimenting with recording myself and writing my own songs. It all happened pretty naturally.
Q: I heard that you had the opportunity to meet Prince at Paisley Park. What was that experience like musically? Did you perform for or with him?
A: It was a surreal and amazing experience. Prince had discovered my music and what I was doing on YouTube and reached out to me to come and meet him, and play with him at Paisley Park. From there we spent time together, played music together and talked a lot about music and life. He helped in giving me a certain edge of musical focus that I was lacking before meeting him. He acted as a mentor and a teacher to me.
Q: If you could collaborate with another artist, who would that be and why?
A: That's a tough one. There's many people I'd like to meet and make music with. I think at the top of that list would be Stevie Wonder and Quincy Jones. They both inspired me immensely. Also up there would be Pharrell, Gorillaz, Snoop, Andre 3000, Kendrick … man … all legends and too many to list, ha.
Q: What are your future projects/events that fans can look forward to checking out?
A: I'm looking forward to the US release of my new album "Smoke Fire Hope Desire" and to playing shows in the US for the first time. We got some cool US touring plans in the works, and I think that's something that fans have been looking forward to for a while. Also got a cool Live Concert filmed from one of my biggest shows in Australia that I'm excited to get out!
Harts' "Peculiar" is available now on all digital processing systems (DPSs).
Click the link below to view the music lyric video for Harts' single "Peculiar"
Popular in the Community