Street art is a growing phenomenon in cities around the world, but it still comes as a surprise to see images of Icy and Sot's work on the streets of Tehran. The artists favor faces of children and the elderly and messages calling for peace, and in a more direct challenge to their government, they've even declared that "beer is not a crime." Over email, the artists -- who are not only collaborators, but also brothers -- talked to BLOUIN ARTINFO France about youth culture, their giant Coke can, and the dangers of being a street artist in Iran.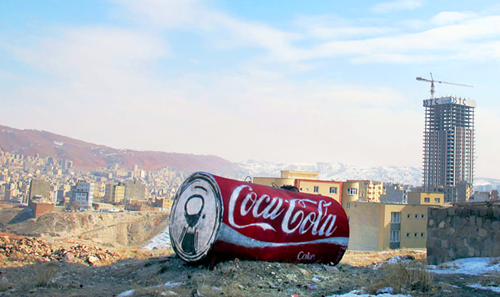 Icy and Sot's "Big Can" in Tabriz, Iran / Courtesy Icy and Sot
Can you tell me about your background and how you started making street art?

It started with our career in skateboarding, especially Sot's, in 2005. We used to watch skate videos and play skate video games all the time, and in the videos we saw graffiti and stencil on the walls, which initially sparked our interest. We then started with small things like stickers and small amateur stencils, and posted them up on our spots and gathering places.
You're brothers, and you work together. Do you sometimes work separately as well?

We were and are best friends, and when we started, there were very few people (most of whom were in our circle of friends) who knew what graffiti, stencil, and the whole street culture was. Being brothers helped us a lot as we did everything together -- drinking, hanging out, stenciling -- and, most importantly, we just understood each other. Some of our works are done together but we have some separate works as well.
Who are some of the artists who have inspired you?

Banksy, Dolk, Blu, M-City, and King Stencil are the artists that had an influence on our vision about street art.
Is street art an unusual sight in Iranian cities?

It is fully unusual for almost all the people, but as this art grows, especially in Tehran, some people are starting to notice.
The Coke can seems like a departure for you, because it's not a stencil but a sculpture. What inspired you to make it, and is it still on display outside Tabriz?

Yes, it is still there. We saw a tank and we decided to make an environmental piece with that. Empty Coke cans are everywhere -- a giant one would emphasize that fact.
So you actually made it out of a tank?

Yes, it was a rusted old tank.
Do you have gallery representation in Tehran, and is it important to you to sell your work?

No, we don't have gallery representation in Tehran - our agent is Klerkx Art Agency in the Netherlands. Selling works is important because it helps us to stay on track and do more works by the support it provides.
Your art has been seen not just in Tehran but in cities such as Los Angeles and Paris. Do you think that street art is a worldwide movement now, with a certain aesthetic? Where do you see street art, and your own career, going in the future?

Street art is a movement and it is worldwide and the fact that you make art in the streets makes it so unique and pure. We are trying our best and will keep on working. We hope that we can work and exhibit all over the globe and show our works to the people and be influential.
Are "Icy" and "Sot" pseudonyms, and are you worried about arrest or intimidation by the authorities?

You know, pseudonyms help us to keep a low profile. Being arrested in Iran is completely different, because they charge you with crimes that you have not even committed, like Satanism or political crimes, so it is better to remain anonymous.
More of Today's News from BLOUIN ARTINFO:
Related
Popular in the Community