There's a lot more to the story than the catchy headline, "We traveled to 14 cities in 6 weeks to make this 2.5 minute YouTube video," referring to the video that entrepreneur/filmmakers Tim Williams and Nic Davis recently released for the popular car2Go car-sharing service. The real inspiring story is how we can create and experience what seems impossible when we go for it.
Williams, 25, is an entrepreneur known for creating brands that redefine the way we think about business and problem solving. Notably, I met him in in Boulder, CO in his early entrepreneurial days when he coined and founded House of Genius, a public benefit corporation that flips networking upside down and now helps entrepreneurs solve challenges in 30 cities across the globe every month. I personally helped co-found and organize the Seattle and Redmond chapters of the organization.
One of Williams' major beliefs is to dive in and ask for the opportunities one is passionate about. This was a classic example.
"Before December of last year, I had never created a video in my entire life. I was the one sitting around watching people on YouTube do all the amazing things I wanted to be doing. I decided to start writing, taking pictures, and making videos here on Jack Reynolds as an outlet, named affectionately after my more fearless alter-ego." Williams announced to his Facebook friends when he announced the project to his immediate friends.
After taking an interest in the car-sharing service, Williams took it upon himself to cold-email the CEO and pitch a clever video concept. On the initial phone call, Paul DeLong (car2go's CMO) was not impressed with the overall idea. "He told us to come up with something bigger, something that could really make people feel alive, and then we could call him back," said Williams.
Several days later, Williams and Davis met in their home base of Denver, Colorado to figure things out. They had a feeling that if the next idea wasn't big enough, DeLong wouldn't entertain their pitches any further. "We were just looking at the Wikipedia page for car2go and realized how big they actually were--eight countries and thirty cities worldwide," marveled Williams.
"That's it. We travel to every car2go city and we'll film every iconic place and do every exciting thing we can, and we do it fast." The challenge DeLong handed them of dreaming up something big had met its maker. Or at least some bold attempt at not having their second chance and probably last pitch a lost cause.
Williams was no stranger to the art of creating a compelling ask. He assumed there would be a lot of obvious questions when pitching an audacious idea such as this. So, he drafted a brief 10-slide presentation covering the basics including an itinerary pared down to the exact flight numbers. This way, the two filmmakers outlined every single date, transportation cost, time, and detail mapped out. It was almost funny.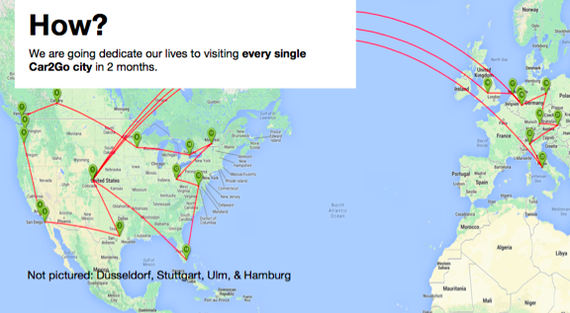 They walked through the presentation on the phone with DeLong a few days later, answering every question they could've had along the way. His only response after a moment of silence was, "I'm shocked and I'm very excited right now." After just a few days, the project was approved for all North American cities and the adventure filmmakers were in.
Despite how much preparation and creativity went into the pitch itself, Williams explained that the trip itself was anything but smooth. A short clip from his full-length story alludes to the chaos:
"We were so incredibly busy with other projects and the general pressures of getting things done before leaving on a two month trip that we never met up to discuss our ideas... not even once. There we were, boarding a plane to city 1 of 14 with nothing at all prepared."
Williams said the chaos forced them to live in the moment and create opportunity and adventure while the clock was ticking, and that is the message he stands for--taking action and making the best of your time instead of waiting for it to come to you. "When we were brainstorming and dumping footage in a coffee shop, getting to and from the airport, or even sleeping, we were losing a ton of the 72 hours we had allotted time to film in a city," he said.
This was a prime example.
"We ended up skydiving, ocean kayaking, bobsledding on the Cool Runnings track, parasailing in Key West, skim boarding, jet-skiing, horseback riding, dragon boat racing, crashing Segways, multiple helicopter adventures, cave tours, roller coasters, waterparks, and an insanely long list of other amazing things." He continued, "We cold-called up all of the companies only hours in advance to plead our story, including how little time we had. When the helicopter company asked what date, we responded with, 'this afternoon?'" The budget didn't include activities, so Williams maintains that it was improvised along the way.
It all worked out, he says. "We had the best experience we possibly could with the resources we had, and we just kind of went with it." He continued, "People were interested in our story and they wanted to help us succeed." Overall, car2go has been very pleased with the outcome and have totally embraced the spirit of adventure and feel it represents their brand.
Williams has created an entire business model to fuse adventure with work, ideally to the point to where the two have no real boundaries. His agency, Jack Reynolds, exists to create content that inspires a life well lived--and has a website dedicated to sharing original stories and videos of the same.
He believes advertising should be created by the people who actually care about the product or service, and not commissioned by the big companies who have an insatiable desire to feed us scripted, cheesy commercials flashing an unrealistic, inhuman experience. What would you rather watch?
You can read the full-length blog post about the project by Williams, or simply follow Tim Williams on Twitter.
Calling all HuffPost superfans!
Sign up for membership to become a founding member and help shape HuffPost's next chapter