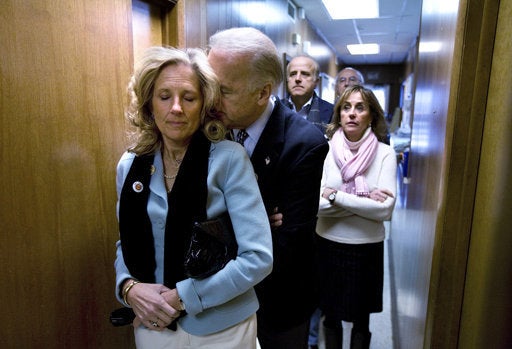 Dr. Jill Biden, the wife of presumptive Democratic Vice Presidential nominee Joe Biden, is a veteran educator and a professor at Delaware Technical Community College. Jill Biden has a Ph.D. in Education. The Bidens were married in 1977, five years after Joe Biden's first wife was killed in an automobile accident.
Time Magazine interviewed Jill Biden during the primaries, where she shared her thoughts on campaigning and life on the trail:
What don't we know about your spouse?

Most people probably don't know that Joe has a romantic side to him.

What do you like most about the campaign trail?

On the campaign trail, I have the opportunity to meet people from all walks of life -- from residents at a battered women's shelter to mentally handicap children to retirees -- and learn about their lives and struggles. It is both humbling to be welcomed into their lives and gratifying to think that Joe could help solve their troubles.
In an interview posted on the Essential Estrogen website, Jill Biden talked about life in the classroom, and her work with the Biden Breast Health Initiative:
"I think I am like the average American. I'm in a community college classroom. I have students who are working and going to school and have children. I think I'm dealing with real life every single day. I take that home to Joe and say, 'Look. These students can't afford college. They are having these problems. We have to change this. We have to change that.' I think what I do in my life experiences has a positive impact on Joe and, hopefully, it expands to have a positive influence on other people."

Jill's life passions are currently split between the Biden Breast Health Initiative and education.

"In 1993, I had three close friends who had breast cancer and, actually, one of those friends died," she said. "As an educator, my first thought was to what I could do. I mean, I'm not a medical person, but what could I do as an educator. So, I developed the Biden Breast Health Initiative. We go into the high schools and teach the young girls about breast self-exam, the importance of early detection, good breast health and health practices. Hopefully they go home and they talk to their moms and grandmoms or sisters and they practice [breast self-exam]. Early detection is the key."
HuffPost blogger Steve Clemons had this to say about Jill Biden before the VP selection was announced:
I can't wait until America gets to know Jill Biden. As down to earth and serious about education as they come. She's a working mom like many others around the country.
Popular in the Community