I have a particular fondness for comedians, and have had close personal friendships with some of the great ones over the years. Even as a teenager in the 1960s, my favorite reading material was not comic books, but rather biographies and autobiographies of comics-- W.C Fields, Jack Benny, George Burns, Steve Allen, Groucho Marx, Red Skelton, Woody Allen, and many others, all of which I still have in my library. I also have maintained a collection of volumes of one-liners by Robert Orben, Joey Adams, and other comedy writers.
I want to introduce you to a comedian who I have never met, but with whom I have frequently communicated with since he first gained my attention about 5 years ago. Joe Wong is Chinese, and came from Beijing to the U.S. as a student in 1994. He ultimately obtained a PhD in Molecular Biology from Rice University in Houston-- and he looks exactly like a guy who holds such a degree. In spite of this impressive accomplishment, he went into stand-up comedy, a decision I am sure thrilled his Chinese parents.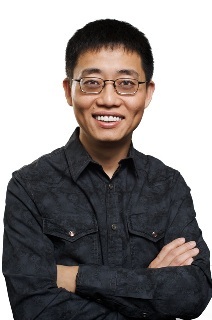 How he transformed himself from an egghead to a comic is remarkable. He went to a comedy club in Houston, where he understood nothing and loved everything about it. He joined Toastmasters International to help him with his English and public speaking. Later he moved to Boston to accept a job with a pharmaceutical firm and at night took a comedy class at a local high school. He read dictionaries, and honed his English and comedy. Eventually he qualified for the Boston Comedy Festival, and ultimately was spotted by David Letterman's bookers.
Joe became a favorite of David Letterman and Ellen Degeneres, having made multiple appearances on both of their shows. He received a standing ovation at the White House Radio/Television Correspondence's Dinner in 2010-- a notoriously tough room.
He has a unique style, pace, delivery, look, and material. But, most importantly, he has something going for him that most comics wish they had-- a stance. Like Jack Benny or Phyllis Diller, his comedic characteristics make him stand out from the crowd. He's like a deer in the headlights, a bit surprised he's in the spotlight, slightly reserved with a touch of socially awkwardness.
One of my favorite moments was after he finished his first national television appearance on The Late Show in 2009, Letterman approached him to shake his hand. Joe seemed unsure as to where to go or what was expected of him. It was a Wally Cox, Don Knotts, or Woody Allen moment, and the audience loved him for it.
One night I took a DVD of some of Joe's television work to show my pal Phyllis Diller. We sat in her den watching, but Phyllis was both hard of hearing and had difficulty understanding foreign accents. After 5 minutes, Phyllis said to me "Is he speaking Chinese? I don't understand a word he has said-- but he is FUNNY!" Although she couldn't figure out what he was saying, she did comprehend that his very essence was comical-- a nerdy and nervous Chinese guy doing American style stand-up.

Ironically, Joe was discovered in and returned to China because of his U.S. television appearances. Over 50 million people in China have watched him on various internet sites, both in English and with Chinese subtitles. He was offered a gig hosting a comedy/investigative reporting show on a Chinese TV network CCTV2, and returned there to do so-- with 5 to 7 million viewers per episode. In the meantime he is also performing American style standup comedy in Chinese venues and has garnered international attention, including being featured on the CBS Evening News and in the New York Times. He can perform 2 hour standup comedy shows in either English or Mandarin Chinese!
My friend, Emmy award-winning comedic actor Fred Willard, shares my passion for books on comedy and comedians, and we often exchange them with each other. He recently gave me Fred Allen's 1954 book "Treadmill to Oblivion." Fred Allen concludes his publication with this bittersweet observation, "When a radio comedian's program is finally finished it slinks down Memory Lane into the limbo of yesterday's happy hours. All the comedian has to show for his years of work and aggravation is the echo of forgotten laughter."
I have a hunch Joe Wong's best laughs are yet to come. It wouldn't surprise me if he returns to the U.S. with his own sitcom that would be watched worldwide. Stay tuned.
Calling all HuffPost superfans!
Sign up for membership to become a founding member and help shape HuffPost's next chapter