Jonathan Goldberg is a fashion designer inspired by the 90's hip hop culture.
Being from the Tri State area, the culture of NYC and its Hip Hop history of such artists as Notorious B.I.G Nas, Mobb Deep, and Wu Tang have been a big inspiration to Jon.
Sourcing all his fabrics and production in the Tri State area this is something that made me interested in him & his clothing label The Essence, I wanted to find out what it is like to source and create a fashion label in one of the most fast paced cities.
I caught up with Jon in New York City to find out more about him and his brand.
Where are you from and when were you born ?
I was born in New Jersey, New Jersey has been my home since January 8th 1979.
When did your love for music start ?
I first gravitated to Michael Jackson at 4 years old, I was fascinated with the "Beat It" video and "Billy Jean" video.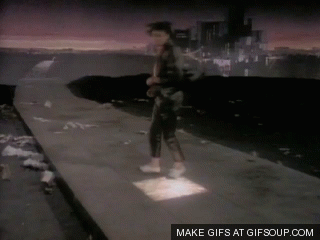 What has the best thing about living in the Tri State area ?
The Tri State is great because it's so fast paced. Even if you don't live directly in New York its so accessible and the energy can't be duplicated.
How is the experience designing and sourcing your product in the tristate area ?
Designing in the Tri State has its advantages because i am surrounded by inspiration. Materials and hardware have been accessible as well. It's not an easy process but i've acquired a great deal of knowledge as I have learned from my successes and failures.
When starting The Essence what was the first design ?
The first design was a hat with a 1979 logo on it, just made for conversation. The first real design was the Shaolin Chessboxin varsity jacket. It took a while to get it right, but in the end I was happy with the result.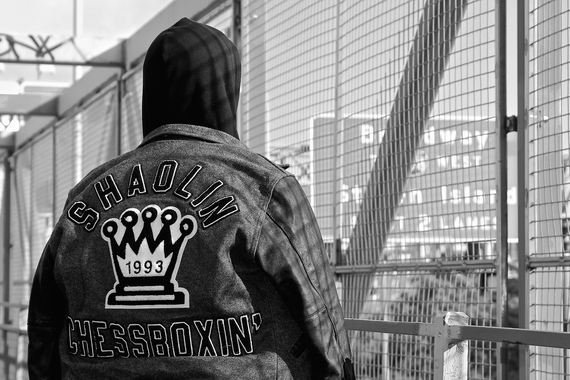 What is it about the old school hip hop that inspires you so much ?
I'm inspired by the music and accompanying elements of style and culture that were so prevalent during my high school years -- 93-97. It was an incredible era that offered classic after classic. My generation got spoiled.
How long has The Essence be around ?
The brand started in late 2013, Its now 2 years old.
What has been the highlight so far ?
The highlight was seeing artists that I gravitated to in high school take a liking to my designs. I just made what I liked. The fact they saw them later and wound up wearing them validated my ideas and creativity.
Pictured below Nas wearing Custom made "Mass Appeal" Varsity jacket designed by Jon.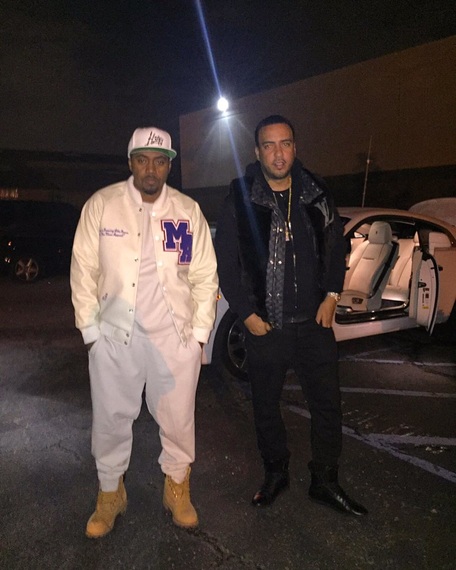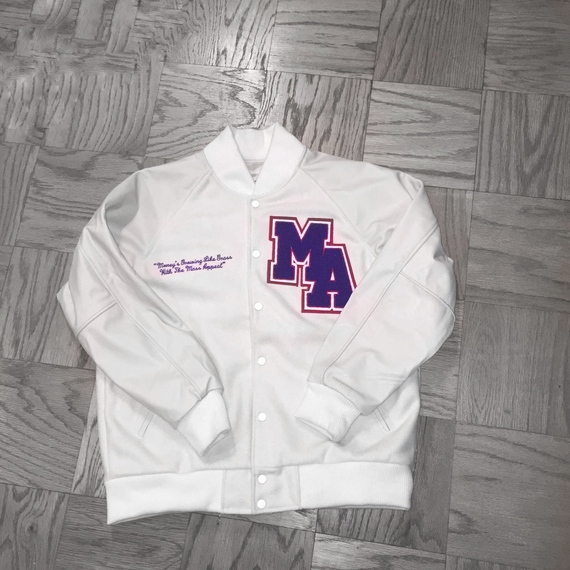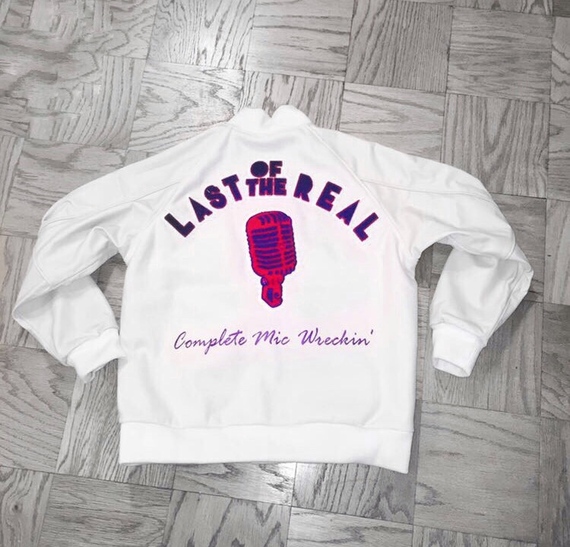 What is your favourite piece so far
My favorite piece is the way back lumberjack coat. I wanted to reinterpret a lumberjack theme but combine elements of a fireman coat, trench coat and varsity jacket. The term hybrid has been used for it. I wanted it to look luxurious and a bit outrageous. The body is cashmere , sleeves are leather, and lining is satin. It took a while to draw out exactly what I wanted and had to tweak some things along the way. We played with the placement of the chenille patches and chose to place them in a nonconventional location. It was a tribute to elements of the past and the words and references of Biggie Smalls. I didn't want to be too direct, but still offer the key elements. The antique brass fireman hook closures are what really finishes the jacket correctly. They complete the look and allow it to truly look luxurious.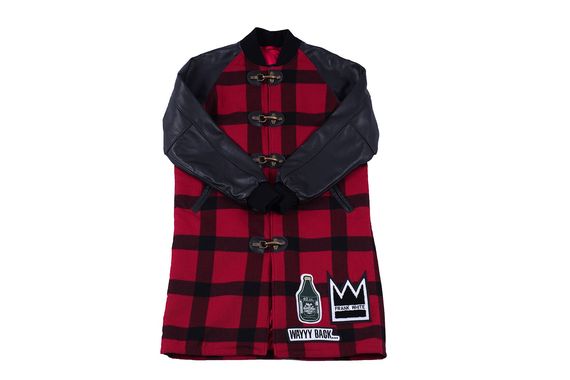 Whos your top 5 artists and why ?
Top 5- (no order) Jay Z , I think he is the most complete MC, he can do anything, and he has so many classics. He offered us every piece of his life at some point or another. He can really tell a story, I never get tired of his music.
Nas, He is just a brilliant artist, paints vivid pictures, tells a great story, can examine himself as well. He gave us some epic material. He started off so young and We literally grew up with him Album to album.
Ghostface , I love the whole Wu, but ghost has been the most prolific in his solo career. So many albums. Great stories and his humor is incredible the skits are classic too. Never conformed. Just does what he likes. I never get tired of Ghostface.
Kanye - He gave us his heart and soul over and over. I can see how much time and effort he put into those early albums. A true perfectionist. I admire that. Not afraid to acknowledge his flaws, wins or losses. Truly opens up and allows the listener in. He Offers tremendous substance.
His career was tragically cut short but gave us two classics back to back. He wasn't afraid to open up. He Could tell a story and people would listen, rocks a party, changes flow. He was the full package.
Who do you think is the next star to break out of the East coast ?
Keep up to date with Jonathan and The Essence at the below links.