Lakshmi Raj - A Boston based Indian classical Bharat Natyam dancer is a recent sensation in the world of Indian classical dance. She grew up in Mumbai, India to get her Masters in Corporate Marketing. She also worked for leading Logistic companies in a business development role, until recently when she decided to give up her monotonous job and explore new horizon of innovation, grace and her passion.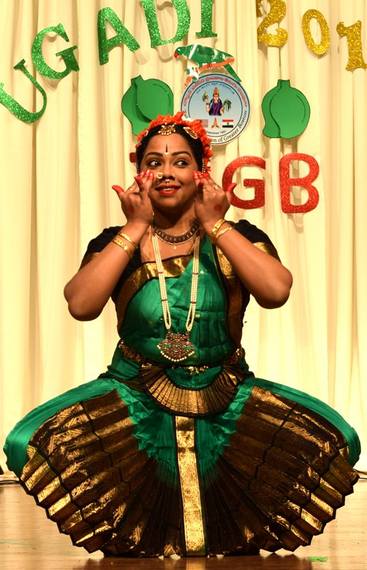 Right from the young age of 5, her feet began to dance to the classical tunes of Bharat Natyam which is one amongst the 7 classical dances of India; it's one of the oldest, most intricate and said to have its origin way back in the 17th century in Southern part of India. She has blossomed into a Bharat Natyam performing artist with her dedication and love for the art form. She now lives in Boston with a vision of keeping this Indian classical dance alive and to spread awareness about this form of dance. It is her refreshing approach to Bharat Natyam that made her win many accolades in India. She has also enchanted viewers with her 'Abhinaya' or expressions on national television shows.
Recently I met her and got an opportunity to interview her to know more about her dreams and journey from the corporate world to the dancing stage.
Q. Tell us something about yourself ?
Lakshmi: I am a marketing professional, dancer, photographer, painter and traveler.
Q. Tell us about your education? What languages do you speak?
Lakshmi: I did my graduation in Information Technology and Mastered in Business Marketing and am also pursuing my Bachelor's degree in Bharat Natyam. I speak English, Hindi, Marathi, Tamil, Kannada, Telugu and Dance.
Q. Have you completed any course in Bharat Natyam? When and what made you start ?
Lakshmi: I have been receiving training from my 'Guru' (mentor) Ms. Lata Raman for the last 18 years now, the research and study is just endless. There's a funny story behind why I started dancing....My elder sister used to be a super introvert as a child. So to overcome her fear of talking, a pediatrician suggested my parents to enroll her in some group activity classes. Also, my mother aspired to be a dancer herself when she was young but she grew in a rather conservative society where in the ancient India, dance was considered to be performed by the girls of low society to entertain the Royals. Hence she never got a change to pursue her dream. So without wasting this opportunity and going by what the pediatrician suggested, my mother got my sister into a Bharat Natyam class very close to where we lived in order to make her dream come true through her daughter. It was my good fortune that, to the fear of new faces and the sound of the 'Tatta Kazhi' (beats) my sister would do nothing but cry in the class; so to give her company, I was introduced to the world of dance and since then there is no stopping.
Q. Tell us more about this art form?
Lakshmi: Bharat Natyam as an art form is a treat to the eyes as the dancer is adorned in a beautiful silk costume with a long hair and all types of temple art accessories. This dance is all about technique, geometrical symmetry, hand gestures, poses and many other technicalities. Bharat Natyam has so much depth in it that one has to be literally married to the art form to be an intellectual dancer. For instance the dancer goes through beginner's lesson of steps which takes about a year to learn as there are many groups and various types in each group. It's only after you learn all these steps and able to perform it in 3 speeds you can start learning the different type of items (songs). Most pieces of dance has a mythological story which is depicted with the synergy of body movement, hand gestures, facial expressions and postures. In short Bharat Natyam requires lot a dedication and discipline to learn it.
Q. Now that you have learnt it for almost two decades, what do you see yourself doing next?
Lakshmi: More than learning, Bharat Natyam is like an endless research so I see myself getting more and more knowledgeable on this subject by each passing day. Bharat Natyam is now becoming a global dance, its been fascinating to know what the people here think of this art form. Through my dance I want to reach out to more people in America and understand their thought about this Indian classical dance form.
Q. Tell me the best thing to like about dancing and one thing you dislike about dancing?
Lakshmi: Can I say two things I like please....I love to sweat it out during the practice sessions, its like a fun workout for me and I love to hear the applause after a performance. It's like a drug to me. What I dislike the most is winding up after a performance....Oh the make up cleaning, undoing the hair, maintaining the costumes in the trunk I always wish I had a Genie for all this! (laughing)

Q. Which has been your most memorable performance?
Lakshmi: Who doesn't want to be on television...my sister and I did a duet dance for a dance reality show in 2001 on Star Plus (India's leading family entertainment channel). We even won the title for that show named 'Kya Masti Kya Dhoom' that was the first time I was on television and happens to be the most memorable one!
Q. Which was your most recent performance?
Lakshmi: Last week I performed in an event for Telugu Association of Greater Boston.
Q. How do you feel about switching your career from a white collar marketing professional to classical dancer?
Lakshmi: It was extremely difficult to balance both my careers. My marketing Job was highly demanding and dance was something I wouldn't compromise on. Now I feel at ease, doing what my passion was in. One might get physically tired of dance but never mentally. So now I can go on and on and on with it!
Q. Any message you want to convey to other dancers trough this interview?
Lakshmi: All I want to say is never give up. You may fall, just rise again gracefully. There may be hurdles, overcome it with a majestic leap. Bad days may come, just keep going with the smiling face of a dancer!
You can follow Lakshmi on Facebook to know more about her upcoming shows and performances in United States.
Calling all HuffPost superfans!
Sign up for membership to become a founding member and help shape HuffPost's next chapter