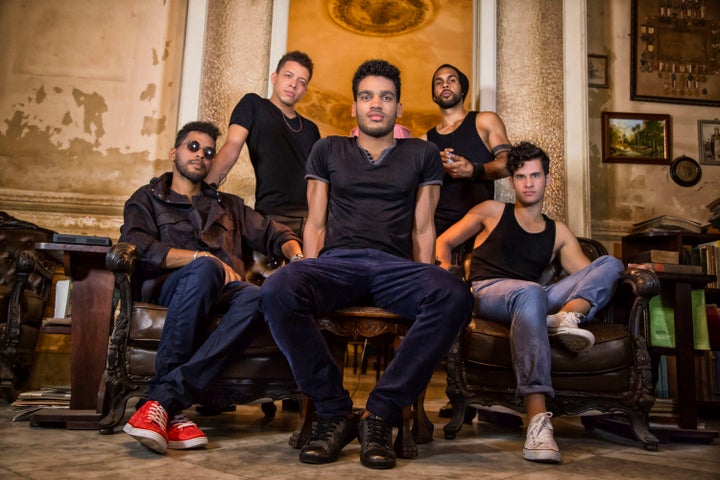 Mano a Mano is Cuba's first and only official gay men's chorus. It was founded two years ago by Cuban-born filmmaker Fermin Rojas and his husband, Jay Kubesch.
"The idea was a result of a documentary that I worked on in Cuba about visual artists living and working there," Rojas explained to The Huffington Post. "One of the artists I interviewed said, 'All I can leave behind is a record of what I've done for my country.' That moved me to the point where I thought, I have to do something."
Although Rojas currently lives in Florida, Cuba has always remained very close to his heart. "I'm Cuban," he continued. "And Cubans have this great longing for their country -- a weird, innate, genetic love of Cuba." Also, having sung with gay men's choruses for 12 years, Rojas is well aware of the influence choral movements have in advocating for and advancing the LGBTQ community. 
So Rojas organized auditions for a Cuban chorus. Fifty men showed up, and eventually six were chosen. The group now consists of Arian Ferrer-Castro, Carlos Raul Torres, Orlando Cartier-Sanchez, Miguel Angel Herrera and Yorlan Arencibia, under the musical direction of Ernesto Lima Parets. 
"I was one of the founding original members of the group from the beginning," Cartier-Sanchez said in Spanish as Rojas translated. "When I found out about the objectives of the project I became very interested. We serve as an example for other gay people that may feel oppressed. They know that, through our music and what we do, we can be equals to other folks. We can achieve our dreams and goals in life. We can have a life like everyone else with families and children."
Mano a Mano describes their style as "unique" and "tropical-influenced," performing everything from classical choral numbers to a salsa rendition of Culture Club's "Karma Chameleon." They recently performed the latter on Hollywood Today Live in their first ever television appearance. The group described the experience as "a great honor."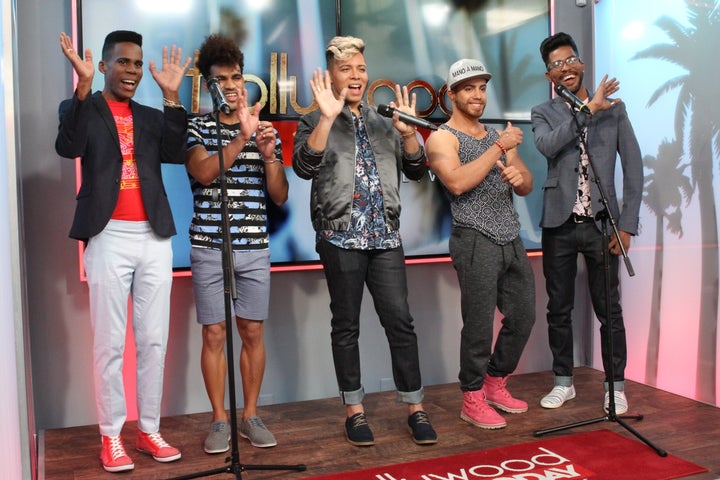 Mano a Mano is gearing up for a summer tour around the United States, where they will perform in places including Colorado, Washington, D.C., New York and Florida, often collaborating with other gay choruses along the way. They kicked off their tour this weekend in Los Angeles, singing alongside the Gay Men's Chorus of Los Angeles at the Alex Theatre in Glendale, California.
So far, the members of Mano a Mano have felt welcomed and embraced by American culture throughout their time in the country. "I feel like the U.S. is a very open-minded place where you can express yourself," Raul Torres explained to HuffPost. "People don't have a fear of manifesting themselves how they want to be in the world."
The musicians can't help but gauge their experience in relation to their home country, where the government has taken steps to end discrimination towards the LGBTQ population but still has a long way to go. 
"It's very difficult to change years and years of macho culture," Ferrer-Castro said. "Particularly with the older demographic. Despite all that, many doors have opened for gay rights and there are venues for gay people to go to be themselves -- discos and night clubs. It's not as repressive as it used to be, once upon a time."
The mention of nightclubs as a sanctuary for gay culture brings up the tragic massacre that recently occurred at Orlando's Pulse nightclub, when a gunman killed 49 innocent people and injured 53 others. "It's an occurrence that touches us very deeply and gives us great pain," Raul Torres said. "Because in spite of everything the gay community does to fight for our rights and our lives, it's very sad to know that there are people out there who are so full of homophobia that something like that can happen."
In their Los Angeles performance, the group dedicated the piece "Hear My Song" to victims of the shooting, with part of the proceeds from the show benefitting the families of victims. 
"I still have a very difficult time talking about it," Rojas said. "I think the concert is going to help all of us heal personally, and I think it's going to be very meaningful to anyone who comes to see it. We hope it sends a message of condolence and passion to LGBT people everywhere. It's a hard moment for us right now."
See Mano a Mano's performance on Hollywood Today Live below:
Calling all HuffPost superfans!
Sign up for membership to become a founding member and help shape HuffPost's next chapter
BEFORE YOU GO
PHOTO GALLERY
Big Wins, Bigotry and Backlash: The LGBT Political Stories of 2015