Ever since he was four-years old and dressing himself, Moziah "Mo" Bridges, now 11, insisted on wearing a suit and tie whenever he could, even to the grocery store or while riding his bike. "I love dressing up," says Bridges who found early inspiration from his father and grandfather who typically wear three piece suits for no particular reason. "I look and feel so much better in nice clothes. It makes me feel like an important person. "
His most treasured outfit is a seersucker white suit with blue pinstripes that he got at Land's End. He later asked his mother, Tramica Morris, to sew braces into the suit "Real men wear braces," he explains. However, his mother put her foot down when he wanted to wear a matching Ascot hat to school.
When Bridges, a music lover, saw images of singers he admired like the Jonas Brothers and Justin Bieber wearing bow ties, this nine-year-old tie guy got inspired. But while shopping for bow ties, all he found were "plain and ugly" black and red clip ons. "I said, 'mom, I'm not clipping anything on my neck! Real men tie their own ties!'" So Bridges turned to his grandma who has been a seamstress for 50 years, had a plethora of vintage and rare material scraps and said, "teach me."

The very first bow tie he made was what he calls "a really big uneven blue taffeta mess -- like something that a clown would wear," recalls Bridges. Ever determined, he just kept making them on his grandma's sewing machine until his skills improved. Ultimately his grandma bought him his own sewing machine so he was really able to throw himself into his work (when he wasn't outside playing football). Within a few months, he had a personal collection of 30 bow ties all fashioned from his grandma's vintage fabric which included bold florals, African prints, choir robes, even scraps from 1970s dresses. "I want to make a bow ties I've never seen before," he explains.
Family and friends took notice of the dapper boy. "They would see me wearing bow ties and say 'that's really cool. I want one!' So I thought, why don't I sell them?," explains the sixth grader/entrepreneur. Soon, Mo's Bows, with nine-year-old Bridges at the helm, was in business (with his own business cards).
At first his mother and grandmother helped create the merchandise which they sold to family and friends. As the business increased through Facebook, an Etsy store and word of mouth, so did the production team. Now his other granny, aunts, cousins, and friends help him make bow ties as they sit around Bridge's and his mom's dining room table. Sometimes he'll walk around the table and say, "how are my workers doing?" (He is the CEO of Mo's Bows after all.)
In addition to using vintage material from his granny's vast collection of fabrics, Bridges has expanded to newer prints like gingham and tweeds. And he has a formal line with silks and satins. "When I see something I like, I make it," says the CEO. The bow ties are all custom made with adjustable hardware that can be altered in size. "But I still make my personal bow ties to fit just my neck so they don't have hardware," he explains.
Bridges says that the best part of owning a business is telling his mom what to do and meeting lots of different people. "I also like helping kids go to camp so they won't be bored and lonely during summer," he says. Last year, all proceeds from sales from the special Go Mo! bow tie helped send two children to camp and they hope to send five more this year.
The bow ties are sold online and at boutiques throughout Tennessee, South Carolina and Texas. He and his family sew each one from scratch. Often the family continues to work even after Bridges' 8:30 bedtime. "My family helps because I have to go to school," he explains matter-of-factly. "We're a unique company because we get the bow ties out on time and you can't get them anywhere else."
As for the future of Mo's Bow's, Bridges aspires to attend the Parsons School of Design in New York. He would also like to expand and have his own clothing line by the time he is 20. And what would his fantasy outfit be to design? Without a hint of a pause he confidently declares: "straight jeans, a tuxedo shirt, green converse Chuck Taylors to match and a green bow tie of course," says Bridges. "I like to jazz it up. I don't want to be like anybody else. I like being different. If all the candies are red, I want to be the green one."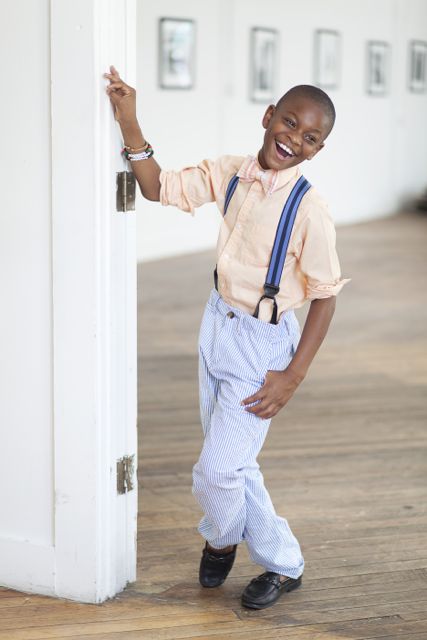 (Photo credit: Annabella Charles Photography)
Stylish Moziah Bridges with his stylish dad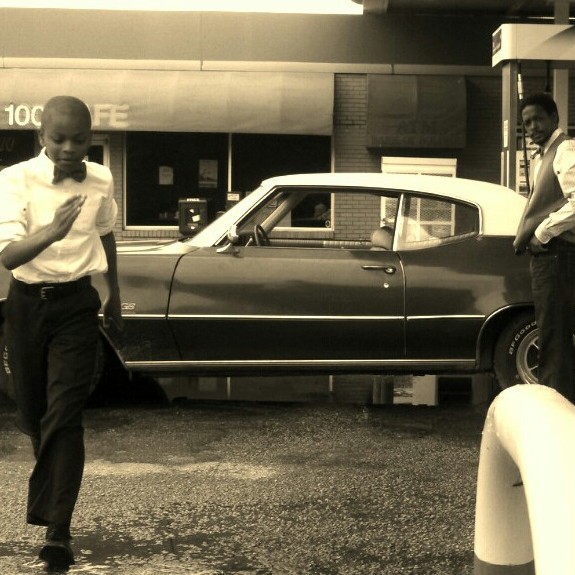 (Photo credit: Tramica Morris)
Independence Day-themed bow ties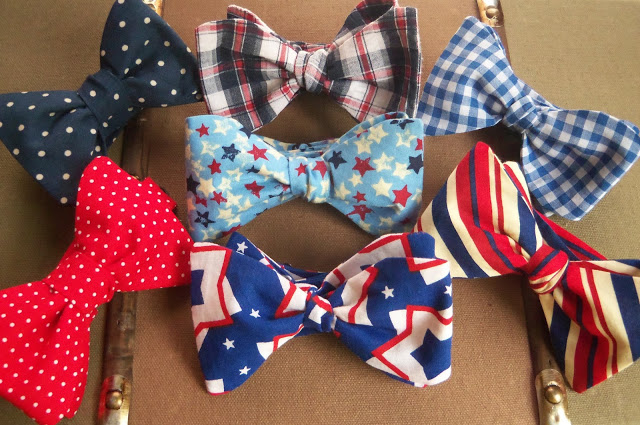 (Photo credit: Tramica Morris)
Related