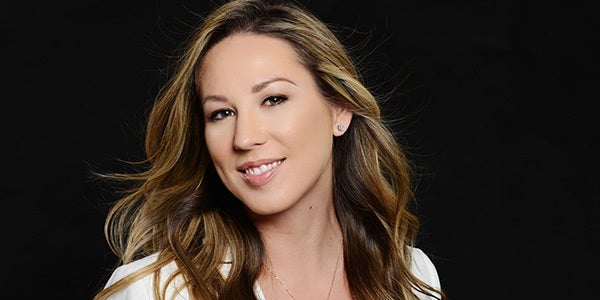 It's been a groundbreaking year for women in business and even more so for those in the music. At the helm of Matrix Artists is Jennifer Horton who joins a host of inspirational women who behind the scenes are closing deals and transforming how brands connect with artists. With three songs on the Billboard Hot 100 Chart simultaneously, hit records for Chris Brown and international clients on her roster, this successful manager, A&R and entrepreneur is winning this year.
Where did your love of music come from?
Probably from Bon Jovi "Livin on a Prayer"! That was one of my first favorite songs. When I was about 6 years old, I got a tape recorder and I started making my own "mixtapes" to get the best songs from the radio. I would make up dances to them and perform them.
Music represents so many facets and chapters of my life. I grew up in a small town in Texas, so country music will always take me back home. My parents listened to classical music, and we would go into Houston to the symphony and the ballet so that is another genre that I still enjoy. My first rap albums were Dr. Dre and Snoop Dogg and that opened up a whole new world of hip-hop. I just feel like music has always been there for me.
What is a typical day like for you?
The only thing typical about my day is the beautiful sunny weather in LA! Otherwise, anything goes. I jump into whatever is urgent in the morning as soon as I wake up. Our clients could be working in London or Asia or any other time zone so I have to catch up on what's happening on social media and scan the news. Then whether I'm in LA or on the road, it's important to me to find a few minutes of quiet time to get centered and focused for the day. I usually stop by Starbucks and sit down with my notebook to review goals, priorities, and my to-do list.
The rest of my day revolves around music, deals, ideas and anything that supports what our clients need. I love blasting new songs that we are working on while I'm driving to the office or between meetings. At night I may be at Paramount Studios for a session, or CenterStaging for a tour rehearsal, or shooting content for a viral video. It's a constant hustle creating business opportunities while staying inspired and motivated.
You had three songs on the Billboard Hot 100 at the same time including Chris Brown's "Zero" and 2 Chainz's "Watch Out." Tell me about that.
That was a proud moment! There is no better feeling than seeing our clients winning and succeeding. It reminded me that as an independent company, we continue to make an impact through hard work, by not giving up, and working with the right artists and their teams.
Both "White Iverson" and "Watch Out" were produced by my client FKi 1st and were organic viral hits that crossed over to the Hot 100, so that was a huge accomplishment. He is a visionary and has an amazing ear for what's next. With "Zero," Chris Brown had a direction in mind for the Royalty album, so I was actively looking for records that would fit the sound. When his A&R Barry "Mijo" Bradford and I first heard the idea for "Zero" with the funk bass line and clever hook lyrics, we knew Chris would love it. Then he brought the song to life with an epic performance video that he also directed.
Chris Brown, 2 Chainz and Post Malone are well-known hip hop artists however, you also have K-Pop clients. How did that come about and what do you do for them?
I have a deep understanding of the pop and urban music world, but over the years my expertise has evolved to include everything from country to EDM. I am always up for new challenges, and so are our clients. We actually fell into the K-Pop world when Live Nation was putting a new creative team together for BIGBANG. My client Gil Smith who is one of the top Music Directors in the business and has worked with everyone from Lady Gaga to Lil Wayne and Nicki Minaj was asked to come in to create the musical arrangements, sound design and bring in a full live band. Almost 5 years later, Gil and our team are still working with YG Entertainment and Live Nation on their major tours as a music and production management resource for many of their acts. We have been able to see first hand how the K-Pop movement is growing in the US!
Major brands like W Hotel, Samsung and Converse have sought you out. How were you able to add corporate clients to your roster?
It all comes down to culture and authenticity. That is the common thread to integrating brands with music, creative campaigns, and live concert experiences. As a company, we are immersed in this generation of tastemakers and creatives, and we know how to structure the deals on the business side so that everyone wins.
We meet a lot of brands through opportunities we create for our clients, like the Heineken House at Coachella. We like to continue those relationships by being a resource to them. Other times we'll get a call when a brand like W Hotels wants to produce a live show or is interested in a music-driven campaign. We bring all our expertise to projects from production to brand integration with artists and deliver the results they need.
In your opinion, how has the role of the female music executive evolved since you started in the business?
We are seeing more women who are achieving high levels of success in music, entertainment, and technology being recognized. Part of that is through social media, but also from traditional business publications like Billboard and Forbes.
When I started I only knew of a few women who were at a high level that I could look up to in music. One of them, Wendy Goldstein, was a name I found in the A&R directory and I didn't even know what she looked like until I met her! I think you have to blaze your own trail no matter what and be accountable for your own growth and learning. And make sure you deliver. That is all anyone cares about at the end of the day.
What are three things your company accomplished this year that you are most proud of?
Every year I am proud to still be working on great projects and growing Matrix Artists as a company because nothing is guaranteed, especially in music and entertainment. Trends change and people fall off quickly. People are cutthroat and they may try to downplay or discredit your accomplishments along the way. It takes a long time to build a reputation and find the right team members.
If you can stay in the game and keep reinventing, that is half the battle. Look at iconic creative and business innovators like Madonna, Russell Simmons, and Kanye West. Still grinding! Every year I want to say we were a part of hit records, epic tours, and pushing our clients' careers forward, and I can definitely say that for 2016.
Tell me about some of the artists that are on your radar right now.
FKi 1st. Look for his next album on Diplo's label Mad Decent. Post Malone. Kehlani. G-Eazy. Just to name a few. And we have several new projects in the works so you will have to follow @matrixartists!
Thinking big and taking what we do in artist management, branding and production to the highest level. For Matrix Artists and Matrix Productions, we are looking at some exciting strategic partnerships that will allow us to scale and grow our core business, so stay tuned!
Personally, I want to keep growing as an entrepreneur. I am currently part of the Goldman Sachs 10,000 Small Businesses Program and that has given me tools for success that I can apply to any business no matter what industry. I also feel strongly that giving back through education is crucial to the next generation. I am participating in a college mentorship program to empower aspiring entrepreneurs in the STEAM areas (Science, Technology, Engineering, Arts & Mathematics) and will continue teaching Music Business at Los Angeles College of Music.
Related
Popular in the Community