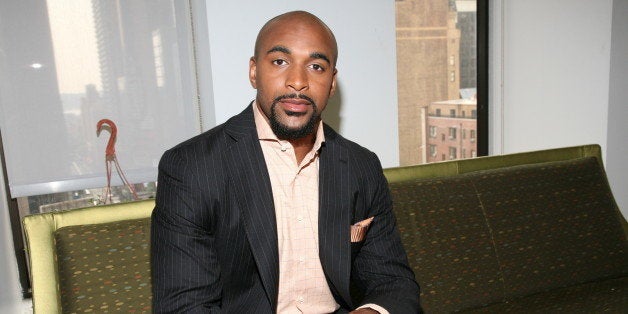 "You can talk about the Holocaust, but the Jews, they own everything!" blared Apostle Kimberly Daniels, who is part of an extreme Christian movement, the New Apostolic Reformation, which believes in a complete takeover of government. Following "7 Mountains" theology, the belief is that Christians must control -- and place individuals at the top of -- the seven pillars of society, from government and media to the worlds of business and entertainment, including sports. Daniels, an African-American woman, is also thankful for slavery, saying in the same sermon, "If it wasn't for slavery, I might be somewhere in Africa, worshiping a tree." The belief regarding the Holocaust and slavery appears to be that only by experiencing these horrors are groups "paid back" or rewarded by God.
This week, in an incredible report, Rachel Tabachnick at Political Research Associates unearthed the New York Giants' David Tyree's business and religious connections to Daniels, his "spiritual mother," and her radical movement. The Giants' recent hiring of former player Tyree as director of player development came under intense criticism last week, including by the Human Rights Campaign in a strongly worded press release, and by me, because of his past anti-gay advocacy, homophobic statements and belief that gays can be turned straight. Daniels is also at the forefront of the Christian extremists attacking LGBT rights and believes that homosexuals can pray away the gay. Here are excerpts from "Confession to Come Out of Homosexuality/Lesbianism" from her 2009 book, Prayers That Bring Change:
I no longer conform to and subject myself under the words and authority of the homosexual agenda. ... I repent for all the people I have recruited to join this army of darkness. ... I come against the vision of the rainbow that represented a covenant between the devil and me.
And here are excerpts from "Prayer Against the Homosexual Agenda (or Same-Sex Marriages)" from the same book:
We curse gay pride to the root and declare that is is nothing to be proud of; it is an abomination in the eyes of the Lord. ... We come against the witchcraft that is working behind the scenes of the homosexual agenda.
The year before Daniels wrote that book, she co-wrote a book with Tyree, then a wide receiver for the Giants, who'd been taken into her fold. That book, More Than Just the Catch: A True Story of Courage, Hope, and Achieving the Impossible, is all about how Tyree's famous catch at the 2008 Super Bowl, which helped win the game for the Giants, was a gift from God after he'd been "reborn" into Daniels' radical Christian movement.
She told me four things would happen in that game. The first one was that I would have quick feet. The second was that I would have the feet of a hind, a deer, and I would be able to jump high. The third was that I was going to have glue on my hands and the fourth was the Lord was going to give me the big play. ... God was positioning me to do greater things.
Given the way Tyree spoke of Daniels just two years ago, it's clear that she is someone who may have a grip on his beliefs for the rest of his life.
Last week, after Tyree was named director of player development for the Giants -- a job the coach described as helping athletes deal with personal issues and development, which conceivably could be homosexuality -- the Giants seemed completely taken aback by the criticism, with General Manager Jerry Reese trying to downplay Tyree's past and defending the choice.
In came the You Can Play Project, co-founded in 2012 by current president Patrick Burke, a straight ally of gay rights. (His now-deceased brother, an athlete, was gay.) Burke works for the National Hockey League and obviously has many connections and friendships within the world of professional sports. You Can Play basically gave cover to the Giants, with Burke tearing into the Human Rights Campaign on Twitter for criticizing the Giants' choice to hire Tyree. Openly gay former NFL player Wade Davis, now the executive director of the You Can Play Project, wrote a piece explaining that he'd met Tyree while doing workshops in which he educates teams and management about LGBT people, and that Tyree had reached out to him. He said he'd also spoken with Tyree after the hire, and that Tyree had given him a statement saying that he'd "support a gay player."
I have a lot of respect for Davis and the work he does educating players and coaches, and I think an inside strategy is vital, but his piece was vague, answering none of the questions, and he acted as a mouthpiece for Tyree, who refuses to give interviews. Davis said that Tyree is evolving, but just two weeks earlier, on Twitter -- and Tyree's Twitter feed has now been shut down, perhaps out of fear that people will dredge up his tweets -- Tyree lamented that there are not enough men for "single Christian women" because too many men are "effeminate."
Cyd Zeigler, a journalist at OutSports whom I've always respected, oddly became a mouthpiece for Tyree too. It was a glaring bit of PR promotion from someone we'd expect to have more distance. He said in a video that he spoke with Tyree, and that Tyree doesn't support conversion therapy and "doesn't even know what conversion therapy is." There was no direct quotation from Tyree, and again, Tyree has refused to speak for himself. Zeigler also criticized those of us who aren't working as insiders in sports, as if criticism from the outside is useless or counterproductive and only he and You Can Play are doing the kind work that gets results. How many times have we heard that before, whether about the Republican Party, Hollywood or any other power structure? It's pretty condescending to silence people -- and as a straight man, Burke shouldn't be slamming a gay group for speaking out on homophobia -- and just plain wrong.
"I am less concerned with Tyree's evolution on LGBT issues than with what his hiring says to current or future closeted players on the Giants," Hudson Taylor, another straight ally working with sports teams as the executive director of Athlete Ally, wrote to me in a statement, obviously disagreeing with You Can Play. "Hiring a director of player development with a known history of anti-LGBT beliefs shows that the Giants are not concerned with providing support to gay and straight players equally."
Given that he's so close to Kimberly Daniels, who's made "healing" homosexuals so much a part of her work, it's impossible to believe that Tyree doesn't know a lot about "ex-gay" therapy. And how could she, as his zealously anti-gay religious mentor and self-avowed "demon buster," possibly tolerate his "evolving" on something that is so fundamental to her belief system? But if it's truly the case that he's evolved, Tyree can let us all know that he completely disavows her radical views on homosexuality.
What Daniels did by entering politics is part of the 7 Mountains movement's philosophy: Infiltrate the power structures of society, from government and media to Hollywood and sports, even if it means downplaying views in order to get in. Could that be what David Tyree is doing now? I think Tyree, You Can Play, Zeigler, the New York Giants and the NFL have a lot more explaining to do.
CORRECTION: An earlier version of this post misspelled Cyd Zeigler's surname and erroneously referred to Political Research Associates as Public Research Associates. It has been updated accordingly.
Popular in the Community