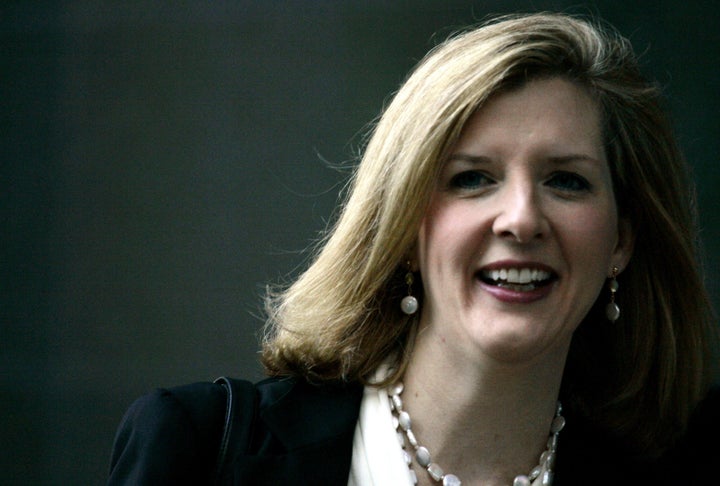 WASHINGTON -- The White House announced Thursday that President Barack Obama will have new lead legal counsel at the end of the month: Kathryn Ruemmler, who made waves in 2003 as a fierce member of the legal team that brought down Enron founder Kenneth Lay and CEO Jeffrey Skilling.
Ruemmler, who is currently Principal Deputy Counsel to Obama, will take over for current White House Counsel Bob Bauer when he leaves this month to return to private practice. Bauer will resume his role as counsel to the president's reelection campaign, counsel to the Democratic National Committee and personal lawyer to Obama.
In a statement, Obama praised Ruemmler as "an outstanding lawyer with impeccable judgment" and said her track record in the White House Counsel's office proves that she will "successfully manage its wide variety of responsibilities."
Ruemmler is no stranger to the White House: Prior to her current post, she joined the Obama administration in January 2009 as Principal Associate Deputy Attorney General. She also served as Associate Counsel to President Bill Clinton from 2000 to 2001. In between those jobs, she was a partner at Latham & Watkins and served six years as a federal prosecutor.
During that time, Ruemmler was picked as the youngest member of the 10 lawyer Enron task force. She made the closing arguments in the case that resulted in five convictions of investment bankers who helped the energy corporation manipulate its books. Ruemmler received the Attorney General's Award for Exceptional Service for her work on the investigation.
The Georgetown Law graduate has also been recognized for racking up accomplishments at a young age. Washingtonian Magazine named her one of the city's top 40 lawyers under 40 in 2006; in 2007, the American Lawyer featured her as one of 50 top litigators under 45.
Ruemmler's former colleagues couldn't sing enough of her praises.
"Kathy is a brilliant and principled lawyer who has always exemplified the best attributes of our profession," said Alice Fisher, Office Managing Partner for Latham & Watkins in Washington, D.C. "President Obama will be well served by such a talented counsel. Those of us who have known and worked with Kathy offer her our congratulations."
"She is very, very good. She's the full package," said Jamie Gorelick, a partner at WilmerHale and longtime Deputy Attorney General during the Clinton administration, where Ruemmler was one of Gorelick's successors.
Some tough legal issues await Ruemmler. Among them are handling the administration's policy on Guantanamo Bay detainees and overseeing Obama's executive order directing the Office of Management and Budget to issue recommendations on making the federal government more transparent.
Gorelick said Ruemmler brings several strengths to the post, namely that she already knows the "traditions and values" of the administration as well as the people there. In addition, Gorelick said, Ruemmler is someone who "can be forceful when she needs to."
Indeed, Ruemmler made a lasting impression with her closing remarks in the Enron trial: "Those ... were ... flat ... lies!" Ruemmler shouted in the courtroom while slapping her hand on the lectern to the tempo her words, referring to Lay's conversations with Enron employees about the company's soundness. "He had no right to do that," she added.
Gorelick said Ruemmler faced "very tough competition" for the White House Counsel slot and said the fact that "she is young" could have worked against her. "But people in the White House, including the president, have had the chance to take their measure," she said. "Bauer thinks the world of her."
Gorelick added that she is pleased to see the president tapping a female attorney to run his legal shop.
"I'm very happy that there's a woman in this job," she said. "Particularly this one."
Popular in the Community