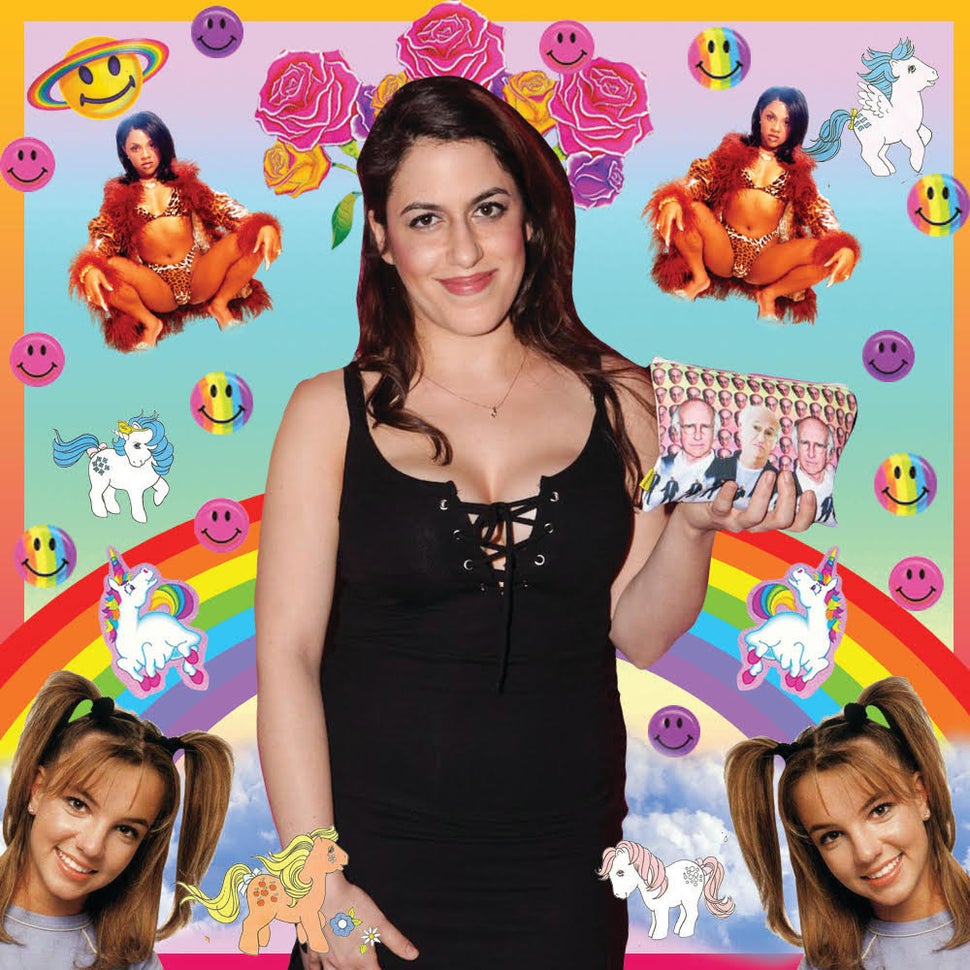 The notorious Instagram account also literally sparkles, saturated in a Lisa Frank color palette, adorned with dolphins, hearts and rainbows. But don't be fooled into thinking this is just cutesy fluff. If you scroll through the feed, you'll get a pretty accurate sense of who's behind it.
"This specific point of view is purely me -- a horned up millennial with a penchant for celebrity news, the world of the Internet and weed," said Caroline Goldfarb, the woman who is Official Sean Penn, in an interview with The Huffington Post.
Why "Official Sean Penn"? She'd tried out different celeb names (e.g. Official Björk), but Goldfarb says Penn just stuck -- it worked the best because he's so humorless, she said. Goldfarb, in contrast, is an energetic and hilarious font of obscure celebrity knowledge.
Meeting her in person, I believe Goldfarb when she says she doesn't look at Fuck Jerry, The Fat Jew or similarly popular Instagram accounts. But that doesn't mean she doesn't have help in creating her feed, which features everything from Martha Stewart on a hover board to a baby turtle eating a strawberry. She relies on what she calls her "gay cabinet of checks and balances," a group text thread with some of her friends where she'll test out ideas for her Instagram posts. 
"They're my most honest, funniest, wittiest and harshest friends," said Goldfarb. "They don't hesitate to say, 'Girl, that's not funny.'"
With a six-figure following on Instagram, the vetting process is working, as is her distinctive way of explaining the world. As a Los Angeles native, her pop culture radar was finely tuned at an early age. From Rihanna to Oprah to Tila Tequila, you'll see a range of celebrities featured on Official Sean Penn. Even though, the pop culture figures might seem to have little in common, Goldfarb's perspective ties them all together.
"I remember being in preschool and being aware of these weird counterculture figures, like Pauly Shore and Chyna," said Goldfarb. "That obsession probably starts with me growing up in LA and walking around and seeing minor D-list celebs and the whole cult of it."
"The myth of celebrity really appeals to me," she said. "There's something really appealing about the sad side of being a famous person and the bad things that come with that."
While there's definitely a sense of making fun of celebrities, Official Sean Penn rarely comes off as mean. The downsides of celebrity and being seen in the public eye are filtered through the lens of Goldfarb's humor, which basks in our shared flaws, weaknesses and vulnerability as humans, famous or not. "No one wants at look at stuff that makes them feel bad or icky. A positive space is better all around," she said.
Goldfarb's role models have built personality-based empires. "Media personalities like Wendy Williams and Howard Stern, who make it their business to talk about the world of celebrity from an outside perspective -- that kind of art has always really spoken to me," she explained.
It's also not surprising that she admires the work of Andy Warhol, whose art she describes as "taking things in our society that seem superficial and packaging it back to us in an interesting way," similar to what she's doing herself.
The next step for the self-described "multi-hyphenate entrepreneuse" is a new podcast called "This Week Had Me Like," where Goldfarb invites another celebrity expert and a plebe (i.e., someone who can't name all of Kourtney Kardashian's children) to a roundtable discussion of the week's most bizarre moments in pop culture. On a show all about bizarre pop culture, the plebe's role is to keep the conversation relatable and grounded. But mostly, Goldfarb said she invites friends with "an appreciation for spilling the tea."
Last week, Goldfarb hosted her first live podcast taping at a bar in West Hollywood, establishing herself as someone that's not only funny on the Internet, but hilarious IRL, too. Complete with celebrity trivia ("Which of these celebs has not killed someone?"), musings on "elusive chanteuse" Rita Wilson's country album release,  and an investigation into a troubling theory behind why Richard Simmons hasn't been seen in public in two years.
"Is it a leg injury or is he being held hostage by his housekeepers?" asked Goldfarb. "This is the kind of conspiracy I want to uncover -- I want to do 'Spotlight' for really dumb stuff." Another of Goldfarb's goals is to encourage at least two celeb beefs a month, and she's off to a great start.
"In the first three episodes of the podcast, I've started a beef and squashed it with a celebrity child," said Goldfarb, referring to calling out Sarah Jessica Parker's 12-year-old son for cyberbullying her by leaving comments on her Instagram. ("You're not funny anymore," wrote the preteen.)
But lo and behold, James Wilkie Broderick gave her a written apology as well as an audio apology, which she played during the taping. "The way that he's handled himself is more mature than literally any guy I have ever dated," Goldfarb replied.
Beyond the duties of Instagram influencer, podcast host and standup comedian, Goldfarb also is a one-woman business, selling her dazzling Photoshop creations, which includes sticker sheets of North West's best outfits, a tote with her heralded "Be a slut  do whatever you want" motto, and a custom Beyonce collage cake. Being a merchandising entrepreneur has its own challenges, especially with her demographic. "I get a lot of customer service issues -- most people who buy my merch are stoner girls who'll give the wrong address or ordered the wrong thing,"  said Goldfarb. "That's when I truly see my audience."
With her ability to capture and propagate an infectious pop culture sensibility, it's easy to see how she turned her Stoner Instagram feed into a career. Embrace the realm of Official Sean Penn, where vaping Leo DiCaprio, pole dancing pugs and phallic latte art coexist. It's not going anywhere anytime soon.
Calling all HuffPost superfans!
Sign up for membership to become a founding member and help shape HuffPost's next chapter
BEFORE YOU GO
PHOTO GALLERY
Awkward Celebrity Kisses