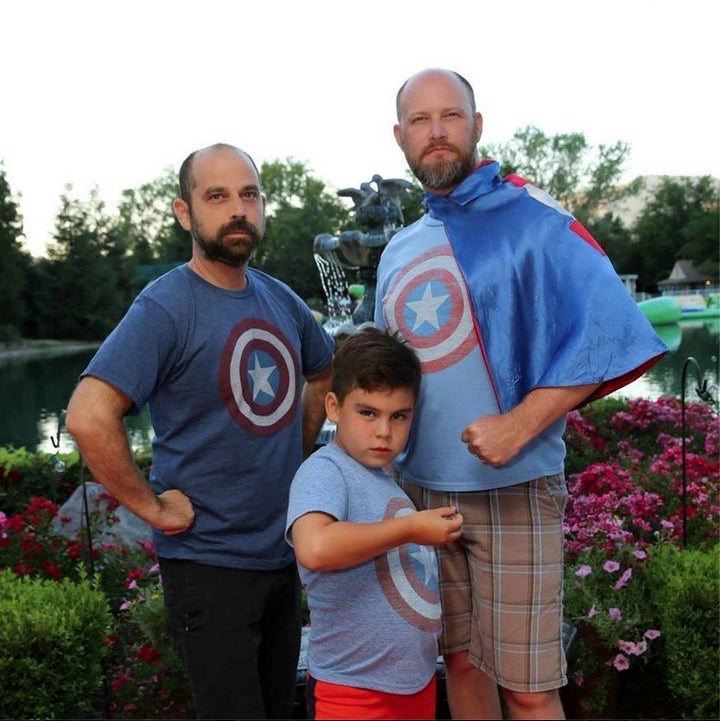 Get a jump on Halloween in today's Huffington Post Gay Voices RaiseAChild.US "Let Love Define Family®" series installment by contributing writer Beth Hallstrom.
There's a home in Pasadena, California, that is prepared for Halloween most every day of the year. Jack, the five year-old son of Brandon Crosby and Andy Alexander, loves spooky things and this family celebrates it.
"Our house is covered in Halloween stuff all the time," said Brandon, who is a field producer for the late night television program "Jimmy Kimmel Live."
In fact, Jack's passion for costumes, masks, and all things frighteningly fun actually inspired Andy, a multi-media artist, to launch a family business. "Grim Wreather & Son" is their online ghoulish invention in which each wreath is a work of art.
"These aren't your grandma's holiday wreaths," claims Andy. "Our son makes sure of that. He loves to help me create."
While black cats and hexes are a running theme at the Crosby-Alexander home, Brandon, 45, and 41-year old Andy said they are actually a very lucky family and feel especially blessed by their son, whose name was chosen because his fathers were sure they hit the jackpot when they adopted the little boy.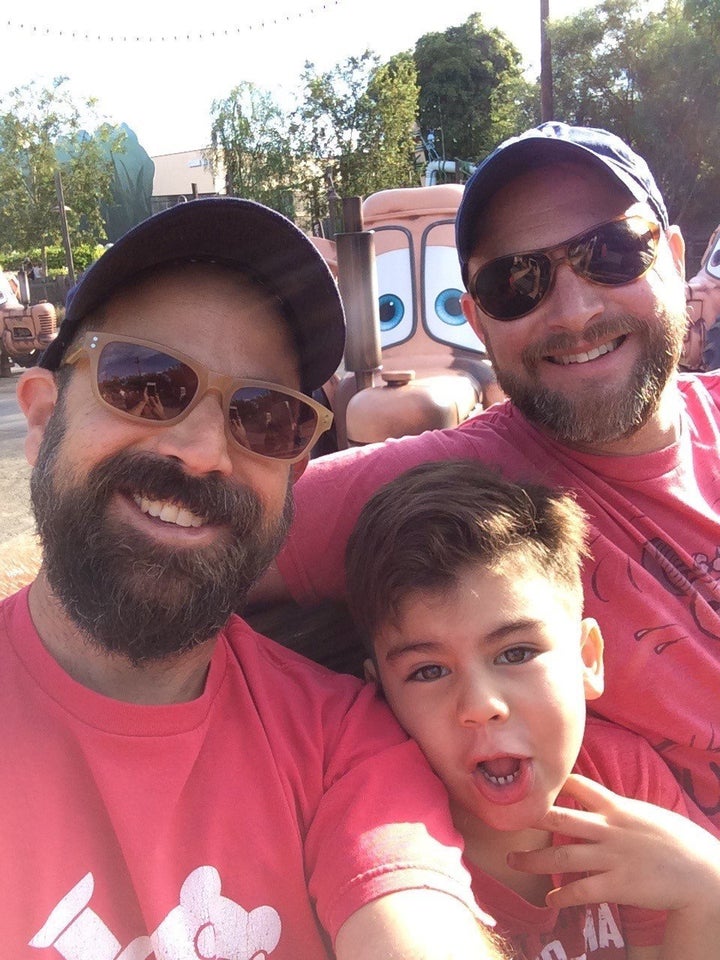 Brandon and Andy, who met in 2004, discussed fatherhood soon after beginning their relationship, which started online at Friendster, a website for finding friends, not dates.
"We found out we had mutual friends, then started talking on the phone and finally we went to lunch. That was basically it for both of us. When you meet that special someone, you just know it," Andy recalled.
They married on August 28, 2008, during California's first window of legalized same-sex marriage, Brandon said.
"We had been living together for four years and, on our anniversary, Andy asked me to become his domestic partner. That's not really the most romantic-sounding arrangement and, since marriage was an option, we had a small ceremony and a big party a month later.
"Andy's brother performed the ceremony and it meant so much to us. We are both lucky to have very supportive families, he continued.
Brandon said he always wanted to be a father while Andy remained ambivalent about parenthood until he met his soul mate, Brandon.
"Early on, Brandon told me about his plans and asked if I was on board. I thought about it and the idea sounded better and better all the time so we chose to live Brandon's dream," Andy said.
Brandon and Andy attended a Maybe Baby event, an educational meeting for prospective LGBT parents to learn about all their parenthood options, including surrogacy and public and private adoption.
"Maybe Baby was a wonderful resource because we heard from a variety of professionals who discussed all the legal, medical, psychological and social issues associated with starting a family. Ultimately, we decided foster care was the best option for us at the time.
"We figured we could foster three kids for what we would spend on surrogacy. Besides, neither one of us had an overwhelming desire to be genetically connected to our child," Andy said.
Brandon and Andy welcomed Jack when he was just five days old and finalized his adoption two years later.
"Our friends and my co-workers, have been super supportive of our family," Brandon noted. "Once, when I took Jack to work with me, I found him in the writers' room playing darts with the writing team," he said.
"But, mostly, he is an amazing, charismatic, smart little boy with a great sense of humor. It's not just us, either, who say that. His kindergarten teachers describe him that way, too," Brandon added with a chuckle.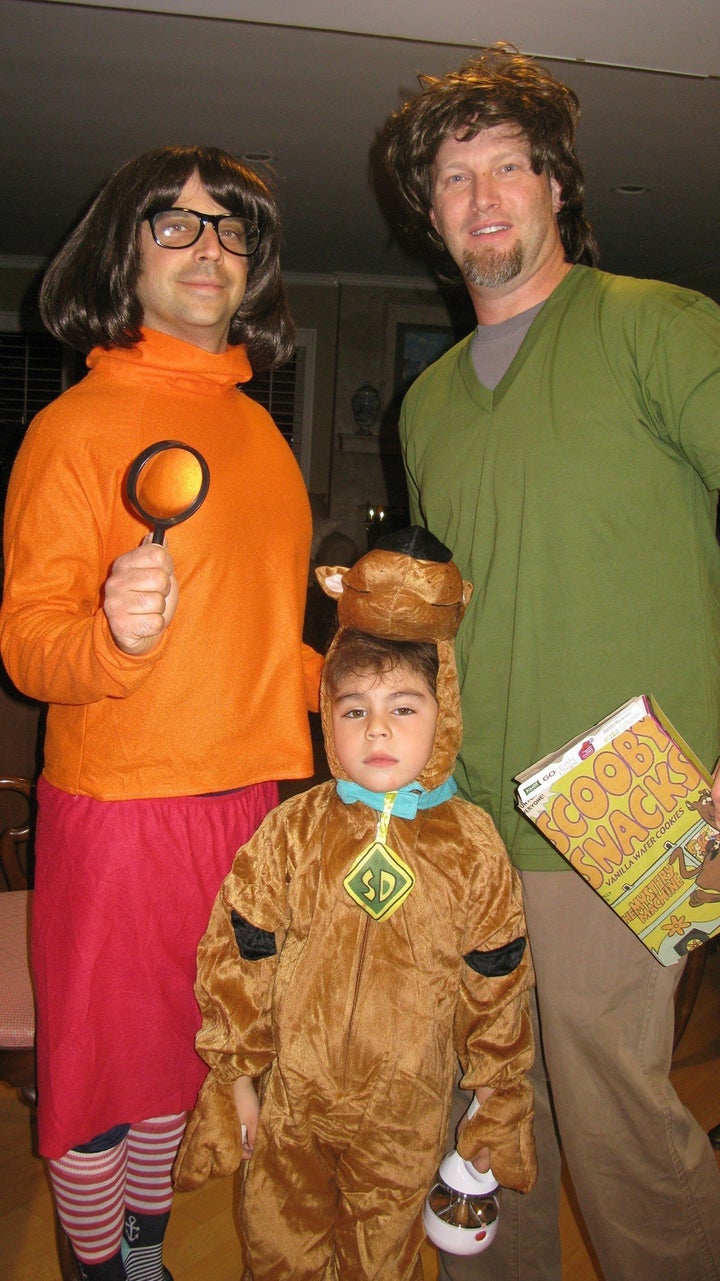 Jack has been vocal about becoming a big brother and he will soon have the sibling he's been asking for, as Brandon and Andy said they've started the process of adopting another child.
"We just recently called and were put on the list. It's good to know that the process isn't as terrifying as the first time around," Brandon said with a laugh.
Andy said his advice for prospective parents is to, "Do your research and go with your gut. There are so many ways to create a family and they all can be challenging and rewarding. Whatever direction you go, both parents should just be on the same page with their decision. For us, adoption was the perfect way to create our family."
While the outside of their home is sure to be horrifying this Halloween night, there is absolutely nothing scary about the family that lives on the inside.
"We often talk about how fortunate we are," Brandon admits. "Andy and I are the lucky ones but Jack is lucky, too. I think the real winner is our family. We love each other. We're not perfect, but we're a loving family and we're all lucky to be part of it."
Have you considered building a family through fostering, adopting or weekend hosting? RaiseAChild.US would like to help you. Visit us at www.RaiseAChild.US and RSVP to join us for free, fun and educational RaiseAChild.US events throughout Southern California:
Tues., Dec. 1st        6:30PM to 8:30PM      Andaz West Hollywood Hotel
Wed., Dec. 2nd       6:30PM to 8:30PM      The Prado at Balboa Park, San Diego
Thur., Dec. 3rd      6:30PM to 8:30PM      The Art Theatre of Long Beach
Sun., Dec. 6th         2:00PM to 4:00PM      Museum of Art History in Lancaster, CA       
RaiseAChild.US is the nationwide leader in the recruitment and support of LGBT and all prospective parents interested in building families through fostering and adoption to meet the needs of the 415,000 children in the foster care system. RaiseAChild.US recruits, educates, and nurtures supportive relationships equally with all prospective foster and adoptive parents while partnering with agencies to improve the process of advancing foster children to safe, loving and permanent homes. Take the next step to parenthood at www.RaiseAChild.US.   
Calling all HuffPost superfans!
Sign up for membership to become a founding member and help shape HuffPost's next chapter