Milestones should be celebrated. A first word, or step or birthday.
Or a 100,000th Facebook Like.
HuffPost Parents turned 2-years-old this month, and this morning the counter on our FB page turned to six figures. We have watched with pride as this baby became a toddler -- a thriving community of parents who turn to each other for wisdom and support.
To mark the moment, we picked up the phone and called our 100,000th member, Jamie Calder, a divorced father of two boys, ages 9 and 11, in Ottawa, Canada. Then we got to know him a little.
How did he find himself on HuffPost Parents?
He linked to us today because his sister had shared an HPP post "7 Secrets of Highly Happy Children." Reading the list, which was written by Katie Hurley, Jamie says he was relieved that he already carried out most of the suggestions, which includes such things as "They eat on time," "they get consistent sleep," and "they feel heard."
Would all that be part of his own parenting philosophy?
He thinks it's a little too lofty to call it that. "I am definitely not the smothering type," he says. "Kids need to have a little freedom to make the mistakes kids are gonna make, so they can learn from those mistakes."
Is that because he's Canadian?
From his home to the north, Jamie thinks that American parents are a tad more uptight, but he doesn't want you to think they don't have their share of worrying up there. "Two years ago I let my boys go to the park down the block alone, and I spent the whole time standing on the porch waiting for them to come back," he said. "All parents worry too much," he says -- a result, in part, of the same devices that connected him to us in the first place. "When a bad thing happens to a child anywhere you hear about it instantly," he says. "And you get so much detail that it feels like it's happening to you."
He's a web developer by profession. How does he feel about his kids use of technology?
"They tend to have the latest gadgets," he says. "They both have iPad minis, we Facetime each other when they are at their mother's house. I like when they use the tech to be creative. They are getting into doing animation on their iPhones and iPads."
Has he warned them about the rules and the risks of those gadgets?
"Yes. We haven't had the sex talk yet, but we've had the technology talk. Tech comes earlier nowadays."
Now that Jamie's a regular on HuffPost Parents, what can we do for him?
"I'd like more articles like the one about keeping children happy, because that's my goal as a parent," he says. Not, he clarifies, in the "buy them whatever they want," interpretation of happy, but rather in the sense that "they get the skills they need and the knowledge that they need to grow up to be happy."
We shall try to deliver. In the meantime, might he send us a photo of him and his boys so we can introduce him to his other 99,999 fellow followers?
"This is the only one I could find," he said, after some digging. "I have to start taking more pictures of me with the kids." Oh, Jamie, we sure can help you with THAT.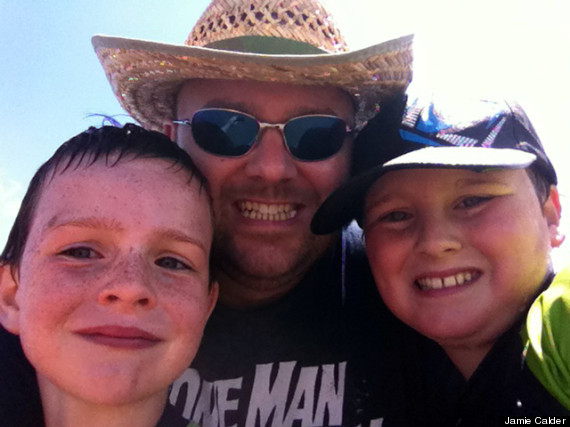 If you're new to HPP too, click through some of our most-shared blog posts below, and join us on Facebook and Twitter!
Calling all HuffPost superfans!
Sign up for membership to become a founding member and help shape HuffPost's next chapter
BEFORE YOU GO
PHOTO GALLERY
Popular Essays By HuffPost Parents Bloggers