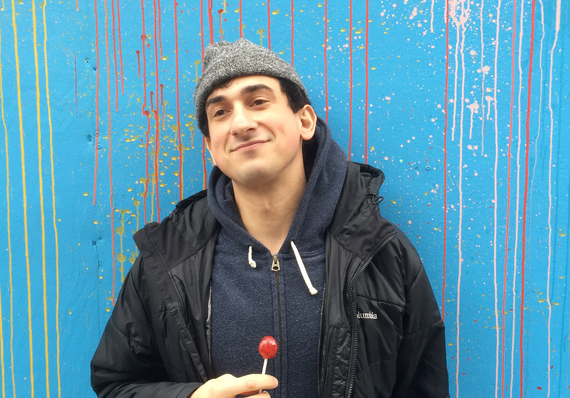 I first met Pablo Rochat when he joined Humin as Brand Director in mid-2015. His humorous works have taken the internet by storm. I also learnt a great deal from this guy. His creative streak is known the world over, so let's get to know more about the man himself.
S: What's your background?
P: Thanks, Sriram. I graduated from Rhode Island School of Design in 2011 and was a designer at Microsoft, Matador Records and Vogue. I then transitioned to advertising work at Goodby, Silverstein & Partners . Currently I'm a Brand Director at Humin. I also advise brands and technology startups on marketing and brand development. Outside of client work I've been doing a lot of side projects for fun.
S: You've had a productive year with a mix of marketing campaigns and independent projects. What's your favorite project?
P: It has to be the Also Shot on iPhone 6 stunt i did with my friend Fabio Benedetto. Apple had just launched their global "Shot on iPhone 6" campaign using beautiful photographs taken with the iPhone 6. The ads were all over San Francisco. We decided to put up additional poster ads that used the most common photos iPhone users take: unflattering selfies. We printed a few posters, put them up, and within 24 hours the project received global media coverage.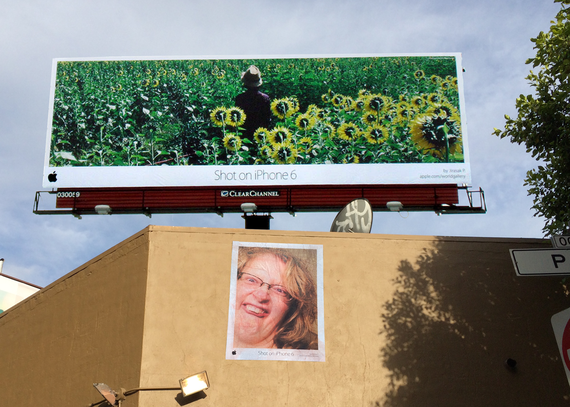 This project was special because it got the attention of millions without a big budget or time-intensive production. The Also Shot on iPhone 6 project cost us close to $0 (we paid the poster printer with a 6-pack of beer!) and the project was completed in two days. All we did were to put up several posters up around San Francisco and posted pictures of them on Tumblr without knowing how much attention they would get.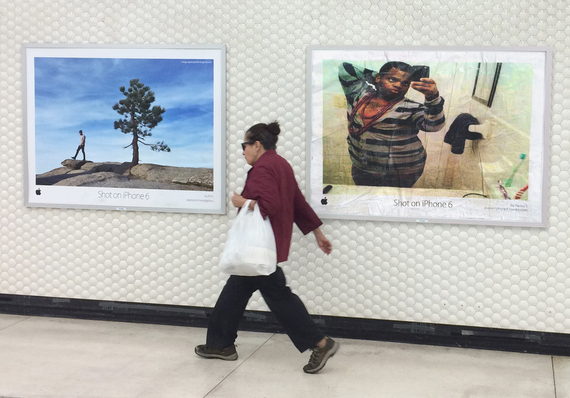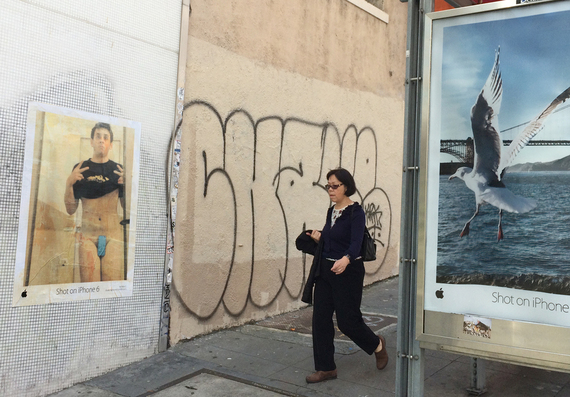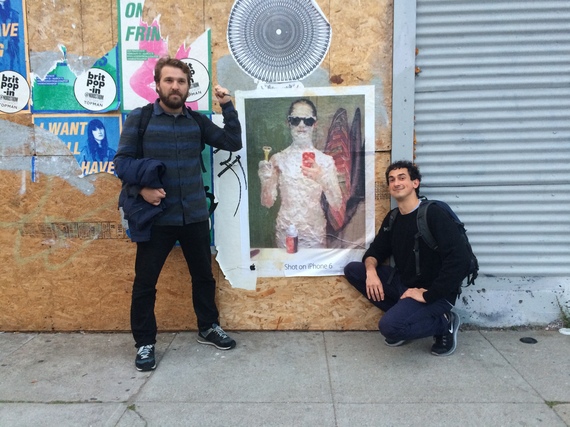 Fabio Benedetto and Pablo Rochat in front of one of their posters in the Mission neighborhood of San Francisco.
P: I can't talk about this.
S: This year you also helped launch Knock Knock app with a marketing stunt. Can you tell us about that?
P: The launch strategy for Knock Knock App was to target college students first. Our approach was to get college students engaged with the Knock Knock product and brand with on-campus events. In order for the app to gain traction, we had to surprise the college students with a fun event that didn't feel like the brand sponsored events they were accustomed to. That's how we came up with the Netflix and Chill event idea.
We created a public facebook event called "1st Annual Netflix and Chill Festival" sponsored by Knock Knock. Within a couple days, thousands of people started to RSVP and share the event organically. What we thought might be a small "Netflix and Chill" themed party at one college turned into a +30K RSVPed event that was held across multiple college campuses spreading Knock Knock brand awareness.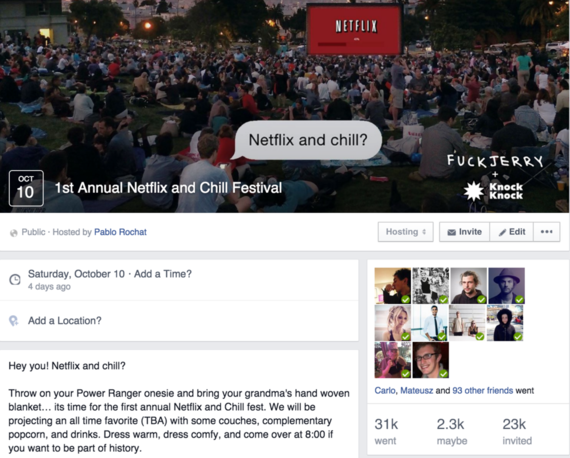 This is the Facebook event page that attracted more than 30,000 RSVPs.
S: Netflix and Chill? That's hilarious. How did you come up with the idea?
P: Each idea comes from a different place, but usually from casually joking around with friends. The Netflix and Chill Festival came out of a joke I played on a friend. I had texted her asking to Netflix and chill at my place but she responded with a quick "Haha no". I then jokingly spammed her with a Facebook event inviting her to Netflix and chill at my place. After another rejection, I figured I might as will invite multiple people to Netflix and chill at my place and give it a funny cover photo and catchy title, "The 1st Annual Netflix and Chill Festival". Everyone thought this was funny so I thought it would work well as a Knock Knock sponsored event on college campuses. 30,000 RSVPs later, the event was a hit.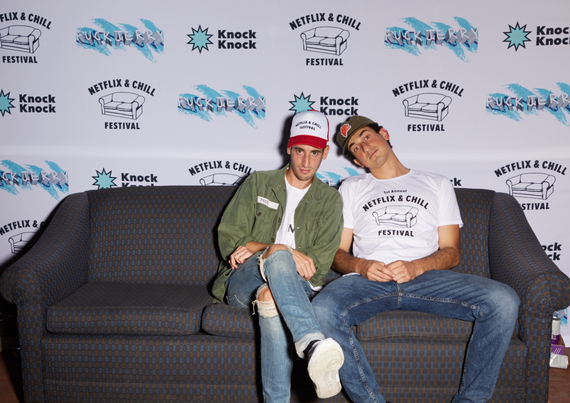 Instagram celebrity Elliot Tebele (L), also known as @FuckJerry, hosted the 1st Annual Netflix and Chill festival with Pablo Rochat (R)
S: You've also created a few hilarious apps that have gotten serious attention.

P: I'm always interested in finding new technologies and giving them unexpected applications. It turns out that the press likes talking about silly products just as much as seriously useful ones. There's a lot of innovation in the tech industry and I love finding ways it can be used to make people smile.
S: The Lick App was a crazy idea that a lot of people got a kick out of. It even appeared on Late Night with Seth Meyers and the Bill Maher show.
P: That was a wild project. My friend, Chris Allick, and I made Lick App the day before Valentine's day. We had recently discovered that you can actually navigate your phone by licking the screen with your tongue. We thought this was hilarious and knew was had to make an app that takes advantage of the licking interaction. We created the Lick app, a series of exercises that help you practice the basic tongue movements of oral sex. The perfect app to release before Valentine's day.
This app was covered by the likes of Real Time with Bill Maher.
S: How would you define what you do?
P: That's a tough question because what I do is constantly changing. A boring way of saying it is "Communication Design". I think i'm a designer/artist at heart that's obsessed with giving people an idea, experience, or message that sticks with them.
In general, my job is to create something compelling enough for people to want to share it with their friends.
S: What's your ideation process?
P: For businesses, starting with a brief that defines the marketing goals is key. Once I understand the objective, I'll starting researching and sketching out ideas. I like putting a lot of ideas on paper and presenting them to my friends or the client to get a better sense of what direction works best.
S: What made you decide to leave your advertising agency and work directly with a technology startup?
P: 99% of advertising is boring noise that people would rather ignore. This leaves a huge opportunity to make advertising that stands out, creates value, and makes people to tell their friends about it.
Advertising agencies have the opportunity to create amazing work but their creativity is often limited by clients who are risk averse. There are many products with tremendous growth potential that are not introduced to the world in ways that makes people stand up and pay attention.
Unfortunately, tech startups can't access the creative talent within advertising agencies because of prohibitively high agency costs. So, I left the agency world and started working directly with technology startups.
At Humin, I had the opportunity to work with a stellar team and innovative product to take it to the next level. Broadly speaking, the tech startup space allows people like me to experiment with technology and marketing. We all constantly want to try new things. I find this environment conducive to produce great work.
S: Tell us about some of the other stunts and experiments you've done. How have they changed how you see the media? What lessons have you taken from them as a marketer?
Pablo: In between big projects I've recently put out a lot of small pieces of content, mostly videos with my friend Fabio Benedetto.
We never really know what content will be popular or not. Sometimes we'll make a video and think "this could be big" but noone will share it. Here are a few videos that we made that people thought were funny, but didn't go viral.
The Blue Angels came to town during Fleet Week, and Fabio and Pablo decided to make a fake remote control that flew the planes.
Pablo, Fabio and friends organized a fake TED Talk at the 420 festival in San Francisco. Everyone was stoned during the talks.
Fabio and Pablo's stunt with the Apple monitors at the San Francisco Apple Store. This video got some traction on Reddit as well.
What I've learned is that its best to be constantly putting out new work, even when you're marketing for a business. Don't rely on one piece of content to go "viral". Brands should find their voice and delight their audience with a constant flow of engaging content and experiences.
You can't abandon your audience. Brands need to continuously nurture the relationship with their customers. Feeding the relationship will in-turn feed your business.
S: What inspires you to create these things?
P: I just love making things. The process of making is what makes me happy.
I don't want to repeat myself in the work that I do. I'm driven by the need to make something new. With each project, I want to surprise not only the audience, but also myself.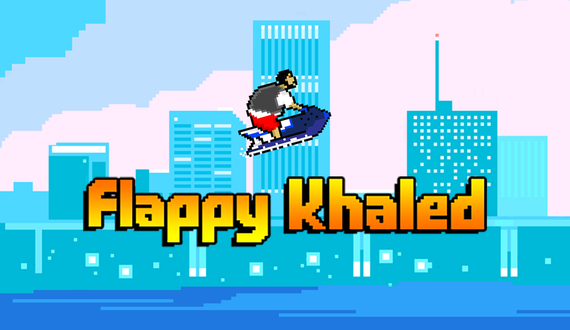 Most recently, Pablo and his friends released Flappy Khaled, a DJ Khaled and Flappy Bird mash-up
P: To continue finding exciting ways to introduce Knock Knock and Humin to world as well as finish a couple independent projects I'm currently working on.
I've made a lot of digital things recently so I'm interested in producing something physical in the next year: perhaps a clothing line, a book, or something people can hang on their wall... or maybe a toy. That would be cool.
I'll also continue to independently advise startups and companies on their marketing and branding.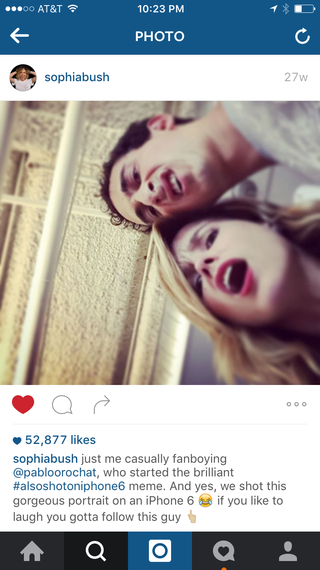 Check out all of Pablo Rochat's work at PabloRochat.com. He can also be contacted via Instagram at @pabloorochat and via Twitter at @pablorochat.
Popular in the Community