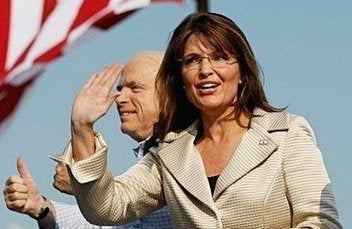 Reading Andy Borowitz's blog on the HuffPost tonight, I was reminded of how outraged I was when Sarah Palin made her pit bull/hockey mom reference. You know the one:
"What's the difference between a hockey mom and a pit bull? Lipstick.
The second I heard that pit-slam from Governor Palin, I thought about putting some lipstick on my gorgeous pit bull, Peach, and sending Palin the photo. Of the two breeds -- animal-killing women and docile loving pits, I personally know only one -- docile loving pits. Truthfully, I'd have very little in common with a wealthy American woman who likes killing animals for sport.
Of pit bulls, though, I've rescued several and have had two of my own. The first was a wonderful female who lived to fourteen and raised a 3 day-old abandoned kitten as her own.
And now we have young Peach -- a year and a half old male -- who, before he moved into our house, had been abandoned at least twice. Peach is the most gentle guy in the world. He loves every person and every animal -- including our first pit's kitten who is now a cat of nineteen.
Peach's best animal friends are Iddy, our three year-old five-pound chihuahua, and our 110 pound golden retriever. Rather than going on and on about how gentle young Peach is -- allow me to show you Peach and Iddy's youtube -- a great favorite of their fans. It's a typical three minutes in their daily "lopsided" routine:
In all likelihood, there will only be one gratitude I will ever have toward Governor Palin. It's this great opportunity to introduce more folks to Peach & Iddy. After seeing what Peach puts up with day-in and day-out from his irascible buddy Iddy, people will hopefully be convinced that there are other pitbulls like Peach who are characteristically loving. And just like young Peach was, once upon a not too distant time, many are desperate for homes.
Now please excuse me - it's time to get more valium for Iddy!