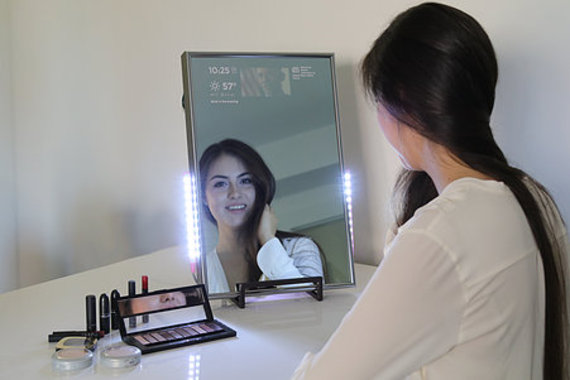 With the exception of the voters of our country, everything seems to be getting smarter these days. Phones, televisions, security systems, music players, gaming consoles and even entire houses. All that was really left was staring at a smart mirror that gave you weather updates as you watched yourself shaving. But not to worry, an independent group of technophiles based in New York has taken the lead and created a revolutionary product that is now being called the world's smartest mirror.
Now, many will argue that this is not the first time someone has built a mirror that boasts technological enhancements, but never before has something this edgy been made available for the general public. Imagine you are brushing your teeth or getting a clean shave. Wouldn't it be neat for your mirror to turn into a smart screen and give you the latest updates on weather, traffic and news? And even if you don't really care about all that, what could possibly excuse the temptation of owning an artificially intelligent mirror in your modular bathroom? Also, it can take selfies in high definition!
I recently interviewed the team behind Perseus, the "smart mirror" that is currently available for purchase via Kickstarter. Here's how it went:
Erik, I was pretty intrigued when I heard about the smart mirror. Explain to us in layman's terms what the Perseus mirror is and what you're trying to do with it?
Sure. As you can probably guess, it's a mirror, but much more than that! Perseus is the world's smartest mirror, something right out of a sci-fi movie. It's an interactive voice-activated mirror that is also a digital display to help people stay connected, be in control, and be ridiculously good looking every time they head out the door. On average, people spend more than 30 minutes in front of the mirror every day (shocking, but true!), so we want to make these 30 minutes as useful, efficient, and fun as possible.
What can the mirror do for me?
Quite a bit now, and even more down the road. We have an open development platform, meaning others can create apps for the mirror so more and more features will be on their way.
Some of our current favorites are the "traffic wizard," which analyzes the traffic on the road as well as train and bus schedules to let me know when I should head out the door, as well as the "daily dashboard", which helps me organize my day in the morning by giving me a rundown of my daily schedule and highlight any important news I might have missed from the previous evening.
I'm not a huge selfie guy, but some of my friends love the onboard HD camera. You can easily take selfies without having to hold up a phone. Other useful highlights include connectivity with email, text, and social media, as well as access to weather, music, video (watching makeup video tutorials on the mirror while you do a makeup is a huge hit!). So whether you want to blast Taylor Swift to pump you up for the day, catch up on the SportsCenter Top 10, or figure out how to do that smokey eye look, we've got you covered.
Interesting! I can see how this mirror could be part of my morning routine. This reminds me of the magic mirror from Snow White! How did this idea come about?
This actually stemmed from an interesting encounter. The founding team (Antina, Erik and Nikhil) met last year at a UPenn Wharton MBA orientation event. Like all great orientations, this was held at the local bar. In fact, here's exactly how the conversations started:
Antina: "I just saw the strangest thing in the restroom. Half a dozen girls were all taking selfies in the mirror at the same time. It was quite a scene."
Erik: "Funny you mention it! Fifteen minutes ago, I saw a guy flexing his muscles in front of the mirror, doing the same thing!"
Nikhil: "Yeah, people do love those mirror selfies, but there's got to be a better way to do that."
Over the next few beers, and some bar-napkin sketches, our mirror was born. And over time, it has evolved to be much more than just a selfie mirror.
Haha! Indeed, it has! Is the mirror available for purchase?
Yes, but only for a limited time! We're on Kickstarter until Aug 29 11.59pm. Grab yours here!
What are some hardships you had to overcome in building this product and how did you overcome them?
Great question! We're working on something innovative, so there is much uncharted territory that we venture into daily. Unfortunately, this means there are no answers readily available on Google or people who've done it before to reference.
Essentially, it came down to a lot of problem solving. For each barrier, we broke the problem into small pieces, figured out solutions for each piece, and then brought the pieces together as a whole. This is definitely not the most efficient way of doing things and we are often running in circles, but at the heart of innovation is trial and error.
I can imagine! It must have taken a lot of time and energy to develop something and bring it to market as a startup!
Definitely! We're on banker hours, so about 12-14 hours a day including weekends. It certainly doesn't feel like that much though - I guess when you're doing something that you love the time flies by. I really enjoy waking up everyday energetic about what lies ahead.
Did you quit your job? If yes, how long after you started this new venture?
I absolutely did. The founding team is working on Perseus Mirrors full time. We worked on the project for about six months part-time, but realized we need to be fully committed in order to give Perseus the shot that it deserves.
What's one piece of advice you'd like to give our aspiring entrepreneur readers?
I just want to say that although I'm asked to give advice, I'm just as much a student as anyone else. Nobody has the perfect formula to entrepreneurship. We all have to find our own way.  Don't let this deter you from trying though!
As Theodore Roosevelt said, "The credit belongs to the man who is actually in the arena....who at the best knows in the end the triumph of high achievement, and who at the worst, if he fails, at least fails while daring greatly, so that his place shall never be with those cold and timid souls who neither know victory nor defeat."
Sounds pretty cool to me! Will you be grabbing yourself a smart mirror? Comment below and let us know!
Calling all HuffPost superfans!
Sign up for membership to become a founding member and help shape HuffPost's next chapter