 On Tuesday evening I attended a party thrown by Research In Motion, which was a bit like spending a weekend at Bernie's. The BlackBerry maker has, after all, had more obituaries written for it than any other still-operating company in history. With so many publications declaring RIM dead, the firm might as well change its name from Research In Motion to Research In Not Moving.
By getting you liquored up and hurling free money at your drunk face, that's how.
As part of its ongoing efforts to convince the American public that it is not, in fact, dead, RIM is in the midst of a lavish two-week "Meet the PlayBook" festival on the ground floor of New York's hip, bustling Chelsea Market. The festivities are free and open to the public from 11 a.m. to 7 p.m. every day until July 23.
But returning to the "Meet the PlayBook" event. It is essentially an orgy of freebies, perks, giveaways and raffles, complete with an open bar and buffet-style eating. It's open to anyone who doesn't mind staring at BlackBerry logos while getting sauced.
The spacious, high-ceilinged room in Chelsea Market that RIM took over to raise awareness of its long-struggling tablet (and shovel free stuff into your outstretched hands) has been designed to appear half electronics store and half SoHo nightclub. The space is bathed in a gentle neon blue light, and black-shirted RIM employees -- along with subcontracted floor models in low-cut black dresses -- mill about offering to take your photo with the PlayBook's webcam and then email it to you.
Upon entering the hall, you can essentially turn left or right, towards business or pleasure. To the right is a wall lined with comfy couches and demo tables for the PlayBook, where those knowledgeable RIM employees will happily sit you down and guide you through the tablet's many capabilities. To the left is a stocked bar with free wine, beer, and summer cocktails, free raffle tickets to win RIM paraphernalia and gear and a DJ's booth manned by emcees from New York's famous Hot 97 hip-hop station.
Guess which way most people turn?

The focal point of the hall is a long raised stage that hugs the back wall, where the day's performers entertain the gathered masses. On Tuesday night, that stage was occupied by chefs from the renowned Magnolia Bakery, who demonstrated how to make icing for cupcakes and handed out some kind of delicious chocolate fluffernutter in small plastic cups. Future keynote presenters include Roots drummer Questlove, who will give a free musical performance and the cast of "Spiderman: Turn Off The Dark," who will perform a few scenes from the hit broadway show. The barbers of Rudy's Barber Shop will also stop by to provide free haircuts and beard trims.
In addition to the booze and the food and the beard trimming and all, everyone who enters the "Meet the PlayBook" festival receives a raffle ticket, with RIM giving away a free 64GB PlayBook at least once an hour. And if that's not enough, if you stay for 10 minutes and complete a brief survey about your experience at the RIM event, one of the floor models will hand you a crisp $10 bill from out of a stuffed money envelope, no questions asked.
That's right: At the "Meet the PlayBook" event, you can get drunk, stuff your face with finger foods and cupcakes, play around with electronics, and watch friggin' Questlove, and Research In Motion will pay you.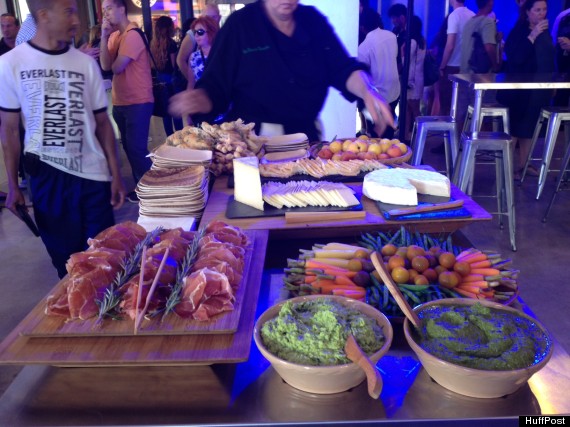 Some free food at the Meet PlayBook event in New York City.
Sounds fun, right? And for the people who roll by Chelsea Market over the next two weeks, Research In Motion will certainly win some vodka-and-cupcake-fueled goodwill.
But then, here's the rub, RIM: How many passersby can you actually reach with this free-stravaganza? At its peak on opening night, there were perhaps 60 people in attendance, most of them parched tourists with backpacks and rolling suitcases. None of them seemed to be discussing Research In Motion, and few of them even tried the tablets on display. Everyone was glad for the cool shelter and free liquor (including this reporter). But while the bartenders and cupcake servers were constantly occupied, the RIM employee working the nearly-invisible sales counter in the back corner of the room appeared awfully bored.
If the aim of the "Meet the PlayBook" event is, as a friendly RIM representative insisted to me, simply to make people aware that the BlackBerry PlayBook exists, then Research In Motion appears certain to earn the appreciation and awareness of at least a couple thousand foodies and tourists in the Meatpacking District over the next two weeks. If the aim is to actually, you know, make money, then I am afraid this experiment is doomed to fail.
Perhaps attendees will be eternally grateful, and trade in their Androids for a Torch or Curve. Or perhaps, like goldfish, they will eat the flakes RIM drops in front of them and swim away, apathetic to their feeder.
What summed up the event for me was the immediate reaction of one of the raffle winners. A group of three girlfriends from New Jersey, college-aged, sat on the comfy couches staring intently at their raffle tickets. As the winning number was announced, one of the girls screamed. She had won -- incredibly -- and she ran up to claim her free 64GB PlayBook. Beaming, she practically bounced back to her friends with the free PlayBook in her hands.
"I can't believe you won!" one of the friends said.
"I know!" the winner smiled, ecstatic, holding up her prize. "And I heard I can get $700 for it!"
With that, the girls departed home for New Jersey, with drinks, cupcakes and soon-to-be-hawked PlayBook in hand, all but saying aloud to the party hosts this:
"Thanks for the free money, RIM, but I'm afraid we'll be sticking with our iPhones."