WildCare's Wildlife Hospital treats nearly 4,000 ill, injured and orphaned wild animal patients from over 200 species every year. This is one patient's story.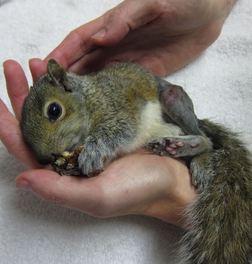 When baby squirrels fall out of their nests, they often land on their heads. Bloody noses are common injuries, as are broken teeth.
But this little baby had an additional and very serious injury-- his left femur (the big bone in his upper leg) was broken into two completely separate pieces!
The break may have happened in the fall from the tree, or perhaps the leg was broken when the squirrel was dropped by a crow.
Dropped by a crow? Yes! When this baby's rescuer heard the sound of high-pitched screaming, she immediately ran outside to see what was going on. A crow had seen this baby and his sibling on the ground after their nest fell from its tree, and had taken advantage of easy prey. Luckily for the squirrel, the appearance of the homeowner startled the crow, which dropped the squirrel before he had been carried too far away.
After everything he'd been through, this baby needed help, and fortunately his rescuer knew about WildCare.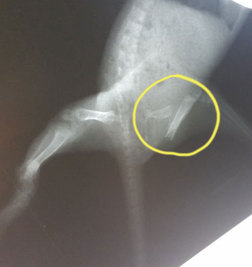 Upon intake at the Wildlife Hospital, the severity of this squirrel's injury was immediately obvious, even before radiographs were taken.
The leg dangled behind him as he scooted across the exam table, and even with the naked eye Medical Staff could see the broken bone. Of course they immediately put the squirrel on pain medication, but despite his injury he was alert and interested in exploring his new surroundings, dragging his injured leg behind him as he moved about. Even his appetite was good! Once introduced to the substitute squirrel formula we feed our orphaned babies, he took to nursing with gusto.
Baby animals heal incredibly quickly, and wild babies can recover from many of the most catastrophic-seeming injuries. In addition, WildCare Medical Staff can heal many injuries involving broken bones using wrapping and immobilization.
But this break was different. It would be impossible to immobilize with conventional materials, and without surgical intervention, there was no way the leg would heal sufficiently to allow the squirrel the mobility, dexterity and strength he would require to be successful in the wild.
Fortunately, WildCare met veterinary orthopedic specialist Dr. Jim Farese when his daughter attended summer nature camp, and he has volunteered his surgical skills for special cases such as this one. Dr. Farese generously volunteered to come to WildCare's Wildlife Hospital and perform a pinning surgery on this tiniest of patients.
Dr. Farese set up his surgical suite in WildCare's cramped Medical Room (if you're wondering why WildCare is so excited about building our new facility, just imagine surgery in a room smaller than the average kitchen!) Dr. Farese likes to listen to music during surgeries, so, to the strains of Fleetwood Mac and other classic rock from his MP3 player, he prepared to operate.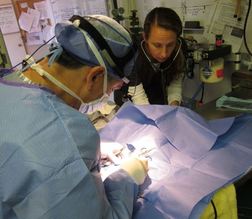 The surgery went well (you can watch it in the video below... please note: this is actual surgery footage) with WildCare Director of Animal Care, Melanie Piazza assisting and periodically checking the patient's heart and respiration. Once the incision was complete and the bone was revealed, Dr. Farese noted that the two pieces had already started to fuse together, but due to the severity of the displacement of the ends of the bone, he could see the beginning of a malunion (incorrect/abnormal fusing of bone). Fortunately surgery was happening before the malunion progressed further.
Watching the surgeon manipulate, drill and pin a femur much smaller than his little finger gave WildCare staff and volunteers huge appreciation for Dr. Farese's skills. Two pins were inserted into the leg to completely stabilize the bone, and then the surgery site was sutured and the skin glued. Dr. Farese acknowledged that, although he had performed surgeries on kittens before, this was probably his smallest orthopedic patient.
With surgery over, the rest was up to this little squirrel.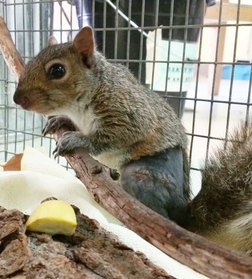 To our great relief and satisfaction, he healed beautifully! It was only a few days post-surgery before he began using the injured leg, and Medical Staff watched with excitement as he gained full use of his ankles, feet and toes.
A month later, and this squirrel has graduated to a large outdoor cage where he'll build strength and speed in preparation for release. In the second video below, you can see our little patient, now a gangly juvenile, deftly maneuvering up and down the wire walls of the cage and climbing adeptly with all four feet!
Thanks to Dr. Farese and the team of WildCare volunteers that helped raise this orphaned squirrel, he has a second chance at life.
WildCare is a 501(c)3 nonprofit organization supported almost entirely by private donations and individual memberships. Visit us online at wildcarebayarea.org.
Calling all HuffPost superfans!
Sign up for membership to become a founding member and help shape HuffPost's next chapter