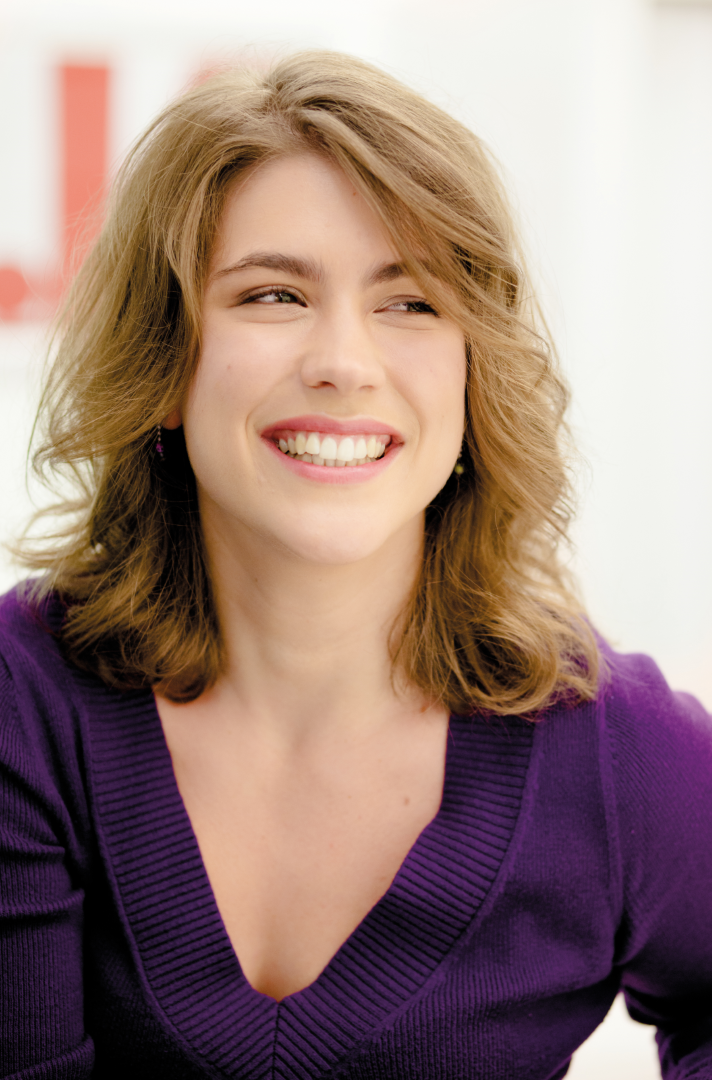 In honor of Women's History Month (March), and International Women's Day (March 8), I wanted to highlight my three amazing sisters. We 4 Polla sisters work together in our family's beauty businesses (started by my father, Swiss celebrity dermatologist Dr. Luigi L. Polla), Forever Institut and Alchimie Forever. He was the first doctor to bring lasers to Europe for cosmetic purposes and is the single largest Botox provider in Switzerland! So if you can imagine we are all incredibly up to date on the latest beauty treatments, lasers, procedures, but as all sisters do, have varying degrees of bravery and to test new products and therapies. If you've ever wondered what a dermatologist would do to their own children, here is your chance. We will reveal each of our beauty regimens over the next four weeks. Our ages range from 27 to 39, our styles from unpredictable to classic, and our beauty routines from minimalist to liposuction.
Read on to find out how we view working with each other, what we do to stay healthy and beautiful, and what is on our shopping lust list. I will post one profile per week this month, from youngest to eldest.
To kick off these profiles, meet my youngest sister, Roxane. She was born when I was 12, I have always felt like a mix between a mother and an older sister to her. She is the one continuing in my parents' medical foot steps…
Occupation: Medical student and future vascular surgeon
Home base: Lausanne, Switzerland
Family: Husband (Guillaume)
Favorite feature (yours): My lips, neck, shoulders, back.
Favorite feature (your man's): My lips.
Beauty - in office procedures:
- Laser hair removal for the lower legs, bikini and underarms. I started when I was I was 15, at Forever Institut, with Claire.
- Botox a few times per year, mostly in between my eyebrows. Dad is the only one who I let do it – and I have been doing it for about a year.
- Regular peels, mostly the Alchimie Forever Brightening peel, to keep my complexion clear and glowing. This I have also been doing since I was 15, at Forever Institut, with Nadia who is the best "peeler!"
- Massages as often as I can schedule them! My best ever massage was in Thailand 2 years ago on the beach of the amazing hotel I was staying at with my now husband.
Beauty - at home rituals:
- I love my makeup and do my eyes and eyebrows every morning. I am always testing new makeup brands… La Palette Sourcils by Chanel is my favorite for eyebrows. I also love the brown eye pencil by Young Blood, and the only mascara that works for me is the Waterproof Great Lash by Maybelline. - Alchimie Forever Gentle refining scrub once a week on the entire body. It's a face product, but I love it all over… I am spoiled, I know!
- Alchimie Forever body products every evening after my shower: Firming gel for neck and bust, including on my belly, and Optimizing body contour gel on the lower body.
- Dry skin balm on my hands, feet, and lower legs when they get extra dry. I have one of the travel sizes on me always as all of the scrubbing I do before and after surgery makes my hands extra dry.
Worst beauty moment: A number of years ago, my sisters and I did a performance with contemporary artist Vanessa Beecroft – she loved the theme of the four sisters. She made us bleach our eyebrows. It was awful – and lasted for a few weeks!
Lipstick obsession: I love Stila anything. And my CC+LIP Serum « Love ». Also the red Chanel lip definer.
Fragrance: Cool Water Night Dive by Davidoff. Also two years ago my sister Cyrille gave me a fragrance made just for me – and I love it. It is called "Intravenous on the Rox" and made by a brand called UNIQUE.
I try to incorporate exercise in my daily life. For example, my current medical school rotation is at a hospital that is 3 miles from where I am staying – so every day after work I run home. Also, my husband and I made a New Year's resolution to buy a treadmill – and we just did! Now all I have to do is use it…
Best diet tip: Enjoy what you eat.
Most recent hair appointment: where, when and why? Last Saturday, at the Bal des Créateurs in Geneva. I became a blonde! Let's see if blondes really have more fun…
Fashion style: Lab coat (because of medical school).
Any and all pairs by Irregular Choice, which is a shoe brand out of the UK.
Favorite item of clothing in your wardrobe:
I own a single item of vintage clothing and I love it. It is a navy blue dress with a sweetheart neckline. I wish I could wear it every day!
Most recent purchase: A winter coat in Paris from the Comptoir des Cotonniers in the Marais.
On your lust list: My own private big swimming-pool. And all of the bathing suits I would need to go with it.
Extraordinary people – those who dare to think differently. I get inspired by contemporary artists a lot. Robert Montgomery is most extraordinary. My Mom got me an art piece by him as my wedding gift. It really was more of a performance, as it involved creating an outdoor wood sculpture (made of words) and then setting it on fire and watching the words disappear. The performance was the day before my wedding, in Bordeaux France, and it was absolutely magical. See the image below, words can't do it justice.
Words to live by: "Don't be afraid of your freedom." To which I would add "And use it wisely." And "If you fail to plan, you plan to fail."
Family business: pain or pleasure? Pleasure, but that doesn't mean it's always simple.
Related
Popular in the Community