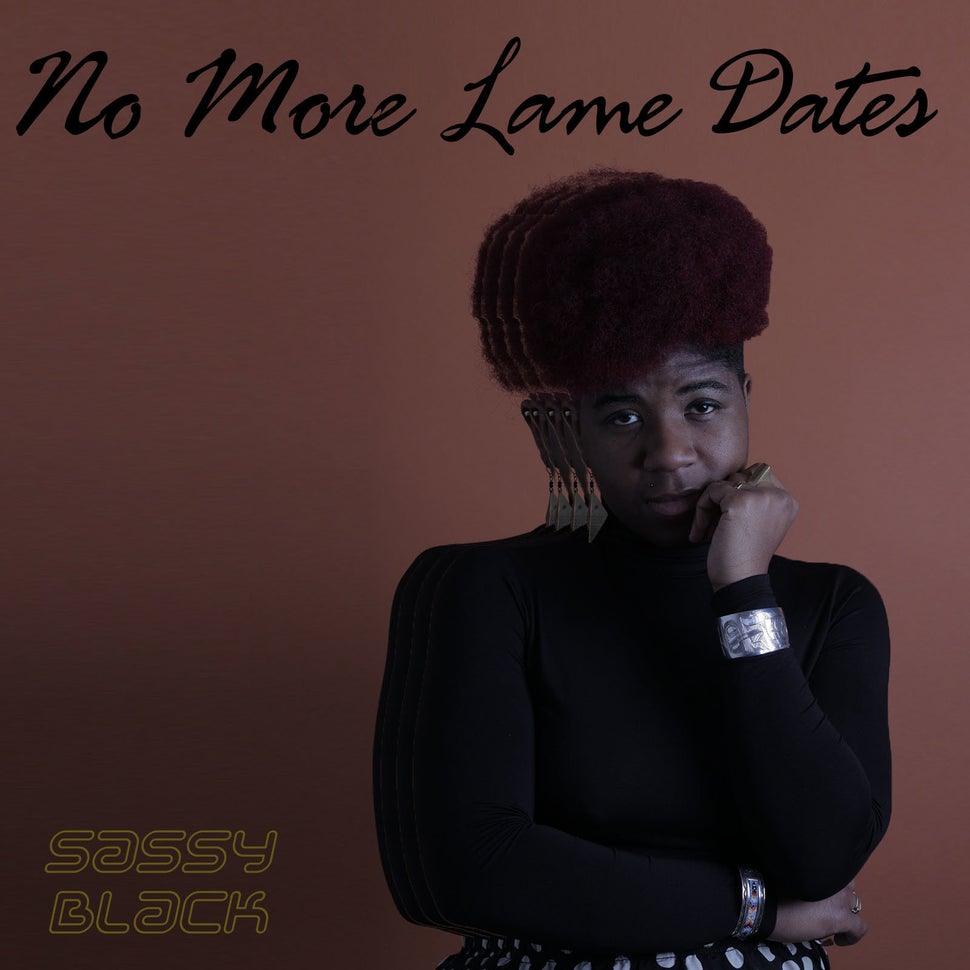 Along with more recognizable genres such as soul, R&B and psychedelia, SassyBlack describes her sound as hologram funk. "It's something that is so present but totally fantasy at the same time," she explained in an interview with The Huffington Post. "It's super space age, funk in the future."
SassyBlack, born Catherine "Cat" Harris­-White​, is one half of the queer AfroFuturist hip hop dream duo known as THEESatisfaction. Harris-White is the singer, whose jazzy sound mixes the warm comfort of a silky robe with the futuristic mystery of an alien whisper. Stasia "Stas" Irons raps and lays the beats. The two used to date but are now friends and artistic collaborators. 
With her newest project, "No More Lame Dates," Harris-White embarks on her first full-length solo album. It's been a long time coming, given the fact that she's been making music since she can remember. As a kid growing up in Hawaii, Harris­-White​ was homeschooled, with a fluid and open curriculum that included museum visits and family dance parties. "I was able to be super free and creative," she said. "I was probably walking around singing all the time." 
It wasn't until the age of ten, however, when her family relocated to Seattle, that Harris-White was compelled to actually put words to paper. "Seattle was such a culture shock for me," she explained. "I didn't know it even existed for real. I thought it was just the funny place in 'Sleepless in Seattle.' The weather was different, the diversity factor was way different."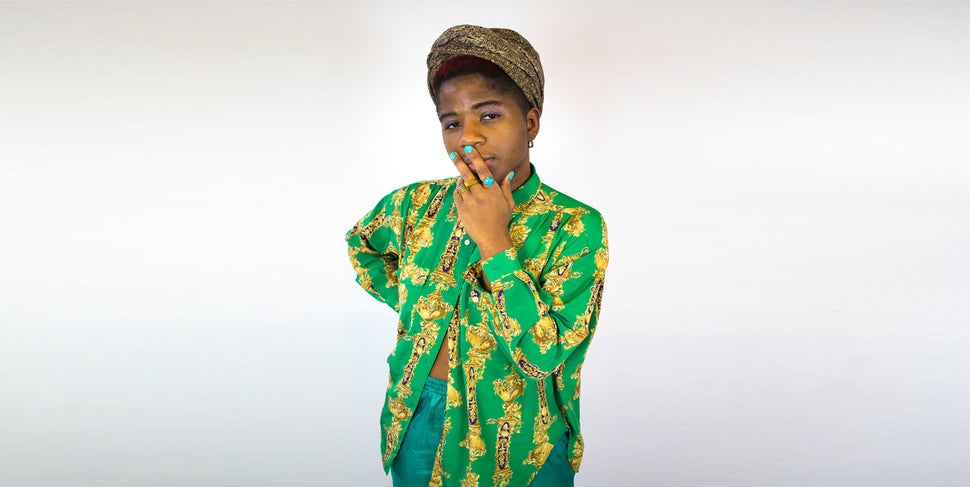 Harris-White also switched from home schooling to public schooling, a transition she wasn't particularly fond of. The idea of waking up early to spend all day, exhausted and nervous and frazzled, around teachers who themselves seemed constantly flustered, was baffling. "The whole structure of it didn't make sense to me."
"I was very weird," Harris-White continued. She dabbled in various extracurricular activities without feeling particularly at home in any single one -- sports, choir, acting, activism. She began to get involved in trainings about institutional racism and speaking out against it. 
One of her greatest passions growing up, something her family had instilled in her since a young age, was science fiction. From "Star Trek" and "Star Wars" to the work of Octavia Butler, Harris-White found herself drawn to stories that revolved around embracing the other. 
"I felt alienated in so many ways growing up," she said. "To watch 'Stark Trek' and see a black woman on the show each week -- that was a place I could identify with. There was an understanding that there are so many beings and spirits and types of energies in the universe."
Another major fascination: Michael Jackson. "Ridiculously obsessed," in Harris-White's words. She recalls sitting glued to the screen as VH1 and MTV played all-day marathons of Jackson's videos, watching "Thriller" over and over again despite being scared out of her wits. Jackson gets a shoutout in SassyBlack's first single off the upcoming album, "New Boo," when she refers to a "pretty young thing." As Harris-White and Irons explained in an earlier interview with Bitch Magazine: "We're openly queer and we like women and we want women to know that we like them."
Harris-White started writing songs and poems when she was ten, but it wasn't until much later that she gathered the courage to show her music to other people. "I was so nervous about my singing voice," she said. "I went to school for music but I was terrified just thinking about people thinking about my voice." Eventually Irons saw Harris-White perform at an open mic and the two began to experiment together on GarageBand. They debuted their joint sound at Harris-White's senior recital in college. In the past eight years they've released 11 projects together.
On the cover of their most recent album, "EarthEE," the two sit naked on a golden geometric throne set agains a purple galaxy twinkling with stars. White netting partially covers their faces and bodies, reminiscent of tribal body paint or Bjork's crystalline masks. The project is a breakup album, but to an unwitting listener it sounds more like a trippy tour through the cosmos, looking down at the planet like it's a singular detail of an expansive tapestry. 
Numerology, horoscopes, spirituality -- all play a role in Harris-White's otherworldly worldview, and her music."I believe in the universe. I believe in God on Earth," Harris-White said. "We're a part of the universe and we're our own universes as humans and as beings in bodies. We have nervous systems that look like galaxies. We emulate each other and look like each other. We're all energies in sync with one another, and also have energies within ourselves." 
SassyBlack sounds like she was birthed from the same futuristic womb as THEESatisfaction, but perhaps raised on a sister planet. "Collaborating with anyone, you have a different energy going in," Harris-White said. "We both have our own vibes, our own plans, our own process. That's going to naturally come out in whatever we create together. For me, working by myself has allowed me access to more of my thoughts. The only person I have to compromise with is myself. There is way more space for me to exist. I'm in my own little spaceship."
Harris-White thinks of her alter-ego Sassy Black as both a character and an extension of herself, and ultimately something in between. "Me in a Blacksploitation movie," she described. She's rambunctious, feisty, sensitive, loving, jittery and bossy -- all of which plays out in the music, from the fluid lyrics to the coincidentally skittish drum kit. "SassyBlack is me going into my adult self; it's an evolution of me. Maybe in years past I've only seen little bits of her."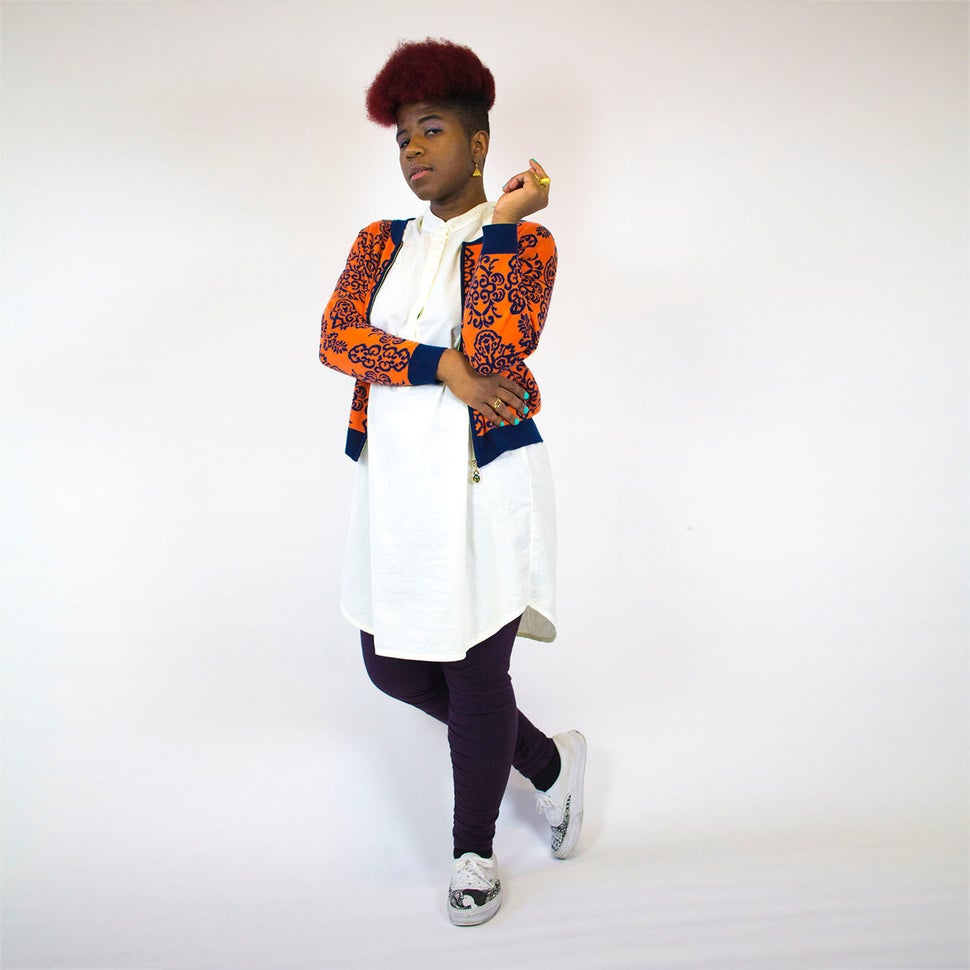 SassyBlack's past projects include "Personal Sunlight," a six-song album celebrating the artist's actualizing of her full potential, and "Blackest Winter," an awesome rebuttal to the many years spent dreaming of a white Christmas. "May your holiday and winter be black," the album website reads. 
The new album is called "No More Lame Dates," a plea the best of us can wholeheartedly understand and relate to. The idea was inspired by Harris-White's recent adventures in online dating, and the all too familiar feeling that, despite pushing 30, you're suddenly as awkward as a preteen. "It was like 'Oh god, I'm 13 again,'" Harris-White lamented. "I felt like I was in a Yahoo chatroom."
Obviously, dating has been a dominant theme in pop culture storytelling long before Tinder came into the picture. But even growing up on sitcoms like "Saved by the Bell" and "Martin" and comics like Archie, Harris-White felt like the popular depictions of dating didn't quite hit home. In her own life, dating didn't involve a string of meet-cutes, hilarious misunderstandings and blowup heartbreaks. It's more, in Harris-White's words, "awkward and all over the place."
In music, the conversations about dating are also pretty one-dimensional. "It's all 'Oh girl, you're gonna get it tonight,'" Harris-White joked. "It's very extreme -- either I love you, I hate you, or we're going to have sex. What about the middle ground? I felt like releasing that. What if you have a weird conversation and you feel terrible afterwards but you keep dating them?"
With "No More Lame Dates," Harris-White explores the range of emotions you experience while dating. It's not based on any one person, but various memories remixed into digestible clusters. And, in true hologram funk fashion, the album includes some memories that exist in the realm of pure fantasy, like, for example going to Comic-Con. 
"Tonight we're going to the Comic-Con / And we're dressing like Klingons / Participate in my sci-fi fantasy / I bet you didn't think you were chillin' with a sexy Trekky" 
Other memorable songs include "Mysterious Calls," a modern day "Bugaboo," in which SassyBlack begs a creepy caller to take a hint before she flips out. And there's the lead single "New Boo," in which Harris-White schools a potential new beau on the fact that although she gives off the vibes of a "PYT" (pretty young thing), she's grown and sexy and, ostensibly, not looking to play games.
"Sensing the hesitation in your voice / I'm here for pleasure / remember it's your choice / Waiting on your consent / People say I'm intense / I guess it makes sense / I'm a fierce lioness / So why pretend?" 
You could call it unusual to have an R&B jam about a budding love affair between two women. But what's more radical is SassyBlack's ability to navigate the eternally fluid ambivalence of dating with confidence and swagger, dancing between the mixed messages and disappointing encounters. With "New Boo" SassyBlack harnesses the all too real struggle of trying to read a potential hookup's vibe, without ever once doubting herself or her magical lioness powers. It's a song about budding love that emphasizes the importance of consent, andcelebrates SassyBlack's independent badassery, regardless of what goes down with this sexy stranger. It sounds almost too good -- at once too cool and progressive and positive and raw.
But alas, it's not just a hologram. It's real.
REAL LIFE. REAL NEWS. REAL VOICES.
Help us tell more of the stories that matter from voices that too often remain unheard.
BEFORE YOU GO
PHOTO GALLERY
Superafro: BLACK GIRL POWER