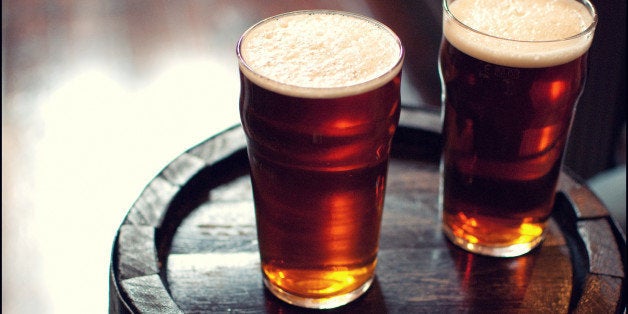 She was called to the mash tun nearly 45 years ago. She's in love with brewing and is passionate about beer. It's hard not to be smitten with Sister Doris.
But, hey, she's a nun, so don't fall too hard. Lavish your affection on her beer instead. It may tempt you to become a Catholic -- or not. But for sure, it will jump to your top cut list.
In Germany a beer is not just a beer. It's nourishment. Some people call it flüssiges Brot -- liquid bread.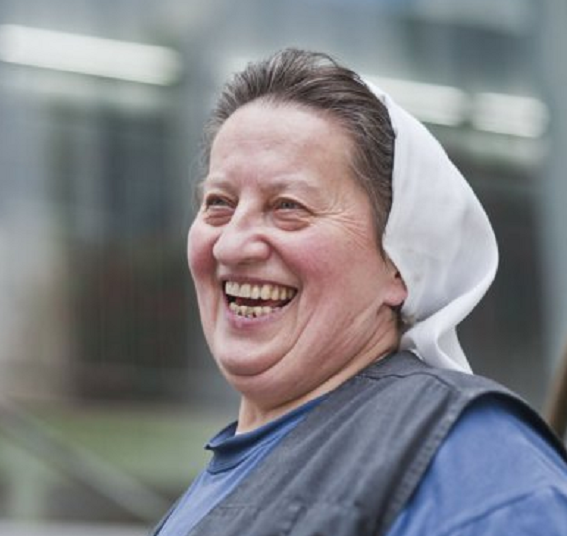 For all the sustenance it provides, beer also tells a story. It's a part of the culture and is woven into the fabric of people's lives. It illuminates history and it gives you a sense of place like nothing else.
So it is with the beer of Mallersdorf Abbey, crafted by Sister Doris, one of Germany's top "Ladies Who Lager" -- women brewers who are turning heads and debunking the old stereotypes about women and beer.
Perched on the top of a hill in a quiet, remote corner of Lower Bavaria, Mallersdorf Abbey is as unlikely a magnet for beer lovers as you can imagine.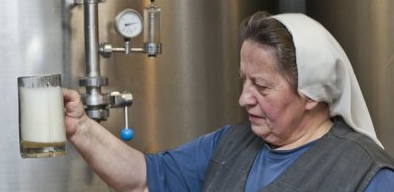 It's not an exaggeration to say that Mallersdorf is off the beaten path. Icons of the beer trade are more likely to be found in craft brewing hubs like Munich or Berlin, elsewhere in Bavaria, or in Franconia, where there are more breweries than any other region of Germany.
But Sister Doris has quietly been practicing her craft behind the abbey walls for over four decades, turning out luscious, soulful brews that are the stuff of gods -- literally.
Mallersdorf Abbey dates to 1109, and like many European monasteries it made and sold beer to pilgrims.The earliest brewing charter for Mallersdorf dates to 1623. The right to brew beer was a coveted privilege.
Brewing and selling beer meant economic viability for Mallersdorf and other monasteries like it. The growth of secular brewing, sidelined the abbey's beer-making operations for a while, but they were eventually revived in 1881 when the current brewhouse was built.
Back in the day, young girls going into the convent prayed and either taught school, nursed, kept the convent garden or helped farm the fields. Traditional abbey brewing was dying out. But the Mallersdorf brewery was still a going concern and a new brewer was needed to take the reins.
The elderly sister who operated the brewery since the 1930s "looked me up and down like a farmer eyes an ox," Sister Doris told a journalist. She got the job.
Just out of brewing school, freshly apprenticed, and with her brewmaster certificate in hand, Sister Doris took over the brewery in 1975.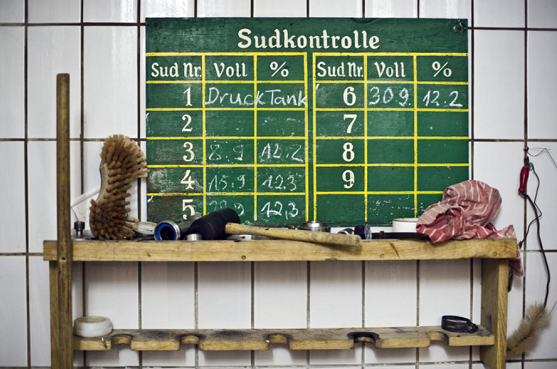 She has been turning water into beer ever since, laboring out of the limelight, save for the occasional TV interview or beer festival.
Sister Doris and the Mallersdorf brewery will be spotlighted on a back-roads beer tasting and brewery tour to Germany in October. The trip features top women brewers, craft breweries, heritage brewhouses, Slow Food and local eats.

Proud of her singular status but not inclined to geekiness or celebrity, Sister Doris has refused to let gender be an issue. She is convinced that women brewers are capable of great things and champions their role.
"Beer brewing is women's work," she told a visitor, harkening back to the Middle Ages, when female brewers were common, adding that northern Bavaria has the largest number of women brewers today.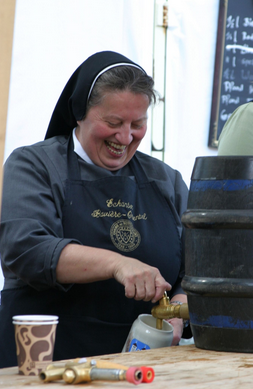 The craft beer revolution is winning converts in Germany, but it hasn't gotten as far as Mallersdorf Abbey. That's OK. Because when it's time to brew beer, Sister Doris knows what to do.
On Sudtag -- brewing day -- she is up before most of the other nuns. Excused from the obligatory morning prayer, she makes her way to the abbey brewhouse by 3:30 a.m.
Depending on the year and the season, Sister Doris will be crafting a light Bock or turning out a copper-toned Vollbier (lager), a Zoigl, a contemplative Doppelbock or Maibock. Regardless of the style, her beers get high-fives and rave reviews all around.
She will probably never make it to Brooklyn or Portland. She's as far from being a beer nerd or a hipster as you can imagine. And it's doubtful she would apply the term to herself, but Sister Doris is as passionate and full-blooded a craft brewer as any new-wave beer maker on the scene today. She has spent her life demonstrating it.
Her brewhouse turns out all of 3,000 hectoliters a year -- just under 80,000 gallons. This output is modest, but it's enough to keep her fellow sisters, local beer lovers and her admirers happy.
Sister Doris has found a way to craft beer that is absolutely ambrosial and loaded with character. It's also untreated and meant to be enjoyed while fresh. That's why she doesn't like to ship her beer too far beyond the immediate area.
The best place to enjoy it is at the Mallersdorf Abbey. Which is fine because this is beer that is worth traveling for.

-.-.-.-.-.-.-.-.-.-.-.-.-.-.-.-.-
The trip features women's brewing, craft beer-making, abbey beers, regional family breweries and artisanal eats. Info: Treasures of Europe Tours (www.treasuresofeuropetours.com).
Photo credits: Peter von Felbert; Maria Tillmann, LWL.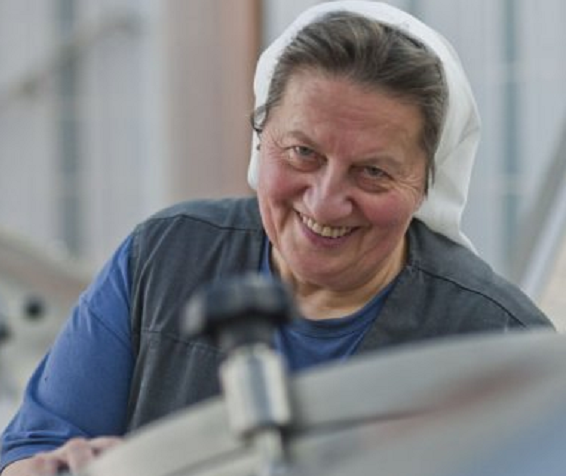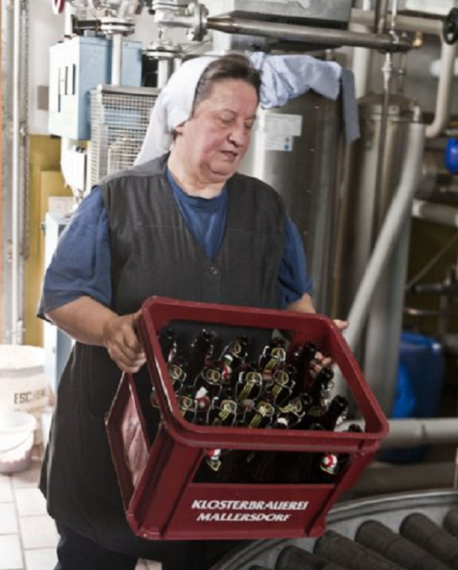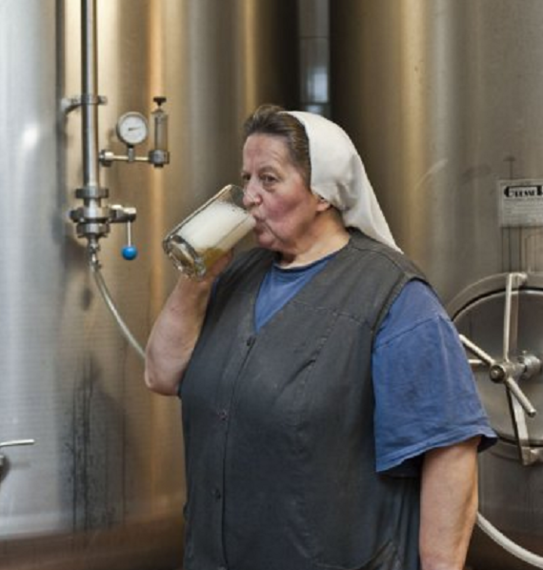 Related