Good things come in small packages.
I recently had the pleasure of interviewing Stella Schwartz, a 17-year-old athlete who stands 5' 4" — and possesses an unmatched strength and determination. Stella started playing soccer at age five, and quickly graduated to competitive soccer at age nine. Stella had to overcome a great deal particularly in her early years in that she was always the smallest player (standing a foot smaller than the average player) in her age group. She also played up in age because of her advanced skill.
For as long as she can remember, Stella was determined to play Division 1 (D-1) soccer at a good college. And just recently, her life-long dream came true: Stella has been recruited to play D-1 soccer in fall of 2018 at the University of Massachusetts, Amherst. Even more impressive: Stella is only one of five recruits for 2018, and the only player who hails from New York.
Many don't realize how competitive it is to play soccer — or any sport — beyond high school. According to the NCAA, the probability of competing after high school graduation is slim: Out of the nearly 8 million students currently participating in high school athletics in the U.S., only 480,000 of them will compete at NCAA schools.
Stella's impressive accomplishment has much to do with her athleticism and her grueling training regimen. But personal branding also plays a role. From her leadership skills to her winning attitude, Stella has crafted a sterling reputation any athlete would be proud of.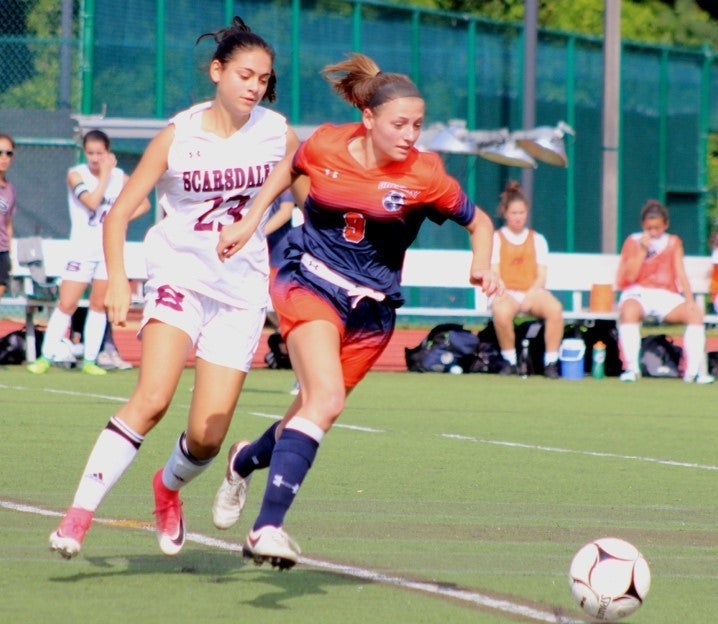 If there is a personal brand attribute I've learned most leaders share, it's determination. Great leaders welcome successes and failure alike, and keep pushing forward with the awareness that success is just around the corner. This describes Stella perfectly — she has a remarkable tenacity that has carried her through the extreme pressures of club soccer and high school athletics. In her years as an athlete, Stella has always stood up for herself, dealt with a range of personalities (both coaches and teammates) and advocated for herself when necessary. "My parents never talked to the coaches," Stella says. "It's important to advocate for yourself. This has allowed me to become more independent."
Indeed, Stella's success has little to do with luck. "I worked hard to get where I am," she continues. The work wasn't limited to sprints on the soccer field — she strives to be the best student and friend she can be. "I am determined and motivated in everything I do," Stella explains. "I guess it's just the competitive quality I have in me."
In addition to school sports, she has been playing high level club soccer for over six years. Her club team, CFC (Connecticut Football Club) is in the Elite Clubs National League (ECNL), the highest-level girls' soccer league in the nation, further showing her persistence.
Todd Plourde, Assistant Women's Soccer Coach at Yale and co-owner/director of CFC, adds that "Stella is one of the few kids that never missed a training session that was held in Hamden, CT. She is responsible, understands the game well, has a great vision and will definitely be an asset to UMass/Amherst."
Physical endurance is a big part of being a successful soccer player. But a winning attitude matters, too. In the ultra-competitive world of elite club soccer, a thick skin and laser focus go a long way.
"I love to win," Stella says. Winning requires that Stella prove herself time and time again: she has played on several teams, and had to earn her position each time.
And win she did. Stella was recently recognized as an Elite 11 player by Lohud Sports. She was also named 2017 1st Team Westchester/Putnam County NY Girls Soccer All Stars, top 50 players in the Hudson Valley by Varsity Central, and has also been selected to the ECNL's Player Development Program for the Northeast Region for two consecutive years in addition to numerous All Star and elite academy teams. Stella says "It's all subjective. A coach or sports writer may consider you the greatest player they've ever seen and another one may just see your flaws. I always play my best and do whatever I can to help my team win."
During the Women's World Cup in 2014 in Canada, Stella was selected to an elite team that played international teams and also had the opportunity to attend some World Cup games
Winning also requires responsibility: "I like to get to practice early," Stella says. "Players who get there late are showing they don't care and aren't good teammates."
It's tough to keep up a consistent attitude like this, but Stella is stronger for it. "The many disappointments that come with soccer are gifts," says her mother, Georgia. "They are life lessons. The hurdles you overcome serve you well in your life."
Stella admits that she sacrificed a great deal, from parties and sleepovers to school functions, bat mitzvahs and even Homecoming. She can spend 20 hours — or about 360 miles — a week in the car, traveling to away games in Massachusetts, Pennsylvania and New Jersey. (Not to mention tournaments, which require air travel to California, Texas and beyond.) Stella shared her college essay with me — it's a compelling piece detailing all her time on the road.
"My car has been my second home for as long as I've been playing competitive soccer," Stella says. The family minivan was much more than a vehicle on those long trips: it was also a kitchen, a living room and a place to bond with family. "I had unforgettable memories on the road," Stella says. Over the years, the family van has traveled 130,000 miles over the course of Stella's club soccer career and still counting!
"We'd often pile in the van and leave the house when it was still dark and I was half-asleep," she added. "The reclining passenger seat became just like my bed. I wore a baseball cap and sunglasses because eventually the sun would wake me up."
Once, Stella jokingly told her parents she wanted curtains for the car windows.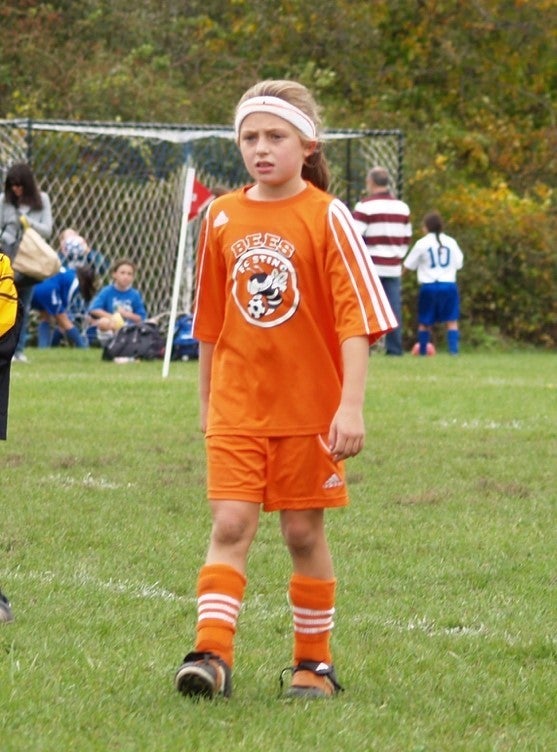 Advice for Younger Athletes
Stella is generous with her wisdom. She often educates her friends and younger players about the steps they can take to succeed. "If you want to play, play whatever level you are comfortable with," Stella will say. "Know that you have options. You should enjoy it — and if it's too much pressure, play on a different team or stop playing."
She also reminds players to stay on top of their schoolwork, no matter what. "I complete most of my homework in the car," Stella jokes.
When Stella dispenses advice, she talks of the traits I'm writing about in this blog. She urges younger players to set goals and stay focused. She recommends always staying positive. And she notes that time on the field is earned, not given. Stella says players should always be "trying out."
So, what's next for this impressive young athlete? "As for college, I'm confident in my skills," she says. "I'm realistic, but believe I will do well," she adds. "I've overcome so many obstacles and I'm not scared to fight for a position. I've been on the bottom and worked my way to the top before, so I'm prepared for college."
Is it any surprise that the Latin meaning of Stella is "star"?
REAL LIFE. REAL NEWS. REAL VOICES.
Help us tell more of the stories that matter from voices that too often remain unheard.
This post was published on the now-closed HuffPost Contributor platform. Contributors control their own work and posted freely to our site. If you need to flag this entry as abusive,
send us an email
.