This teenager is paving the way for glamorous Islamic friendly gowns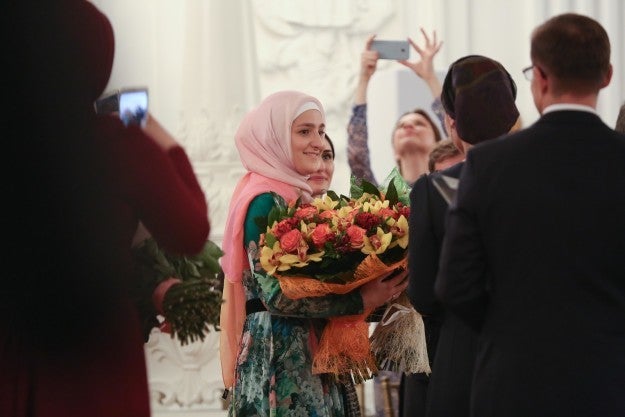 Firdaws translates to "Garden of Paradise". A Muslim name representing beauty, grace and serenity is also the moniker of an Islamic fashion house that 18-year-old Aishat Kadyrova designs for. Started in 2009 by her mother, Medni Kadyrova, Firdaws is now under the new direction of the young Aishat who recently made her debut during Mercedes-Benz Fashion Week Russia. As Islamic friendly fashion is growing at the moment, Aishat is paving the way in bridal and evening wear fitted for the modern Muslim woman.
For her debut collection, a glamorous venue was picked to showcase the Firdaws FW 2017 line. Taking place within the Petroff Palace, a historic lacale previously belonging to an old czar, the runway show had a unique start. Traditional Circassian dancers performed for the attendees in several connected rooms representing the designers heritage.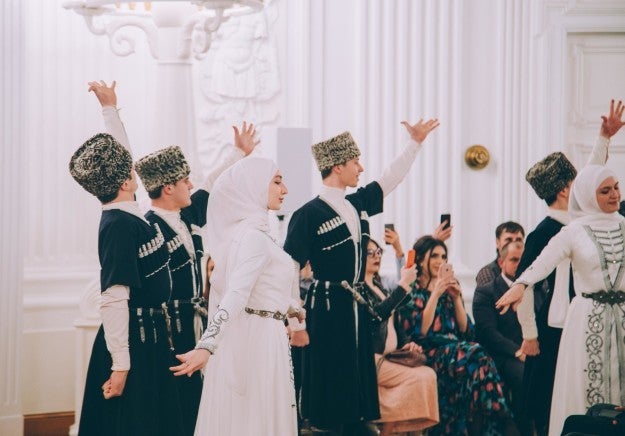 Coming from Russia's primarily Muslim area of Chechnya, Aishat has firsthand experience with the type of designs her demographic would like. Her collection represents the beauty of Islamic clothing and the possibilities that come with it. From detailed appliqués, intricate beading and floral accents Aishat's debut line not only attracted the attention of Russian fashionistas but made waves throughout the Middle East. Orders have come in from as far as Dubai, UAE and there has been talk of bringing her designs to Abu Dhabi.
Attendees of the show included Russian fashion insiders (famed designer Slava Zaitsev was in attendance), Chechnyan elites and Middle Eastern representatives.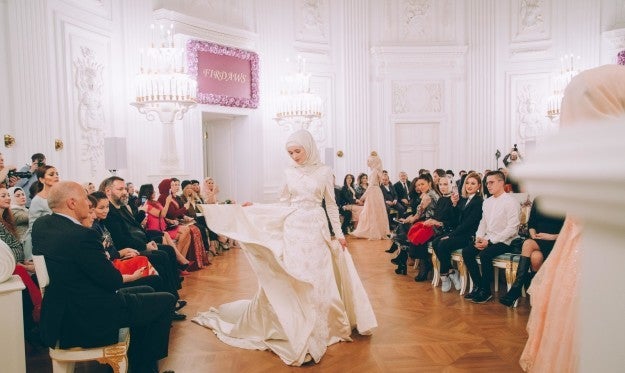 Firdaws originally started in 2009 with Aishats mother, Medni Kadyrov. Since then the Fashion house has become popular online and sought after internationally. She was able to bring attention to the demand for more Muslim friendly apparel, a market that $230bn is spent on annually. For observing Muslim women there are still limited options despite the Muslim population growing worldwide.
It is estimated that by 2019 the Islamic fashion market will make up over 14 percent of the global fashion market. By that time the amount spent on Muslim friendly clothing will grow to $327bn which is larger than the clothing market of the UK, Germany and India combined. The demand for clothing that is both beautiful and accommodating to religious standards is high and Aishat is making a name for herself in the business.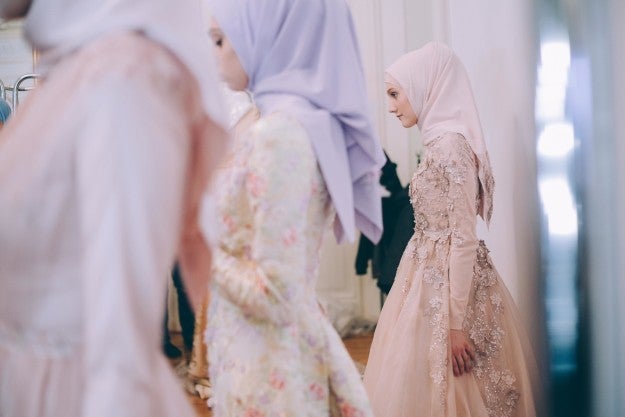 Aishat, the daughter of Chechnya's leader Ramzan Kadyrov was inspired by her heritage. The traditional Circassian clothing is represented throughout the collection in subtle ways.
Circassian clothing includes the Ghabli and Adiga. Detail oriented, there's focus on the delicate stitching within each garment that had aspects of traditional Circassian dress. Long sleeves, nipped in waists, draped veils and flowing skirts are part of the Firdaws style DNA.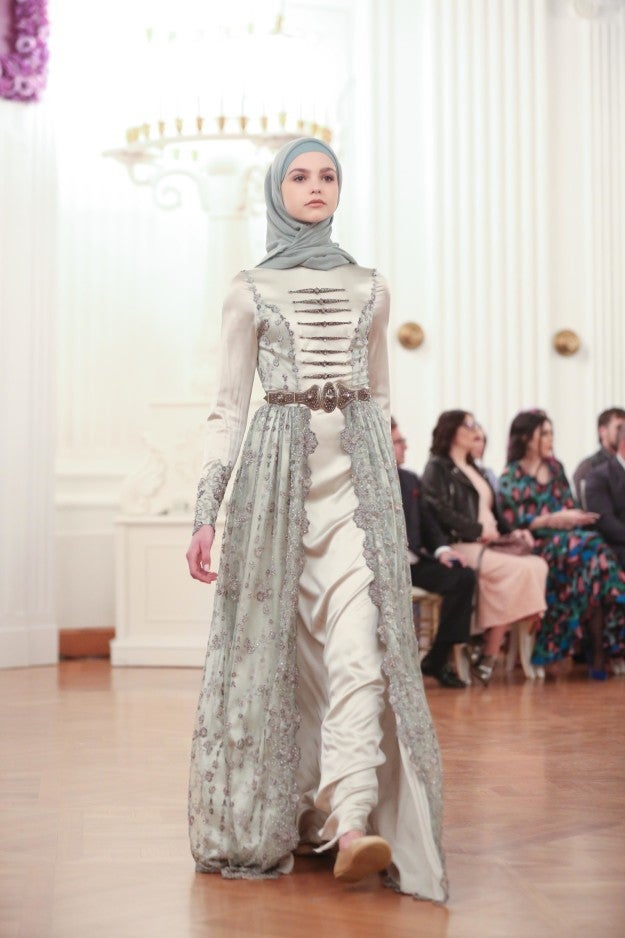 The dresses go beyond what people might describe Islamic clothing to be. While it might be seen as modest it's definitely not boring. Incorporating headscarves or hijabs as they're called, the models wore dreamy gowns that ranged in styles and colors. Light pinks, baby blues and even darker hues of olive and black showed the variety behind the collection.
The line started off with a few black pieces but soon showed off pink tulle dresses, lilac silks and white bridal looks.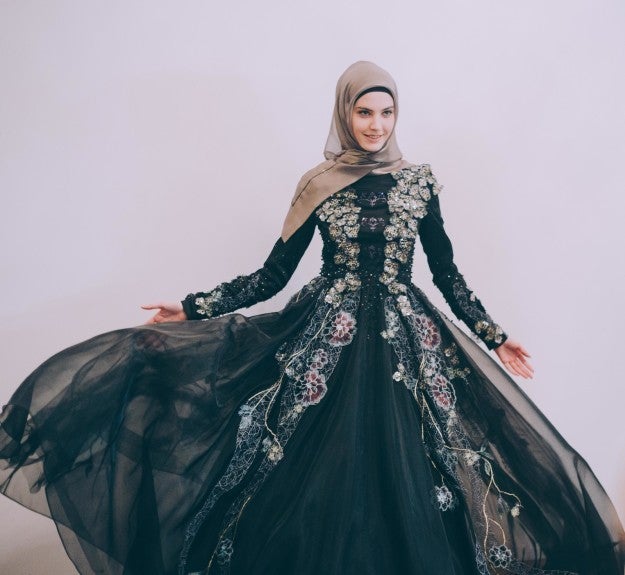 In keeping with Muslim tradition, the garments covered the models from their heads with the hijab to their wrists and feet. Floor-length gowns accented with beading and delicate lace added the feminine touch Firdaws is known for. Metallic belts and bejeweled rings were added for accessories to show the possibilities of dressing as a Muslim woman.
With the recent success experienced by Nike with their Nike Pro Hijab, Dolce & Gabbana with their Abaya collection and the launch of Vogue Arabia it seems that the fashion world is paying more attention to Muslim friendly fashion. With the Firdaws collection Aishat is bringing awareness to a market previously ignored. It's designs like these are what is making the fashion industry recognize the importance of representation for the modern Muslim woman.
As the new designer for Firdaws, the teenager plans to continue growing the brand and representing Islamic fashion.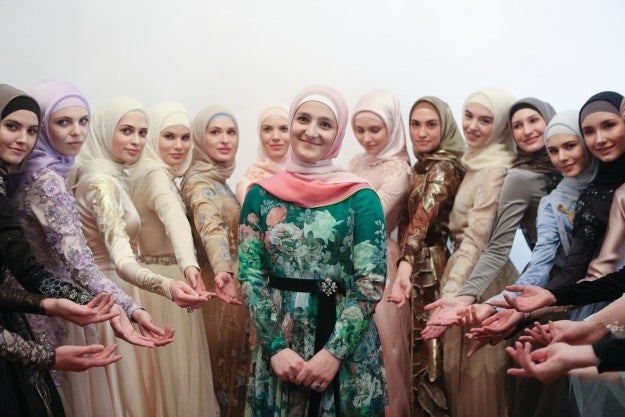 Calling all HuffPost superfans!
Sign up for membership to become a founding member and help shape HuffPost's next chapter
This post was published on the now-closed HuffPost Contributor platform. Contributors control their own work and posted freely to our site. If you need to flag this entry as abusive,
send us an email
.