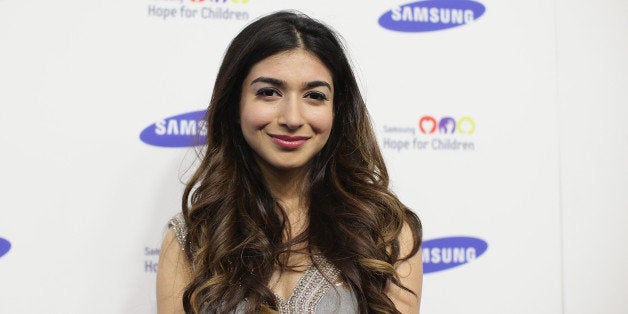 Life changed for Shiza Shahid on the day her close friend Malala Yousafzai was shot by the Taliban in Pakistan while traveling home from school.
Shahid had grown up with progressive parents in Islamabad, enjoying the same liberties as her brother, and attended college at Stanford University. In 2012 she was building a career as an analyst at McKinsey & Co. in Dubai when Malala was attacked. She quit her job to help run the Malala Fund, a New York-based nonprofit that aims to improve girls' access to education. In the past year the 25-year-old CEO has been named to two "30 Under 30" lists, one on Time.com and the other on Forbes.com.
At a recent Smart Girls Conference in New York organized by Emily Raleigh, Shahid spoke about her early activism, her work with the Malala Fund and her message for young girls. Edited excerpts of that discussion follow.
On being an activist in high school:
There was a military dictatorship, and I'd sneak out and go to protests. I thought I'd stay local and work in my society and become a women's activist.
On deciding to accept a scholarship to Stanford:
I had been to the U.S., but I didn't know what college was like. When I was 18 and applying to college, I thought, "Why not?" It changed my life. But life here can be so sheltered. It was surprising to come to one of the biggest universities with a desire to change the world -- and people around me were surprised that I was so serious.
I first got in touch with Malala when I was at Stanford; I was 19 and she was 11. I had seen a New York Times video about the Taliban taking over her town [and shutting down her school]. I thought, "That girl could be me -- living just a few miles away from my home -- and here I am at Stanford."  I emailed a bunch of people so I could get hold of her and said, "How can I help?" That summer we held a secret camp. We urged people in our country to act. The Taliban were defeated. But then four years later she was attacked.
On why she co-founded the Malala Fund:
When Malala was shot, the world was shocked. Girls in the U.S. and other countries said, "I am Malala. I know what it's like to feel scared, to be bullied, to feel not accepted." That was overwhelming to see millions of people inspired to embrace their own strength. We said, "This needs to be more than just a moment. This has to be a tipping point in history."
On being an agent of change:
If Malala can survive, then the world can become a better place. We need innovators, doers, government, local leaders, nonprofits and large institutions to be involved. When you bring diverse groups with shared passions together, that's when the magic happens.
On the best advice for those who want to make a difference:
The first step is being aware. For instance, my town is beautiful, but one mile down it's deeply poverty-stricken. So often, people just close their doors and ignore it. But the poverty really bothered me. So the first step is just noticing and letting it settle in. Allow yourself to get angry, upset or inspired. The second step is believing, "I can make a difference." I would have conversation with girls and women in these places, then I would mobilize to try to get my community involved and to get donations. If I am strong and capable, there is something I can do. I don't have to sit on the sidelines.
On what makes her hopeful:
Young entrepreneurs launching organizations and having an impact around the world. Seeing people caring has been incredibly inspiring.
On why role models are important:
Too often in the U.S., girls only care about pop news, the Kardashians and celebrity gossip. That's just not that interesting. That only makes you feel like you need more money and shinier hair. Get involved in something that's meaningful to you. Malala is a role model for smart, powerful girls. She is the anti-Miley Cyrus. She doesn't have a cellphone or wear makeup. Role modeling is very important for us, especially in the U.S., where girls have freedom. Aspire to be strong, confident and aware in a way that's meaningful.
For more about the Malala Fund, watch this video. On July 14, or "Malala Day," the organization is inviting people to use the hashtag #StrongerThan to share personal messages about overcoming fear.
REAL LIFE. REAL NEWS. REAL VOICES.
Help us tell more of the stories that matter from voices that too often remain unheard.