This is one story from Huff/Post50's new series "This Will Be Our Year: 15 Women Over 50 Shaking Things Up In 2015." We'll be following 15 remarkable ladies throughout the year as they make a radical change in their lives, whether it's embarking on a 500-mile hike, starting a new career or attempting to find love on the Internet. Start from the beginning here.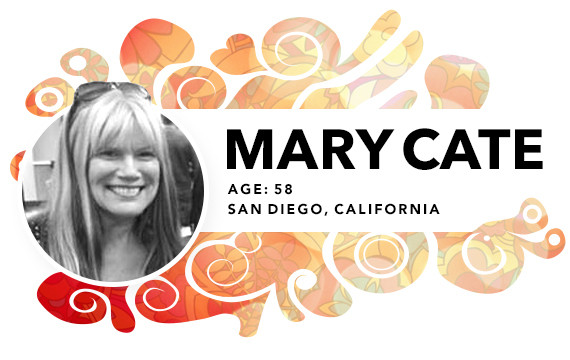 Mary Cate O'Malley, 58, is learning to sail and plans to sail from San Diego to Catalina Island.
"The year is flying. Sometimes, I fear it will be gone before I am sailor enough to single-hand to Catalina. But I have come far in the first half. Confidence finds me realizing Avalon is within reach for the second. Since my last update, I have gone out three to four times a week with a new instructor, Chris. He reached out to help me learn my boat and achieve my Catalina dream after we met in a sailing Meetup.
There is a lot to learn, and more than that, one must experience sailing under many conditions over time to truly gain the confidence it takes to single-hand. In January, when I was waxing heroic, I did not understand the reality. Sailing is serious, even dangerous, business. It occurred to me that maybe this is a big pipe dream and not even possible, in particular securing adequate caregiving for my son so I can leave two weeks at a time.
It has been a disciplined approach. Even on days when energy lags, I ready the boat and head out of America's Cup Harbor, always happy to join the cacophony of weekday shipping activity on the channel. Most weekdays there are few other sailboats, and I have wide swathes to myself.
Chris gave me a huge compliment the other week when I mentioned that I would like to reach intermediate level by August. "You are way past that," was his reply. With that, I know I am on track for my 2015 shenanigans.
He has methodically added more challenging scenarios and has me doing most of the work. Last week I learned to anchor in Glorietta Bay off Coronado. August 6 was my first port of call -- a full day round trip from Shelter Island in San Diego Bay to Mission Bay, a 20-minute drive, but a 4-5 hour sail, one way. I manned the wheel the entire time and learned the when and how's of motor sailing.
My next assignment is to take others out on my boat and learn to give orders to a crew.
Thrilled with my progress and my new life, I can't imagine returning to live on land. But honestly, there were times I was down. For instance, in early June, I realized I could not afford to pay someone for all the time it would take to train, then I was faced with confronting my boat's readiness for a Catalina sail, as it needs some crucial gear.
But now I am even more hopeful of reaching my goal than I was in January. In fact, I am reaching goals I didn't have in mind at the start of the year.  I lost about 10 pounds the first few months just from living on a dock, I joined Crossfit to meet the physical rigor of sailing, I am transitioning my hair to gray and I have grown close to the man to whom I reached out for advice on buying a boat. Back in November we met at a party on a boat, where he had encouraged me to explore this lifestyle. We recently became engaged! 
As for my Goal of the Year, some friends with Catalina 30s are going to the Island in September in a group. That would be an ideal time to go with one or two knowledgeable people on my boat. Then I hope to go one more time with my guy. That means, weather allowing, I should be confident enough for a solo journey in November or December."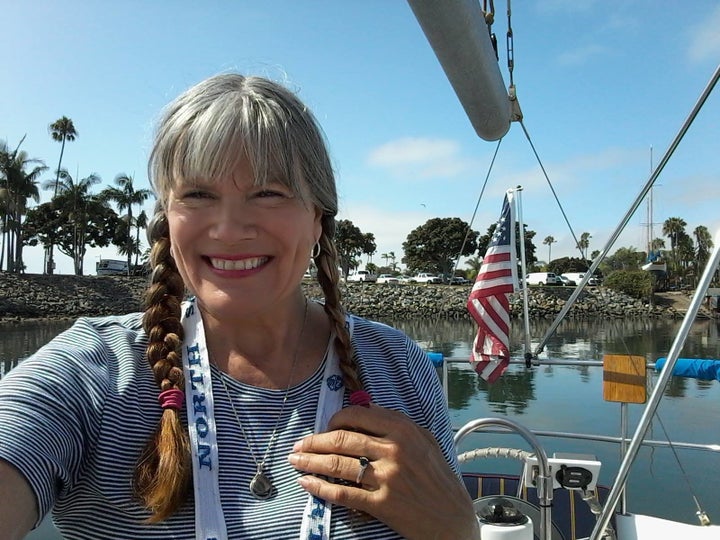 Mary Cate with her beautiful sapphire engagement ring -- picked to symbolize the ocean. 
PHOTO GALLERY
This Will Be Our Year: 15 Women Over 50 Shaking Things Up In 2015
Calling all HuffPost superfans!
Sign up for membership to become a founding member and help shape HuffPost's next chapter