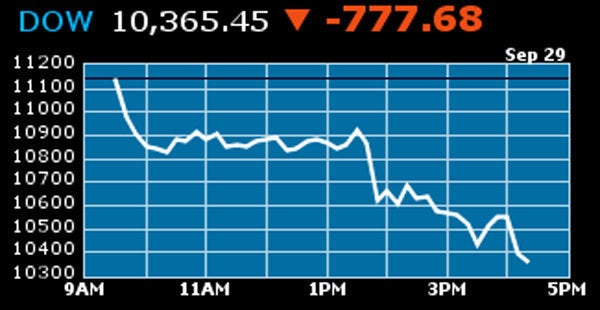 There is a new Czar in America -- the man who will be running the $700 billion budget bailout/rescue program -- assistant secretary of the Treasury for International Affairs, Neel Kashkari.
Henry Paulson tapped the company he ran, Goldman Sachs, to hire 35 year old Kashkari, who started as a senior advisor. George W. Bush nominated him as assistant secretary of the Treasury for International Affairs. The appointment was evaluated by the Senate Banking Committee in early June 2008 and approved by the senate on June 27., 2008.
The Wall Street Journal reports that Kashkari's position as czar of the $700 bailout is "interim, pending Senate confirmation. It isn't likely the Senate will move on the matter before the November elections. Mr. Kashkari isn't expected to remain in the post after January, when the Bush administration comes to an end, and,
"Mr. Kashkari was part of the Treasury team that negotiated the asset-repurchase program with Congress, putting in marathon sessions along with Robert Hoyt, Treasury's general counsel, and Kevin Fromer, the head of legislative affairs. He was also one of the originators of the plan. Last year, he and Phillip Swagel, assistant secretary for economic policy, crafted a proposal called 'break the glass' -- referring to the emergency nature of using such a tool -- which envisioned Treasury buying bad loans and other assets.

"Treasury is trying to get the program running as quickly as possible. It is expected to begin soliciting bids from asset managers this week and could hire several managers before the week is over, according to people familiar with the matter. The department plans to hire managers with expertise in the types of securities the government likely will buy, in particular mortgage-backed securities and residential mortgages."
On the US Treasury site, the following profile is provided, which, it seems, has provided the bulk of material several dozen other articles have used to cover who Kashkari is:
Neel Kashkari
Senior Advisor

Neel Kashkari is Senior Advisor to U.S. Treasury Secretary Henry M. Paulson, Jr. He provides counsel to the Secretary on key policy matters.

Prior to joining the Treasury Department, Mr. Kashkari was a Vice President at Goldman, Sachs & Co. in San Francisco, where he led Goldman's IT Security Investment Banking practice, advising public and private companies on mergers and acquisitions and financial transactions. Prior to his career in finance, Mr. Kashkari was a R&D Principal Investigator at TRW in Redondo Beach, California where he developed technology for NASA space science missions such as the James Webb Space Telescope.

Originally from Stow, Ohio, Mr. Kashkari graduated from the University of Illinois at Urbana-Champaign with a Bachelor's and Master's degree in Engineering. He also received an M.B.A. in Finance from the Wharton School. Mr. Kashkari and his wife Minal maintain residences in Maryland and California.
There's not much to be found about Mr. Kashkari beyond the Treasury's brief two paragraph description. Calls to the Senate Banking Committee and the Treasury yielded almost no new information, just promises of callbacks from press people who were not available. One spokesperson did say that the announcement of Kashkari's appointment had just occurred today. While not confirming that the senate banking committee did not know who would be doing this job, with its huge responsibilities, the indication that the announcement had occurred today was in response to a question as to whether the committee had known before approving the bill, who would be managing the bailout.
Here's a link to a C-SPAN video, where he talks about a new kind of mortgage for the US. He comes off as a bright, techno-geek economist kind of man, "smart, articulate, knowledgeable." But he is introduced as being strictly a speaker on "covered mortgages" -- and the audience is instructed not to ask him questions on other topics.
In June 2007, he spoke on the Bush energy policy, and it was reported "he sidestepped most of the prickly issues."
The Washington Post reports that Kashkari is a former vice president at Goldman Sachs, where he led the firm's security investment banking practice. Apparently, Kashkari was still a student at Wharton in February, 2002, when the Philadelphia Inquirer reported on his participation in a leadership class exercise. That would put him at no more than six years out of school.
In 2006, Neel Tushar Kashkari of Stow Ohio was reported to be selected as one of the regional finalists for the White House Fellows Program. A final listing of the actual recipients for 2006-2007 does not include Kashkari.
Frankly, it almost seems as though the web has been scrubbed of all background on this man of the hour.
Related
Popular in the Community