Since the first Rock and Roll Hall of Fame Induction Ceremony in 1986 -- when the likes of Chuck Berry, Buddy Holly and Elvis Presley were inducted -- more than 300 people have been honored with a place in the Hall of Fame. If you're keeping count, that's nearly 730 Inductees who've had a hand in making rock and roll history. The Rock and Roll Hall of Fame and Museum in Cleveland, Ohio, takes that rock timeline and amplifies it, covering the roots of rock and roll to the artists making waves today in its Right Here, Right Now exhibit. Few bands in the Right Here Right Now exhibit so powerfully illustrate the connection between rock and roll's forefathers and the music of today as the Black Keys.
Dan Auerbach of The Black Keys performs on the Pyramid Stage on the final day of the Glastonbury Festival of Music and Performing Arts on Worthy Farm in Somerset, south west England, on June 29, 2014. Photo credit: LEON NEAL/AFP/Getty Images.
The Black Keys emerged from Northeast Ohio as a two-man show with guitarist and vocalist Dan Auerbach and drummer and producer Patrick Carney. The duo's stripped-down, soulful, elemental blues sound reflects their influences, which are mostly first-generation blues artists. "I would raid my father's record collection," Auerbach says. "He had a lot of old blues albums -- like Robert Johnson, Son House, Robert Nighthawk, Junior Kimbrough, and T-Model Ford." From the group's debut The Big Come Up in 2003 to their latest release Turn Blue, released in May 2014, listeners can hear the influences of such soul and blues legends as Otis Redding, Muddy Waters and Howlin' Wolf.
Part of the Rock Hall's Right Here, Right Now exhibit highlights a bit of Black Keys' own history: the Pignose amplifier, hat and tip jar that accompanied Auerbach while busking on the streets of his hometown, Akron. His bandmate Carney gave the Museum his bass drum -- complete with Black Keys written in indelible marker on the drum head -- featured in the album artwork of The Big Come Up. A similar kit is also featured in the grainy, gritty video for "Busted."
This blog post is part of a series produced by Huffington Post and the Rock and Roll Hall of Fame and Museum in conjunction with the latter's current "Right Here, Right Now" exhibit. The exhibit, at the Cleveland-based museum, takes a look at the evolution of rock and roll and its impact on the next generation of artists by taking visitors on an intimate journey into the stories of chart-topping acts as told through their personal items and clothing from iconic performances. To learn more, visit here. To meet the other seven, visit here and see below!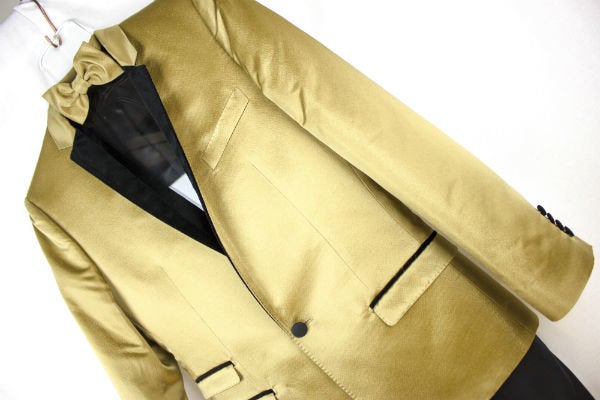 "Right Here, Right Now" Exhibit at Rock & Roll Hall of Fame Museum
Popular in the Community