In roughly a decade, Fall Out Boy has grown from an unknown band rehearsing in their hometown of Wilmette, Illinois, to one of the most popular rock bands touring today. With drummer Andy Hurley, vocalist/guitarist Patrick Stump, guitarist Joe Trohman and bassist Pete Wentz leading the charge, Fall Out Boy's 2005 major-label debut From Under the Cork Tree went double platinum on the strength of such singles as "Sugar, We're Going Down" and "Dance, Dance."
IRVINE, CA - MAY 31: Musicians Patrick Stump (L) and Peter Wentz of Fall Out Boy perform onstage during the 22nd Annual KROQ Weenie Roast at Verizon Wireless Music Center on May 31, 2014 in Irvine, California. (Photo by Christopher Polk/Getty Images for CBS Radio Inc.)
Fall Out Boy's music has a distinct 1980s and '90s sound. Pete Wentz says this is because that's the kind of music the band grew up on. "I think, for bands like us, we can be a gateway," says Wentz. "We can say like, 'Hey, check out what these other bands we grew up with do.' I think that's an important thing to do as an artist." In particular, Wentz names 2012 Rock and Roll Hall of Fame Inductee Metallica and its 1986 album Master of Puppets as the record that is probably his "single biggest influence."
Fall Out Boy's fifth studio album, Save Rock and Roll, was released in 2013 and featured guest appearances by 2 Chainz, Big Sean, Tommy Lee of Motley Crüe, Courtney Love and Elton John, who was inducted into the Rock and Roll Hall of Fame in 1994. From the album came a series of 11 music videos forming a single narrative and based on each of Save Rock and Roll's tracks. The Rock Hall's Right Here, Right Now exhibit includes fake-bloodied shoes, boots, a shirt and a jacket worn by members of the band in those videos, including the white jacket worn by Wentz in part 11 with Elton John.
This blog post is part of a series produced by Huffington Post and the Rock and Roll Hall of Fame and Museum in conjunction with the latter's current "Right Here, Right Now" exhibit. The exhibit, at the Cleveland-based museum, takes a look at the evolution of rock and roll and its impact on the next generation of artists by taking visitors on an intimate journey into the stories of chart-topping acts as told through their personal items and clothing from iconic performances. To learn more, visit here. To meet the other seven, visit here and see below!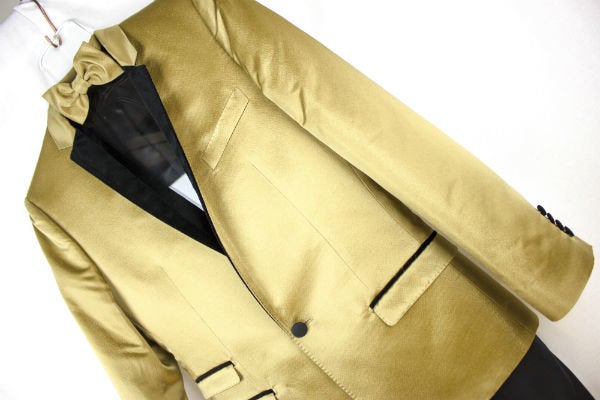 "Right Here, Right Now" Exhibit at Rock & Roll Hall of Fame Museum
Popular in the Community