After moving from gospel to pop-rock, Katheryn Elizabeth Hudson -- better known as Katy Perry -- quickly found a place in the pop-culture spotlight with the release of her 2008 hit single "I Kissed a Girl." Two years later, in 2010, Perry released Teenage Dream, resulting in five Billboard chart-topping hits: "California Gurls," "Teenage Dream," "Fireworks," "E.T." and "Last Friday Night (T.G.I.F.)." Last year, her third album Prism produced two more number-one singles: "Roar" and "Dark Horse."
Perry lists Queen as top among her influences. "Queen's track 'Killer Queen' made me discover music and helped me come into my own at the age of 15," says Perry. "The way Freddie Mercury delivered his lyrics just made me feel like a confident woman; I'd say his fingerprint is all over me." Beyond Queen, Perry has also name-checked such powerful female musicians and Hall of Fame Inductees as Carole King, Joni Mitchell and Bonnie Raitt.
Katy Perry is seen in concert at Bridgestone Arena on Friday, June 27, 2014, in Nashville Tenn. (Photo by Wade Payne/Invision/AP)
"Pet Sounds is one of my favorite records, and it influenced pretty much all of my songwriting," says Perry of Hall of Fame Inductees the Beach Boys' landmark album. "All of the melody choices that I make are because of Pet Sounds." That's high marks from a female performer who has her own extended sphere of influence, having sold more than 11 million albums and been nominated for nearly a dozen Grammy Awards.
In 2011, Perry's The California Dreams Tour saw her performing for audiences in Europe, Asia, Oceania, and North and South America, earning upwards of $50 million. Fans at those shows will likely remember the light-up, sparkling "peppermint swirl" outfit she wore while performing "Teenage Dream," "Hummingbird Heartbeat" and "Waking Up in Vegas." That outfit is featured in the Rock Hall's Right Here, Right Now exhibit in Cleveland, Ohio.
This blog post is part of a series produced by Huffington Post and the Rock and Roll Hall of Fame and Museum in conjunction with the latter's current "Right Here, Right Now" exhibit. The exhibit, at the Cleveland-based museum, takes a look at the evolution of rock and roll and its impact on the next generation of artists by taking visitors on an intimate journey into the stories of chart-topping acts as told through their personal items and clothing from iconic performances. To learn more, visit here. To meet the other seven, visit here and see below!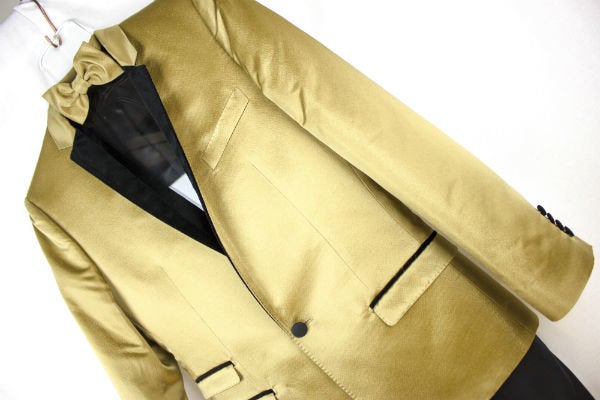 "Right Here, Right Now" Exhibit at Rock & Roll Hall of Fame Museum
Popular in the Community