Every dog has its day -- August 26th to be exact.
Here at UGallery, we have a big soft spot for pups, and it's no secret that we're smitten with canine-inspired artwork. In honor of National Dog Day, what better way could we celebrate man's best friend than by featuring one of our rockstar pet commission specialists, Lesli DeVito.
Lesli's pet portraits have delighted nearly 300 pet parents, and make surprisingly chic doggie-inspired decor as well!
We asked Lesli her secret for capturing pet personalities on canvas.
Have you always painted?

I cannot remember a time when I was not doing something creative. I have always sketched and painted things, and if you had a birthday, I would have made your gift. But I only started painting on canvas in 2008.
Is painting what you always planned to do?

I hold a master's degree in theatre performance (creative me) and a master's in nursing (practical me). My plan was to work as a nurse to pay the bills, if being an actress did not. I don't think I ever considered that the thing which came the most naturally to me, my art, would be how I generated an income. I guess after raising my three children to "take risks and follow their passions," I took my own advice.
What led you to start painting pet portraits?

My mom passed away in 2007, and I needed to throw myself into something big to distract myself. So I painted every single room in my house. Then, a friend of mine had a birthday, and with the leftover house paint, I painted her a huge cow. She loved it! And then she asked if I could paint her dog, and it kind of just kept going from there.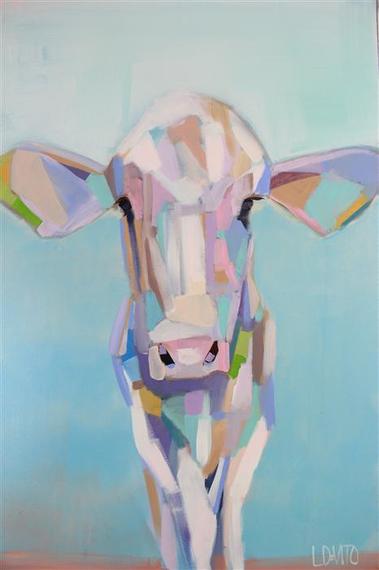 Evie by Lesli DeVito

Walk us through how you create a pet portrait. How do you capture the essence of the animal?

The client sends me multiple photos of their pet and tells me stories that capture their quirks and personality traits. I have a very special connection with my clients, one I cherish, because they are sharing something very precious. I then choose the photo which (to me) captures the personality and also lends itself to my slightly impressionistic style. I almost always save the eyes for last; they are my favorite feature, and I believe they really capture the essence of the animal.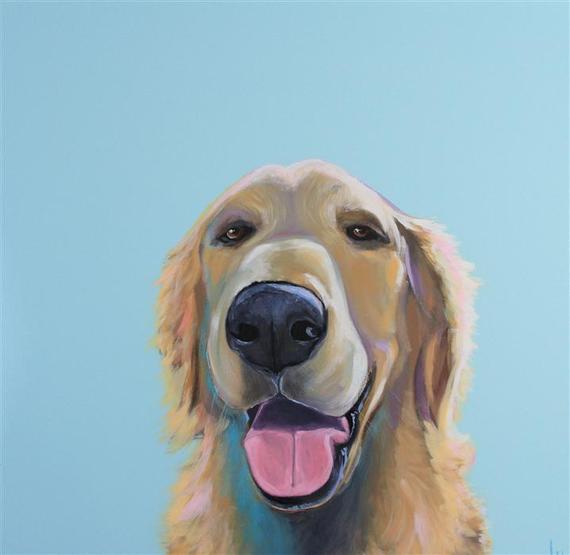 Best Friend by Lesli DeVito

How many portraits have you done?

Somewhere around 250-300.
You must have some great stories about pets or clients. What's one that stands out?

Here are a couple:
I was commissioned to paint a dog named Woody who had recently passed away. There was just one digital photo of the dog, and it was when he was asleep and very very ill with an I.V. coming out of his arm. I usually have at least one somewhat decent photo, but in this case I had none. I had the client tell me stories and describe Woody - his fur, his eyes, his personality when he was young. I looked and looked for dogs that seemed to match the description and finally created the portrait. The client loved it!
Service dogs are very near and dear to my heart. I was commissioned to paint a portrait of a service dog named Jazz, which was to be given as a gift to the Patriot Paws Organization. Patriot Paws trains and provides service dogs to disabled persons including any veteran who has a service-related disability. Puppies are trained by the Texas Department of Criminal Justice for two years and then placed with an appropriate veteran or disabled person. Jazz is a golden retriever service dog and the "poster dog" for Patriot Paws.
Have you painted a pet portrait for anyone we might know?

I did a "surprise" portrait for Bravo talk show host Andy Cohen, of his dog Wacha. Also, the brains behind Young House Love commissioned me to paint a portrait of their dog, Burger, for their 2014 Showhouse (photo at top).
If you'd like to commission a portrait of your beloved pet (Lesli also paints cats, cows, horses and goats!), you can find more information on UGallery.com.

Related
Popular in the Community