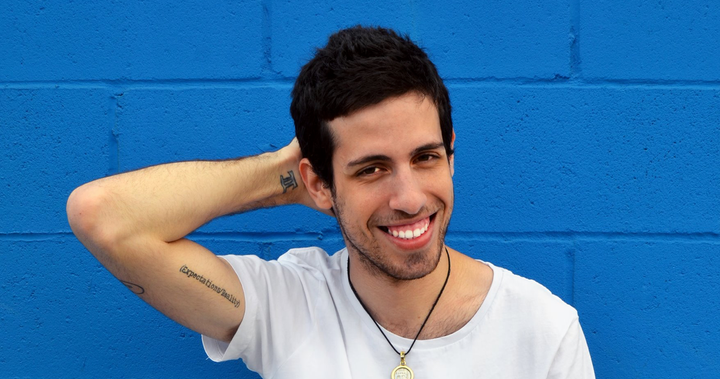 Midway through the heartbreaking process of watching his ex-boyfriend fall in love with someone new, young adult author Adam Silvera, got a phone call. The ex-boyfriend almost drowned at the beach with his new boyfriend. From just entertaining what a loss of that magnitude could have brought, Silvera's latest young adult novel, History Is All You Left Me (Soho Press) was born.
History Is All You Left Me (due out January 17th) introduces Griffin, a New York teenager that suffers from OCD, who's left grieving the sudden death of his first love. Through the nightmare of that tragedy, he finds an unexpected support system in his first love's new boyfriend and the reader is taken through a catharsis of deep grief. Interpolations of Griffin's nascent romantic history with the departed Thomas contrast with the present day finality that comes with death. But it's Adam's humanization of intensely complex characters that ices the saga in needed hopefulness.
The former bookseller grew up in the Bronx revering the work of J.K. Rowling before entering the publishing industry. When his work led him to jobs at publishing houses, it resulted in the release of his debut novel More Happy Than Not in 2015. His heartbreaking introduction was a New York Times bestseller and labeled by The New York Times Book Review as "mandatory reading."
Weeks before the release of his follow-up, History Is All You Left Me, Adam spoke about the process behind his new novel, handling grief, and his personal experience with OCD.
JR: Where were you the moment HIAYLM came to you?
AS: I think I was just home and then just around the city. I think when I got that call from my ex-boyfriend telling me that was very close to drowning with his boyfriend, I, of course, was like, "Oh my God. Here's this person I'm still in love with," and I, of course, think that "We don't quite work right now, but we will in the future," or something. Then we'll get back together. I was just like, "Well, what if we can't get back together because he's dead?"
I wanted to explore that defeated hopelessness. This idea was sitting with me for a few months, and it wasn't until after I had dinner with my ex-boyfriend and his boyfriend. A fun dinner, where I was like, "I think I'm ready to write this as a book." I started writing, and it took 13 months to get a first draft, which is the longest I've ever taken on a draft.
I just remember having this moment of like, "Wow, I'm happy for him, and I'm no longer sad for us." I see that we just didn't work and that we operate better as best friends, and now we're both happy in our separate relationships. He's reading a book right now where I killed him off, so that's fun.
JR: Aside from this particular relationship, have you ever grieved?
AS: My favorite uncle died when I was eleven, and that was two months after 9/11, so that was a particularly difficult time with my family. Yeah, I've never lost anyone that close to me. In some ways it makes me nervous because the day it does happen, I'm not going to be prepared for it. I've never been hit that way, but we'll see how it gets confronted when the time comes.
I feel like the people I've lost in my life, it's not necessarily because they've died, but instead because of some deep absence. Much like in History is All You Left Me; the idea was initially inspired by a breakup and I just heightened it to be a death. Absence is absence, you know? The loss of someone can be just as devastating if they're alive as if they're dead.
I'm [also] grieving our country right now. Over 2 million people are.
JR: What's been your grieving process since Election Day, actually?
AS: Man. Well, I mean, I wasn't reading. I wasn't writing. I work in publishing, and so I was just staying caught up on all of that stuff, but I'm now getting back into reading. I'm getting back into writing. I'm getting back into being more vocal about things.
What I'm actively doing is making sure that I am putting stories out there that can make a difference. I've seen them make a difference with some emails I've been fortunate enough to exchange with the readers. Yes, I think it's activism through fiction which many of us are doing. Some of us are better about just being straight up activists in general or whatever and a lot of us are learning how to kind of gear up as well. Right now I can trust that I can do something in fiction. That I can hopefully spark empathy.
JR: Is that why you decided to make Griffin's OCD part of the story, almost to a passive degree?
AS: Yeah. Well, Griffin's compulsions are 100% identical to my compulsions. I have OCD and literally walking on the left, needing things to be in even numbers with few exceptions. One and seven, any number that ends in seven, that's all me. All the tics like the pulling of the ear and scratching of the palms, all me.
I was just writing in his voice and all of a sudden he had my compulsions. "Oh, okay. I'm going to roll with this." Yeah, but it's not a book about OCD. It's a book about grief. OCD is an essential component to it. It was never going to be this thing that every chapter revolved around Griffin's OCD. In some ways, he's very functioning, but with the loss of Theo, everything is just exploding out of control and making his compulsions a little wilder.
JR: It didn't highlight it as something that was negative.
AS: Yeah, I know. It's not meant to be. Again, I function pretty well with this. I mean, to an extent, but it's just I've been dealing with it I think 10 years. I realized that earlier this year when I turned in the very final version of this book, I was like, "Huh, I've gone through 10 years of being undiagnosed," but you know you don't just maintain a quirk for 10 years.
When you're overthinking a thought like the way I do, I can get completely pulled away from something I'm in the middle of because my thought channel just won't help me get from point A to point B without any difficulty. You know, I'm looking into having those conversations about medicine, and exposure therapy, or whatever it is that could be useful for resolving this or whatever.
It was important for me to not paint it to be, "You're this monster that has this thing." It's just like, "Hey. Yeah, you're this person who has this struggle," and you don't want to be treated like you're being quirky. You want it to be seen for what it is.
This interview has been edited and condensed.
Calling all HuffPost superfans!
Sign up for membership to become a founding member and help shape HuffPost's next chapter