"There's this deadly idea that once you reach 40 you're put on the shelf," Sandy Eggers explained in an interview with The Huffington Post. "But I don't want to sit on the couch and watch soap operas. I got stuff to do and things to say."
Eggers is one of the performers in the variety show BroadMinded, which features belly dancers, comedians, slam poets, and burlesque artists with one thing in common: they're all women over 40. The show is the brainchild of Bay Area-based artist Revolva -- a circus performer whose act revolves around a hula hoop. She came up with the idea around her own 40th birthday.
"I decided to launch a showcase of incredibly talented older women," she said, "to prove that we are not only non-invisible, but we can actually blow a crowd's mind. By making 'woman over 40' the normal thing on stage all night, it's easy to forget that there would ever be something weird about it because you're too busy watching an amazing show."
"It's about taking to the stage to prove the only thing that's withering over time is the tired, outdated way society has been treating older women," Revolva explained.
Revolva has been performing since the tender age of 4, and also works as a professional writer and longtime activist. "I naturally think in terms of stories, and I know there's a transformative power to embodying and amplifying a message that flies in the face of the damaging messages the media throws at us," she said. 
"Our culture tells women and girls that our highest value is in our appearance, and by association our youth ... if you look at TV, movies, magazines or any of the touchstones that we use to understand reality, you'd get the message that women have a shelf life, and beyond 40, we have less value. We're really fortunate, though, to live in an era when the internet can amplify all kinds of voices that have been silenced. So that's what BroadMinded is doing. Broadcasting our own message: Women over 40 are badass!"
At 72 years old, Eggers describes The Golden Follies as "a Las Vegas style review" in which all the women are over 60. "The oldest one is almost 91," Eggers added. "She still puts on the eyelashes and the character shoes. We do tap, jazz, character, showgirl. There's lots of sparkles, lots of leg." 
Eggers has been dancing since she was a child growing up in a small farm town in Kansas. She originally danced ballet, then musical theater, and eventually got into ballroom dancing in her mid-40s, thinking it a more age appropriate choice. But ballroom dancing is expensive. Luckily, Eggers found a new home with The Golden Follies. 
"Here I am, 72 years old, all dolled up in my dream costumes, with all of the rhinestones and glitter and glamour that you could possibly want," she said. "In my mind and spirit and heart and soul I am still that young, vibrant dancer. When I dance my heart sings. It's the closest thing to feeling like you're flying. It's almost an out of body experience."
Another iconic performer on the BroadMinded roster is Isis Starr. Her chosen medium is burlesque and has been since she was 12 years old. "I snuck into the movie 'Gypsy' against my mother's wishes," Starr explained. "My mother was very Christian and thought, for some reason, it was not a good movie for me to watch. Turned out she was right!"
Starr, who was a ballet dancer at the time, became intrigued by the liberation that burlesque allowed. She tried taking this attitude back to the ballet bar, but alas, "they were not appreciative and I was asked to leave." The day she turned 21, Starr started performing at San Francisco's The Condor as a GoGo dancer. She soon made a living stripping through a burlesque lens, telling a story through her movements.
"I always like to think of myself as a dancer," she said. "Dancer first, stripper or burlesque performer second." 
Starr retired in her 40s, disillusioned with the stripping scene. A decade later, however, she heard word of the neo-burlesque movement sweeping San Francisco and couldn't resist getting back in the game.
"People say 60 is the new 40, and I'm not sure I believe that, because if you're saying that you've never been in a 60-year-old's body!" Starr said. "But 60-year-olds have a vibrancy they didn't have before and possibilities they didn't have before. There is so much newness in burlesque, and that new feeling is with me all the time." 
Starr is now in her 60s and contemplating retiring from the dance world for a second time in the near future. However, the attitude of burlesque is part of her identity, and will remain as such no matter when Starr leaves the stage. "For me, burlesque is freedom of expression. You can express yourself in so many different ways. It takes dedication and practice. It's not something you can just do."
The April BroadMinded performance drew an audience of all ages, with viewers from 21 to 90 years old moved at the power of these fierce and fearless women. From Eggers to Revolva to Starr, the group proves the power of a few high kicks and pelvic thrusts in the face of ageism.
"A local performer, in her early 30s, who had been in the audience came up to me afterward and said, 'I feel so much better! I feel so much better!'" Revolva recalled. "She told me the show made her cry with relief. Seeing an alternate possibility where there would be a space for her to contribute to the world forever made her feel empowered."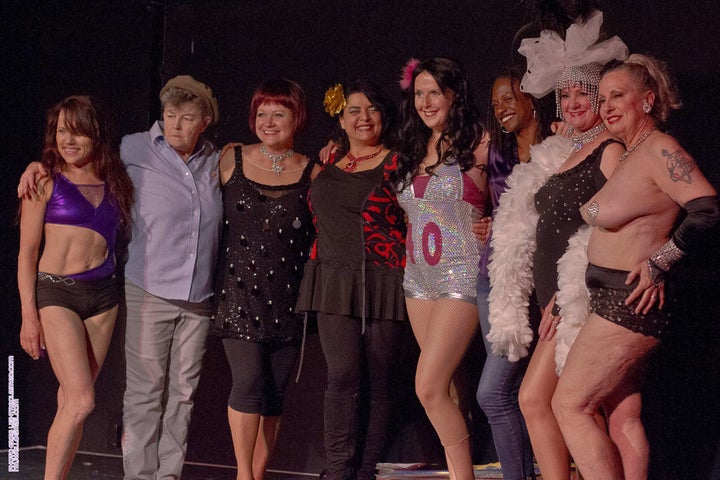 REAL LIFE. REAL NEWS. REAL VOICES.
Help us tell more of the stories that matter from voices that too often remain unheard.
BEFORE YOU GO
PHOTO GALLERY
10 Women On Why Feminism Still Matters