Tonality, a new professional ensemble based in Los Angeles, is founded to promote diversity and unity. A musician's story speaks to its need.
I remember when I was approached by an officer. I am a conductor and choral arranger, and had stayed at a friend's house because I had been given the honor of conducting my arrangement of the spiritual "Deep River" at A.C. Reynolds High School in Asheville, NC. Because I had a full-time job as an Admissions Counselor at Wake Forest University, I had finished the work day before heading out to stay with this friend so I did not have to drive so many hours the following morning.
The next morning when I went to my car to get some materials for the day, a police car was behind mine. When I approached my car, he got out and asked me who I was. I told him my name and why I was in the area. I informed him that I was going to teach children. There was no response to that statement, but instead the officer asked me to show him my identification. I told him my ID was in the house of my friend, and he said, "I'll wait."
I was wearing a vest and tie under my Wake Forest University jacket. I walked away from that encounter frustrated and embarrassed, somehow wondering what it was about me that made someone scared enough to call the police to investigate my stay in this neighborhood. Was it that I arrived at night? Had someone in the neighborhood had bad interactions recently with a man of color? I thought these things and then I was angry that I thought them.
I was sitting here trying to make sense of what just happened and I was starting to blame myself, when I was doing nothing but walking to my car. For someone else's ignorance and prejudice I found myself having to justify my being in that neighborhood, like I had mistakenly found myself out of place. I mean, here I am thinking that I could have been teaching their children that morning - a Negro spiritual, ironically - and they were scared of my presence! Frankly, I have had my share of circumstances of personal racism but had not ever dealt with a instance of institutionalized racism in this way. I went and taught the rest of the day, but never really forgot what happened that day. This wasn't one police officer with questionable intentions; it was a community that had made a statement that I did not belong.
I remember thinking then that I was a black man who had gone to school, stayed out of trouble, and was working what most would consider a respectable job, with "respectable" dialect and clothes, and a good head on my shoulders. Many of these traits, ironically, have lead some to say that I was "acting" a certain race that was not my own, but this day it didn't matter. I thought, if it didn't matter who I was then, what happens to black men who don't act or look the way that some would consider "respectable"?
I have heard stories from other family members who have spoken of similar instances. We talked about being checked and double checked at grocery stores, or being approached by police officers when hanging out in large groups. I have chatted with friends at school about how some of us walk around at night intentionally with more university-branded clothes in some sign of evidence that we belong there; because somewhere along the line we have learned to protect others, not against who we actually are, but their vision of us, and in this way have learned to protect ourselves. I learned that this feeling of mistrust and angry sentiments toward those meant to support us are unfortunately strengthened through these constant and unnecessary reminders that we are seen as different.
That first event was in 2011.
Fast-forward a couple of years and there is story after story of police brutality against unarmed people of color. There is a politician who has a high potential of winning the presidential election who speaks of shutting out people in our country because of their religion, going as far to say that he would build a wall to divide us. There are reports of mass shootings of people because of their sexual orientation. People being killed in churches while trying to praise and worship. Hatred, misunderstanding, and division have become a prominent pattern within news stories in our country, and many of us are confused, hurt, frustrated, scared, and weary. I am wondering why.
While many answers cannot truly explain these issues, hearing arguments on both sides of issues shows that we have lost the ability to connect. People who are different from us in any aspect simply become the "other", and we immediately lose any intention of understanding or reaching across to the other side to have conversations. All issues become divided on race, gender, socioeconomic status, sexuality, etc. We forget our many similarities and give in to the divisive nature of society.
Even in a miniscule way (compared to recent reported events) I have felt this fear and dismissal of people who do not appear to be similar. It shook me and made me question your being and my worth. Unity and social justice have always been interests, but after my encounter I was more determined to find a way to combat this societal pattern so that I and others could live in a world where we can truly be judged on character alone and not on these things that we decide make it impossible to understand each other.
When a friend asked me what I would do if I were to start my own professional ensemble, these recent and past events helped motivate me to think about how I could respond to this issue of division and cultural/racial separation. As a choral singer, one advantage that choirs have is taking people and bringing them together in a way that is very unique to communal singing. I have felt very connected to people I have just met by singing and making musical harmony with them, and I thought this connection must be strong enough to connect those listening as well as those participating.
With this idea in mind, I started to email people - some singers I knew and many I didn't - and asked them about doing one rehearsal to form a choir that would be based on diversity and unity. I was pretty nervous because I am new to the professional music environment amongst a very vibrant choral community, and most of these singers are either extraordinarily talented and busy and also have commitments with professional gigs. However, once I sent the email out the response was ecstatic. It was such an exhilarating feeling to receive such positive feedback from professional singers. It showed that many of us are feeling a need to combat hate with love and want to do our part.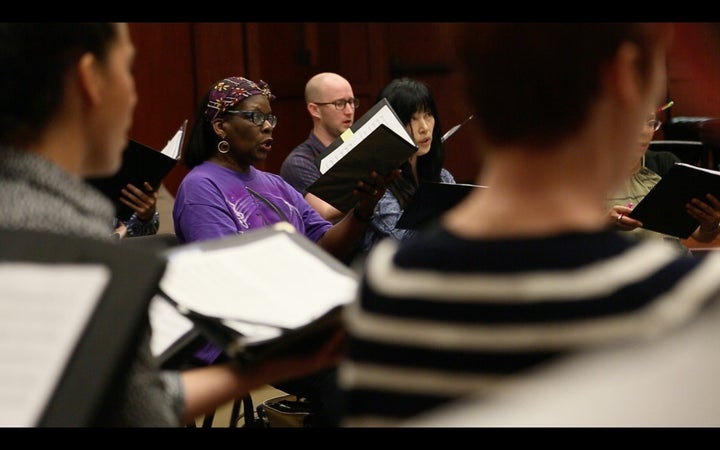 We met for that first rehearsal and I will never forget that experience. People of different backgrounds and different ages came together and for three hours, we sang, laughed, ate snacks, got to know each other and really became an ensemble. People who did not know each other when we walked into the room were making glorious sounds together. It almost moved me to tears and reminded me of the first times I felt moved by choral singing. The emotions and excitement in choirs I felt since singing in my church back home in North Carolina. Those feelings I do not experience anywhere else than in a choral setting. It was these emotions that have stayed with me and have guided my academic and professional careers to this day.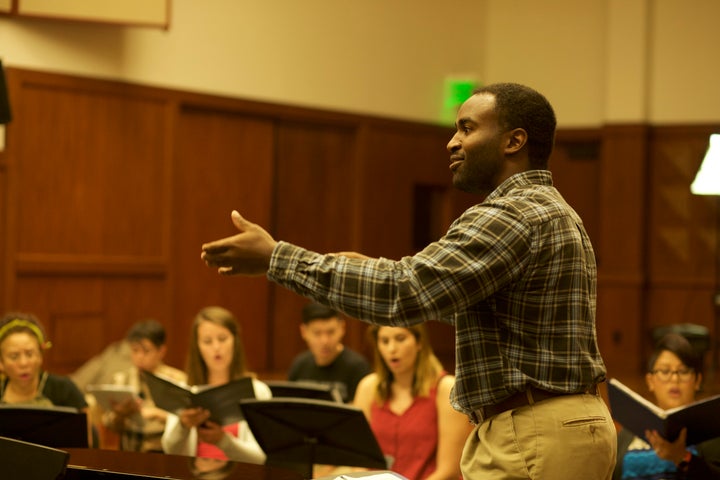 I was reminded that even in that rehearsal with the added stresses of trying to start a new ensemble with highly talented singers that I was meeting for the first time that once we started to sing as one unit all the stresses melted away and our passion of making music together was what bonded us physically in that space and emotionally in the moment. That is the power of choral music. That is what we can provide for our community. Every voice is special and creates a harmony that speaks louder than any division.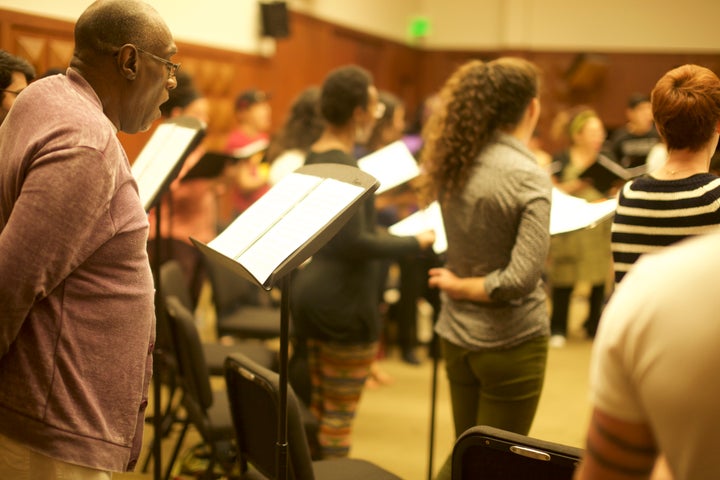 This choir, now realized, has so much potential. We can sing about justice and peace and show a community that represents many populations, an aspect not really seen in the realm of choral music. Being a face of inclusion is also something very important to me as well. Growing up as a classical musician, there were - and, frankly, still are - few examples of role models of color that are accessible within the choral music profession. In my undergraduate career, when I was able to see an African-American bass singer perform a Bach cantata, I knew that this world of classical music could be for me. This ensemble has the opportunity to go into underrepresented areas in Los Angeles and create hopes and dreams for many communities. This potential to inspire and change the face of our field is one that is truly remarkable.
We will unite with love and grace. We will show the world through song what diversity and inclusion look like.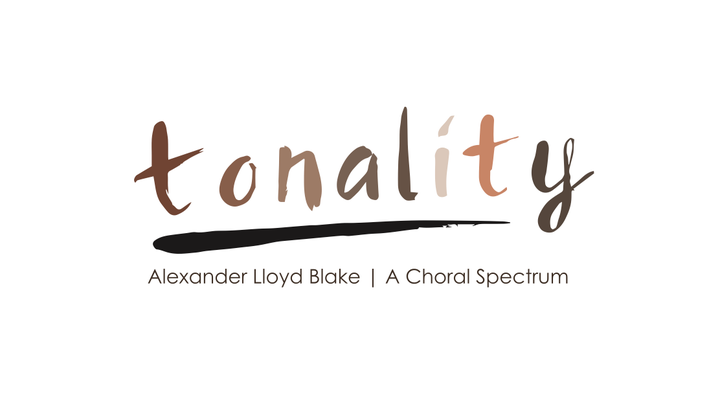 Tonality will have their inaugural concert on September 24, 2016 at St. Thomas the Apostle Episcopal Church, Hollywood (and on LiveStream). For more information, please visit www.ourtonality.org. You can also find more information on Facebook here: https://www.facebook.com/events/1725918827672791/.
Popular in the Community