JERSEY CITY, New Jersey -- Almost four months have passed since Mohamed and Amira Darbi and their three children, Nabiha, Hajar and Shaker, first laid eyes on their new world. But it hasn't been easy readjusting to their new lives.
Mohamed reluctantly decided to uproot his family to neighboring Jordan almost one year after civil war erupted in 2011. The Syrian government had initiated a bombing campaign in his hometown, the western Syrian city of Homs.
Mohamed extinguished his cigarette in an ashtray, sighing as he began to talk. He has been struggling with settling into his new life in America.
For one, he said that English language classes are not getting any easier.
"I try to teach myself often and study," he said. "Amira ... has some experience with teaching, but I am struggling. I need to learn from the beginning." He often needs Amira to rehash lessons for him at night.
When he and his wife started attending classes, their classmates were mostly Hispanic. Now, half of the class is from Syria and Egypt. He's grateful that the Arabic speakers help each other out.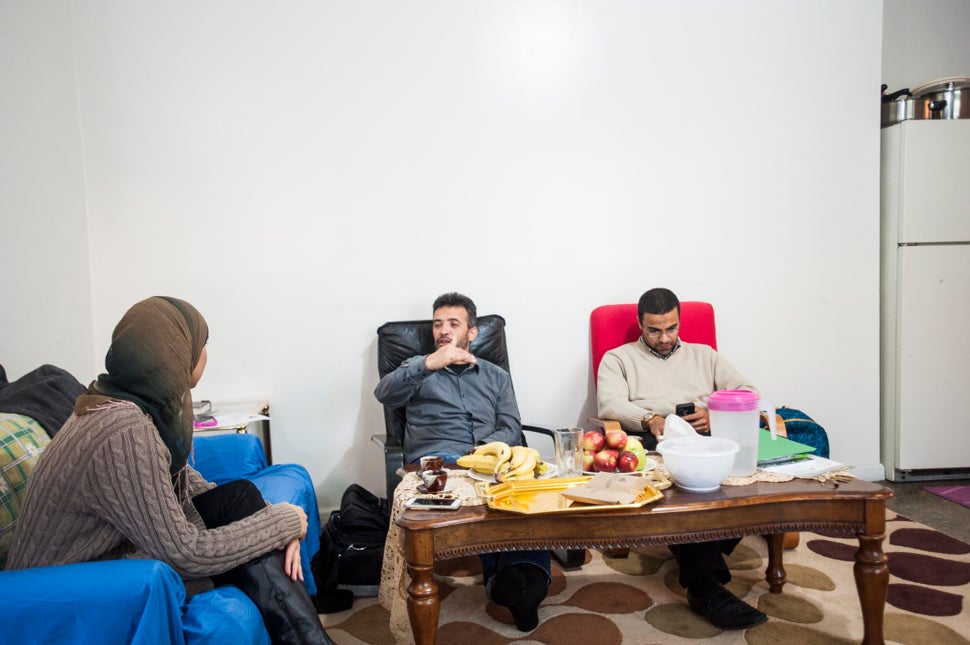 Mahmoud Mahmoud, Jersey City Director of the Church World Service, is the point person for all resettlement-related issues that the Darbis have faced. Right now, he said that his primary focus is finding Mohamed a job.
"I try to teach myself often and study. Amira has some experience with teaching, but I am struggling. I need to learn from the beginning."

Mohamed Darbi
Mohamed's language difficulties have aggravated his job search. He was first offered a dishwashing job, which he turned down, holding out for something more in line with what he did back home in Syria, where he was a carpenter.
Mahmoud found Mohamed a carpentry job, but he was let go after a few days on the job. The owner of the construction company stated "translation issues" as the reason, according to Mahmoud. CWS is continuing to look into other options.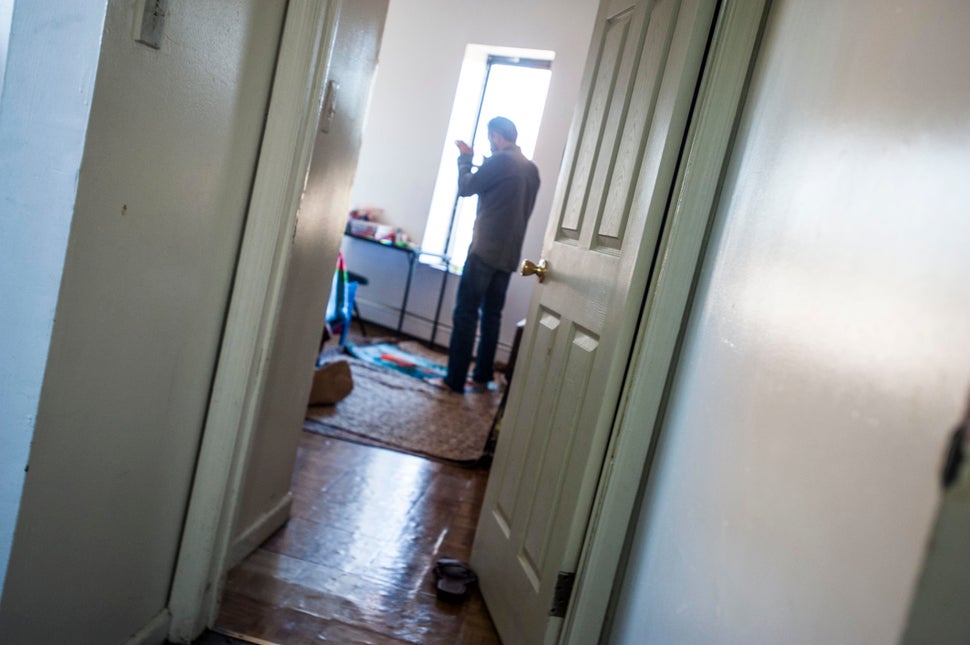 Mohamed's familial burdens continue to cause him stress. His mother, who lives in Jordan, wants to join her son in the U.S. She said life is growing more difficult for Syrians in Jordan amid increasing discrimination.
Mohamed is not alone in his worries. Mark Hetfield, president and CEO of HIAS, a U.S. refugee resettlement agency, said it is common for refugees, once they have settled in their new country, to worry about whom they left behind. "They are so worried about their brothers and sisters and parents," he said, noting Syrians are primarily concerned with bringing their family to the United States.
Amira appeared totally in her element in contrast to her husband. She gave two visiting reporters three-cheek kisses before she rushed to get coffee and food on the table for everyone. Her swift movements commanded a sense of order, despite the evident cacophony caused by a large family living in close quarters.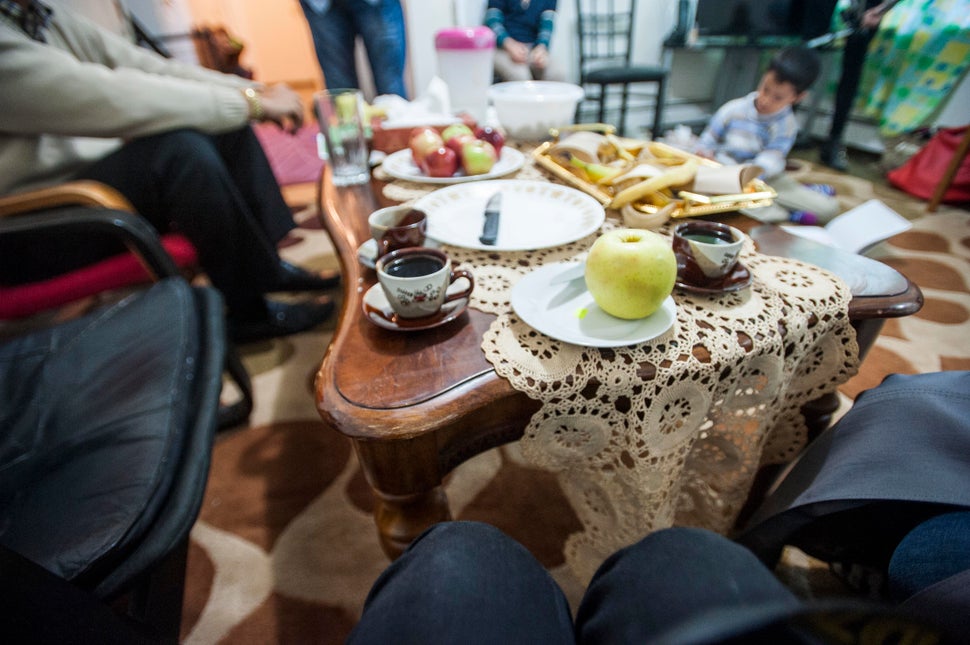 The Darbis' apartment pulsed with life; Amira had totally rearranged their living room since the reporters' last visit. The couch and chairs were now on the opposite side of the room, making space for a TV stand in the corner by the window that PBS cartoons blared from. She also added a large coffee table and a few rugs. The fridge had been moved into an unused space near the entryway.
Two towers -- one of bananas, one of apples -- were carefully arranged on the coffee table alongside a plastic bowl full of dates and a pitcher of water.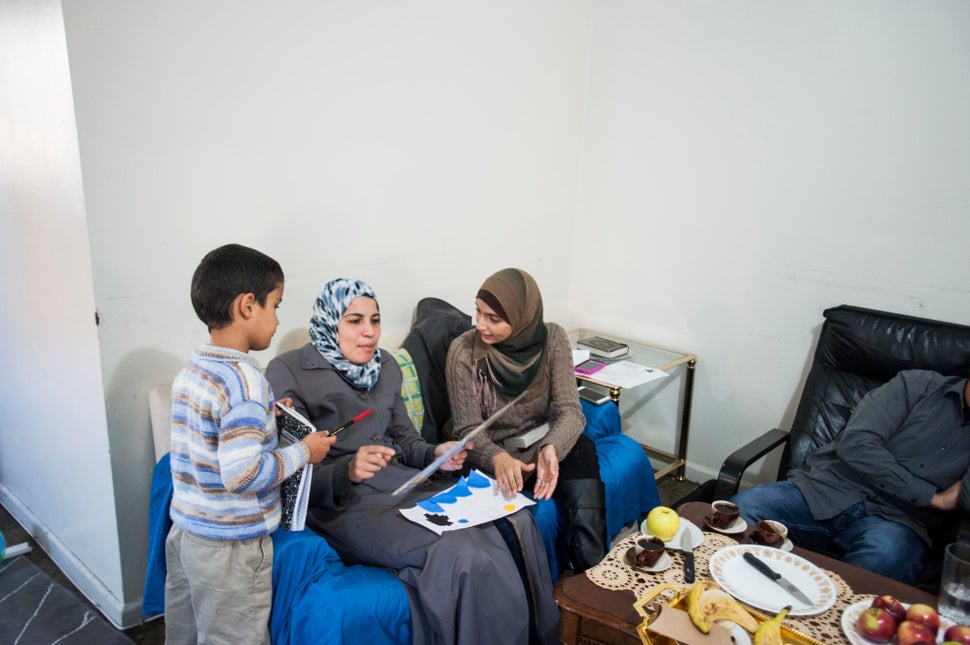 Unlike her husband, she is making progress in ESL class, perhaps thanks to her years spent in an academic environment back in Syria. They're currently working on grammar and vocabulary in class, with a little bit of extra time carved out for learning to use the computer. 
"The teacher will write words on the board and we will use our dictionary to translate the words and make them sentences," Amira explained proudly. She said that she normally just uses an online translation tool on her phone, even though one of Nabiha's teachers gave them a translation dictionary as a gift.
Amira is beginning to understand other people's conversations in English, but only when they speak slowly. 
Amira 's also making friends. She was introduced to Lina, another Syrian woman who lives in a nearby town and whom Amira had invited over to eat, drink soda and chat. The girls scrolled through pictures of their mother's first real friend in the U.S. on their smartphone.
It's perhaps not surprising that Amira's transition has been more successful. Yale University Middle Eastern Studies lecturer Adel Allouche said that in a traditional Middle Eastern or North African family, the wife, even if she holds a job outside the family, is the one who has to deal with everything domestic, from raising the kids, to cooking and cleaning, "while the husband socializes outside the house (spending plenty of time in coffee houses, being with friends playing card games, dominoes, etc…). I can see why the husbands [may] feel more uprooted than the wives because their lose their real second half: their buddies!"
The Darbi children have created a safe space for themselves in their new home, a space where they can bridge new customs with old on their own terms. As during the first visit, they ran in and out of the apartment's two bedrooms, their father pleading with them to settle down.
Nabiha and Hajar are slowly settling into their middle school lifestyles. Dressed in their school uniforms -- navy and maroon polo shirts and khakis -- in many ways, they could have passed for any other American middle school-aged girls. Nabiha's fingernails were painted blue and pink and a faux Chanel necklace hung around her neck. Hajar's wild hair was braided and fastened with a pink ribbon covered in monkeys, and pearl earrings hung on her ear lobes. Clothing filled their shared closet, in front of which rested two blue and pink backpacks.
Hajar is picking up English quickly and without too much of a foreign accent. Zipping open her backpack, she pulled out the next day's homework -- reading practice. She brought the sheet back into the living room and rapid-fire read off the words -- "say, lay, hay, saw, know."
The girls were also placed into Spanish classes at school. They almost laughed when asked if it's difficult. Difficult doesn't even begin to cover it.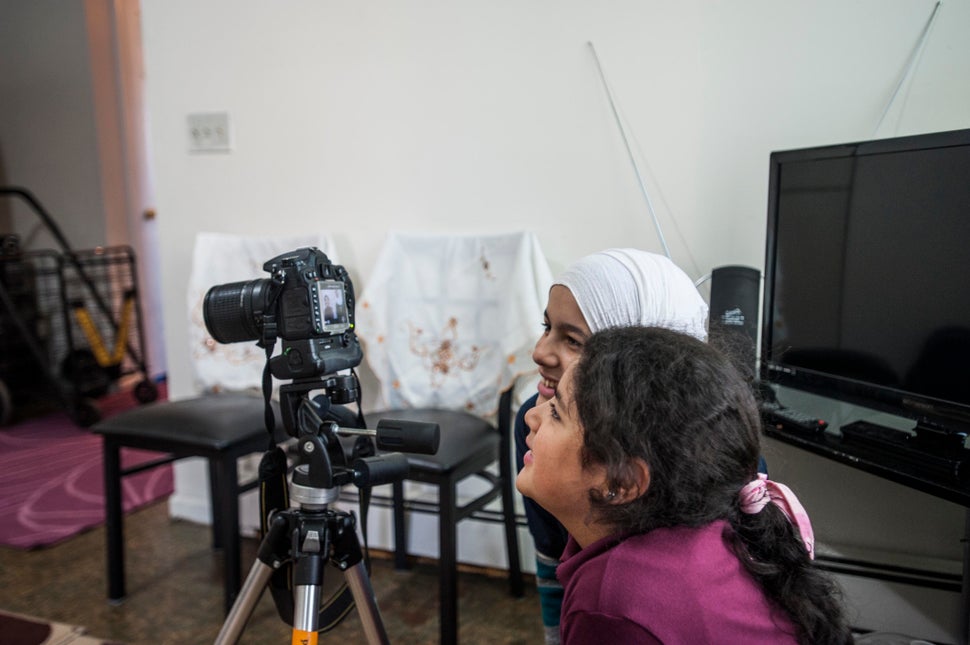 They still can't quite comprehend what winter has in store. A chill moved through the apartment as the autumn sun began to set outside. Nabiha has started shaking from the cold until her teeth chatter and her lips turn blue, her mother said.
"When will it start to snow?" asked Hajar excitedly.
And despite dipping temperatures, Shaker is still not ready to take the bus to school. "The bus colors aren't pretty," he said. His parents still walk him there and back.
Shaker has devised ways to use his new English vocabulary to tease his parents. "The words he knows in English [like yes and no], he refuses to say them in Arabic," Amira said.
Another term Shaker has learned in English is "hit me."
"One time, Shaker came up to me and asked me to slap his hand," Nabiha said. "I said why? He said just do it, so I did. Then he ran to Mom and said in English 'hit me, hit me!'"
Amira admitted that she taught him the term in case anyone tried to bully him at school the way he was bullied in Jordan. That way he'd have the language to tell a teacher that another child had hit him. 
Mohamed said: "Give it three years, Shaker won't remember any Arabic."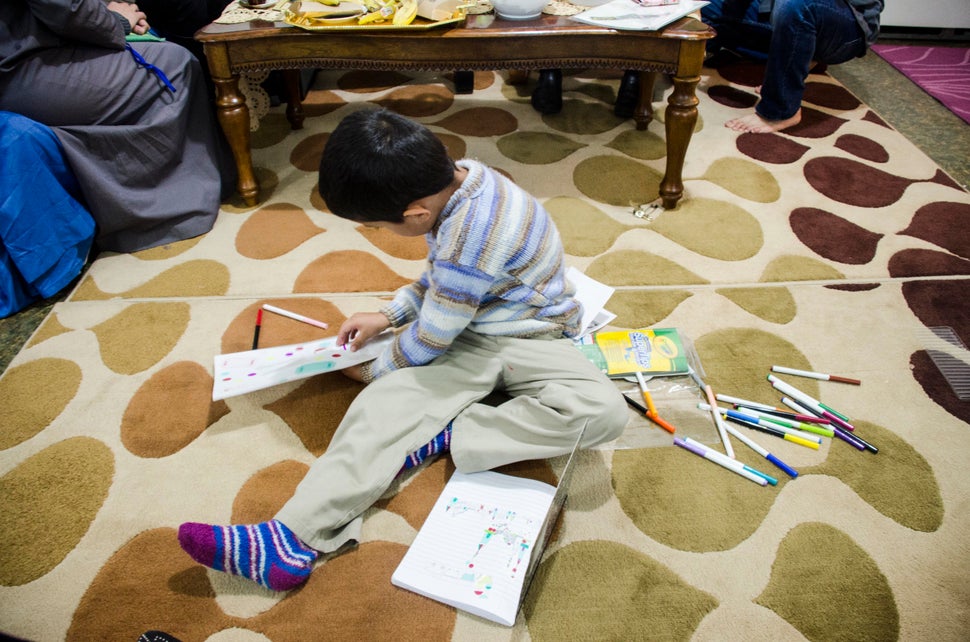 Halloween was around the corner. Amira had never heard of the holiday, and Mohamed grew confused by the notion of people knocking on doors and expecting candy.
"They are probably thinking now, what are these crazy people and this crazy holiday?!" he said.
Nabiha explained to her father that they'd heard of the holiday before in the movies and that their classrooms are decorated for the occasion. 
Mahmoud told them that Jersey City is infamous for its "Mischief Night," an occasion for people to egg and throw toilet paper at homes.
Mohamed's eyes bugged out. "But what is this deal about throwing eggs and toilet paper?"
Amira decided they would all stay home and keep the door closed. 
Stay tuned as The Huffington Post spends more time with the Darbi family come the colder months.
REAL LIFE. REAL NEWS. REAL VOICES.
Help us tell more of the stories that matter from voices that too often remain unheard.