Abtin Masseratagah is Founder and CEO of Northrn Mo. a Toronto-based digital media and social media advertising company collectively reaching out to create millions of impressions per day for campaigns of all sizes. The company was created and founded by Abtin eight years ago in 2009 when the world of social media was sprouting and those around it were beginning to realize its true potential. The company continues to grow team-wise as well and influence wise, with now 9,000,000 twitter followers and 400,000 Instagram followers.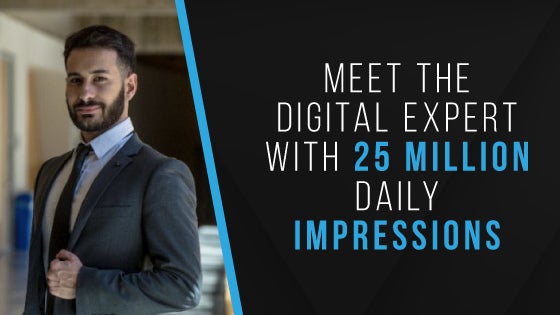 What's your story?
It all began with the day my grandmother got me a MacBook Pro. I was just 11 years old at the time and decided to start posting technology tutorial videos on YouTube, my account was growing and I was making a small amount of money through the website.
I expanded as far as 10M followers across these networks with specialities across different niches allowing me to create viral campaigns that work within any category in the industry. I've just graduated from York University with a Bachelor of Science with Honors in Kinesiology.
It's my ultimate goal to continue to create larger, stronger viral campaigns while teaching everything I've learned and will continue to learn. Digital marketing is the new world order of marketing that doesn't appear to yet have a major presence in our educational systems.
Where did the idea for Northrn Mo. come from?
At first I was simply an influencer working for paid posts as they were brought to me. Slowly, after working within the industry for a few months, I began to give feedback to campaigns designs that were brought to me. The design alternations that I would suggest would be run alongside my clients original opinions through cross testing, and would often outperform the original techniques created.
As the years went by, my clients slowly began to allow me to create the campaigns myself. By personally being within the industry, I am able to deliver upwards of 4,000,000 to 7,000,000 impressions per day, before needing to reach out to other influencers.
Some clients I've worked with, such as Ivory Ella and Republic Records required a larger reach. At this point, I decided it was time to expand into a full force agency. I am reaching out to many influencers to create campaigns that deliver as much as 25,000,000 impressions per day on a regular basis now,. This was the turning point where Northrn Mo. evolved into what it is now.
What was the first step you took after you had the idea?
Connections with the relationships of influencers that I work and interact with on a regular basis to introduce my idea was the first step. They were delighted by the invitation to work together on a product as many of them have known for years at this point. Many of them have developed a good relationship with me as we've worked on smaller projects together in the past.
Following these steps, The influencers have been able to make over $100,000 in revenue in the past year and as the growth continues. Projects with clients are only getting larger with time as most of the clients have been with us for years. As their brands continue to grow, their budgets continue to grow, and the desire to go more viral than ever continues to grow.
What's the biggest mistake you've made and what did you learn from it?
I had one account of 300,000 followers hacked and taken from me and it blew me away and changed everything. It was my only source of income at the time and turned my world upside down.
What I learned was NEVER LEAVE ALL YOUR EGGS IN ONE BASKET. Build more streams of revenue so that when one of them is fully depleted, taken from you, paused, etc., you'll have the others to support you and your craft as you continue to build your dream. After that account was taken from me, I picked up a job at the Tommy Hilfiger at a mall near my home and worked overtime for a whole month to save up and reinvest into what I have built now. Now I've created over 4 different streams of revenue for my business as well as 3 on the way as I plan for the future to expand into other industries.
Tell me about an accomplishment that shaped your career?
I was 14 the first time I ever made any type of money online. The entire time I was doing it because it was genuinely a hobby I enjoyed. I loved to make people laugh through my social presence. I learned something important several months later. Relationships matter more than money.
When someone becomes my client, I'm not there to collect my check once a week. I'm there to guide them in any way I can with everything I've learned. One aspect of my business which differs from most agencies is how the client knows exactly where every dollar is spent, how much the company is taking, how much each influencer is getting paid, and the numbers they can expect as a result.
A redefining moment in many entrepreneurs careers is when they begin to understand how important your relationships are. The people you surround yourself with are the people you will become to be more like.
What is the best advice you've ever received?
The best advice I've ever received was to take my mistakes and past with a grain of salt. Stop dwelling on what has gone wrong in the past and work towards my future. You are only human and mistakes will come. What matters is what you do with the mistakes and the lessons that you've learned. No matter how big or small the mistake is, use it to motivate you and look to the future instead.
REAL LIFE. REAL NEWS. REAL VOICES.
Help us tell more of the stories that matter from voices that too often remain unheard.
This post was published on the now-closed HuffPost Contributor platform. Contributors control their own work and posted freely to our site. If you need to flag this entry as abusive,
send us an email
.