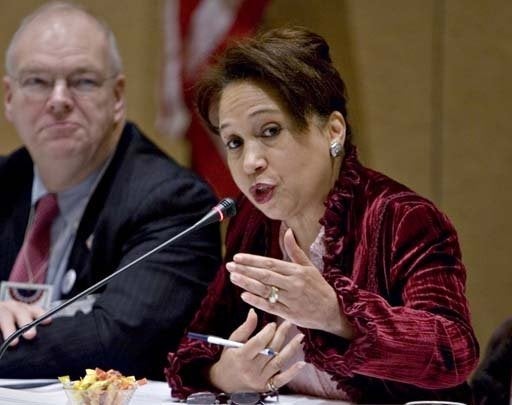 With Hillary Clinton running out of options in the fight for the Democratic presidential nomination, one of her remaining hopes for beating Barack Obama rests with seating the delegations from Michigan and Florida. On May 31, the DNC's Rules and Bylaws Committee will hear challenges to their decision to strip the two states' delegations of their votes. But who are the 30 members of the Rules Committee who will decide what happens to Florida and Michigan? The Democratic Convention Watch Blog has broken down the roster by which candidate they support. Do you know about the members of the committee? Drop HuffPost a line at HuffPolitics@huffingtonpost.com.
Rules and Bylaws Committee Members
Co-Chairs - no endorsement
Alexis Herman (co-chair, Washington , D.C. )
James Roosevelt, Jr. (co-chair, Massachusetts )
Members - Clinton supporters (13)
Hartina Flournay (DC)
Donald Fowler (SC)
Harold Ickes, Jr. (DC)
Alice Huffman (CA)
Ben Johnson (DC)
Elaine Kamarck (MA)
Eric Kleinfeld (DC)
Mona Pasquil (CA)
Mame Reiley (VA)
Garry Shay (CA)
Elizabeth Smith (DC)
Michael Steed (MD)
Jaime Gonzalez, Jr. (TX)
Members - Obama supporters (8)
Martha Fuller Clark (NH)
Carol Khare Fowler (SC)
Janice Griffin (MD)
Thomas Hynes (IL)
Allan Katz (FL)
Sharon Stroschein (SD)
Sarah Swisher (IA)
Everett Ward (NC)
Members - no known endorsement (7)
Donna Brazille (DC)
Mark Brewer (MI)
Ralph Dawson (NY)
Yvonne Gates ( NV)
Alice Germond (DC) - DNC Secretary
David McDonald (WA)
Jerome Wiley Segovia (VA)
More On The Uncommitted RBC Members
Donna Brazile - Washington DC
Campaign Manager, Gore/Lieberman 2000
Chair, DNC Voting Rights Institute
Founder, Brazile and Associates
Adjunct Professor, Georgetown University
Contributor, CNN
Founder and Managing Director of Brazile and Associates, LLC. Brazile, Chair of the Democratic National Committee's Voting Rights Institute (VRI) and an Adjunct Professor at Georgetown University, is a senior political strategist and former Campaign Manager for Gore-Lieberman 2000 - the first African American to lead a major presidential campaign.

Prior to joining the Gore campaign, Brazile was Chief of Staff and Press Secretary to Congresswoman Eleanor Holmes Norton of the District of Columbia where she helped guide the District's budget and local legislation on Capitol Hill.

Brazile is a weekly contributor and political commentator on CNN's Inside Politics and American Morning. In addition, she is a columnist for Roll Call Newspaper and a contributing writer for Ms. Magazine.

A veteran of numerous national and statewide campaigns, Brazile has worked on several presidential campaigns for Democratic candidates, including Carter-Mondale in 1976 and 1980, Rev. Jesse Jackson's first historic bid for the presidency in 1984, Mondale-Ferraro in 1984, U.S. Representative Dick Gephardt in 1988, Dukakis-Bentsen in 1988, and Clinton-Gore in 1992 and 1996.
Mark Brewer - Michigan
Chairman, Michigan State Democratic Party
President Association of State Democratic Chairs
From the Michigan Democratic Party website:
Mark Brewer is the longest serving Michigan Democratic Chair since the 1950's and is the senior Democratic state party chair in the country.

Active in the Michigan Democratic Party for 30 years, Mark Brewer has an extensive record of successful grassroots activity. A 1973 graduate of Mount Clemens High School, Brewer obtained his A.B. with Honors from Harvard College in 1977 and his law degree from Stanford University Law School in 1981 where he served on the law review. After working for two years for federal and state courts, he joined Sachs, Waldman, O'Hare, Helveston, Hodges and Barnes, PC in 1983, becoming a shareholder in 1989. He resigned from the firm upon becoming Chair of the Michigan Democratic Party.
Ralph Dawson - New York
Partner at Fulbright & Jaworski
You may not know Ralph Dawson. But he could be a pivotal player in the Democratic presidential primary. He's an uncommitted superdelegate from New York--which is rare, since this is Hillary Clinton's home state.

Dawson, a partner at the law firm, Fulbright & Jaworski L.L.P., is also the Democratic National Committee member who introduced the resolution to strip Florida of its delegates for holding its presidential primary ahead of the February 5 date recommended by the D.N.C.

Dawson said for him, it's not a question of choosing a president he prefers--he likes them both--but rather, seeing which one is more electable in November.
Yvonne Atkinson Gates - Nevada
Former Clark County Commissioner
Former Chairwoman of the DNC Black Caucus
"I am uncommitted because as a member of the rules committee I must remain neutral until after the decisions are made about Florida and Michigan. I don't want anyone to question my decision."
Alice Germond - Washington DC
Secretary of the DNC
Political Director of Clinton/Gore 1992 Campaign
Former officer of the California State Democratic Party
Worked on the Gary Hart and Michael Dukakis Campaigns
Alice Travis Germond was elected Secretary of the DNC in 2002. The Office of the Secretary oversees Democratic National Committee Meetings, communications with democratic activists throughout the nation, and the day to day business of the National Party membership. The Secretary calls the roll at the Democratic National Convention for the nomination of the President and Vice President as well as certifies all delegates and all vote counts.

Alice has served the Democratic Party for over 40 years. She was an officer of the California State Democratic Party, political director for California Clinton/Gore in 1992, and held senior positions in the presidential campaigns of Gary Hart and Michael Dukakis, as well as in campaigns for many state and local races. Alice came to the DNC Headquarters in Washington in 1989 with Chairman Ron Brown where she coordinated his party programs and served as his liaison to the 1992 Convention. From 1992-1995, Alice was the Director of Party and Government Affairs and Site Selection. Alice was first elected to the DNC in 1980 and has served in a number of capacities including on the Rules and the Executive Committees. She has participated in every National Convention since the 1974 mid-term Charter Convention and served as a Co-Chair of the 1984 Convention Rules Committee and as a member of the 2000 Platform Committee.
David T. McDonald - Washington
Partner with K&L Gates in Seattle
Managed Gov. Christine Gregoire's post-election day defense of her victory.
"If you're running behind, you need to shuffle the deck a bit," David McDonald said Wednesday of Hillary Clinton's strategy to seat delegates from Michigan and Florida.

"Michigan could and probably will decide to hold a process that complies with DNC rules and elect a slate of delegates that could potentially sit at the convention," he told a University of Washington journalism class. "The rules committee would have a hard time saying no if they wanted to go forward with that."

McDonald is not just a Washington state superdelegate; he is also a member of the DNC Rules and Bylaws Committee. He was the first speaker to cross-examine Florida before stripping the state of its delegates and the person who motioned to strip Michigan of its delegates. McDonald is one of 30 people on the rules committee who could decide whether or not to seat the Michigan and Florida delegates.
McDonald said he wouldn't respond well if Clinton wanted to seat delegates based on the contests that already took place in the two states.

"If she makes the motion to allocate 'beauty contest' delegates, she will not get support from me," he said. "If she gives [the states] a chance to comply with rules, I will consider it, but they were given 30 days to comply already."
Jerome Wiley-Segovia -- Virginia
Founder, Latinos for Dean
Founder, Casa Blanca
Today, Wiley Segovia says he sometimes finds it hard to believe that he sits on the DNC's Rules Committee with powerful party insiders like Hillary Clinton strategist Harold Ickes and commentator and former campaign manager Donna Brazile. (He firmly stands by his Committee's decision to strip Florida and Michigan of their delegates for moving their primaries up because he believes it shows respect for the historic inclusion of two more diverse states, Nevada and South Carolina, early in the process).
His philosophy toward voting as a super-delegate--like many of his peers--emphasizes representing a constituency. However, unlike many super delegates, this constituency is not his state, Virginia. Although he resides in Arlington, he points out that as a delegate at-large, he does not represent a state but rather the DNC, particularly the Latino voters that he has dedicated himself to organizing and representing.

Says Wiley Segovia: "If I was chosen by Virginia, I would have a much greater sense of responsibility to Virginia, I would be almost compelled to vote the same way, [but] because Governor Dean appointed me, my responsibility is to the whole party, my responsibility more than anything is to the Latino constituency, so if I feel that one candidate is better, than that's who I want to vote for."

Currently, he does not want to endorse a candidate because his occupation as political director of Casa Blanca requires him to be neutral. "I think both candidates individually are strong leaders, and either one of them could be good presidents."

As for their strengths and weaknesses, "I think Obama could probably bring more voters, so it would ensure that our party would win, but I think the staff on the Clinton side has been more competent. [The] Clinton staff has been more thorough. "

Popular in the Community