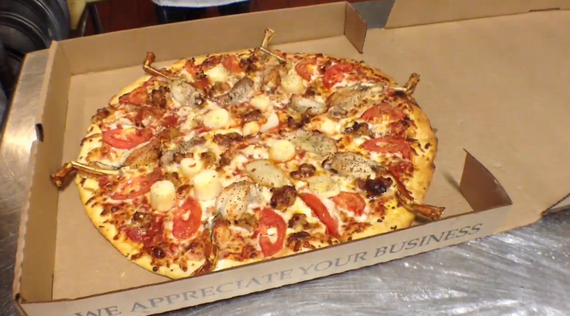 There's never been a food more ripe for experimentation than the great American pizza, especially if you happen to be a Ninja Turtle (butterscotch, onions and anchovies, anyone?), but now a Florida pizza joint is offering one of the weirdest toppings ever -- pythons.
In case you haven't been keeping track, Florida is currently being invaded by pythons, snakes so big that they're actually battling alligators for food chain dominance. Plenty of contingency plans have been debated, but for Evan's Neighborhood Pizza in Fort Myers, the answer to the problem is simple: Just eat them.
Evan's has created a pizza they call "The Everglades," a pie topped with fresh python meat. As if that wasn't enough, the special toppings don't just stop at snake, but include other swamp critters like frogs and alligator. But how popular could a pizza like this really be?
"We're selling them left and right," said the joint's titular Evan Daniell. "It's a happy accident; it's about being creative."
Next on Evan's list of weird pizza creations? "Roadkill" pizza with raccoon, armadillo and possum. In the meantime, those looking to sample "The Everglades" creation can expect to shell out $45 for the opportunity (python meat costs around $66 a pound).
REAL LIFE. REAL NEWS. REAL VOICES.
Help us tell more of the stories that matter from voices that too often remain unheard.