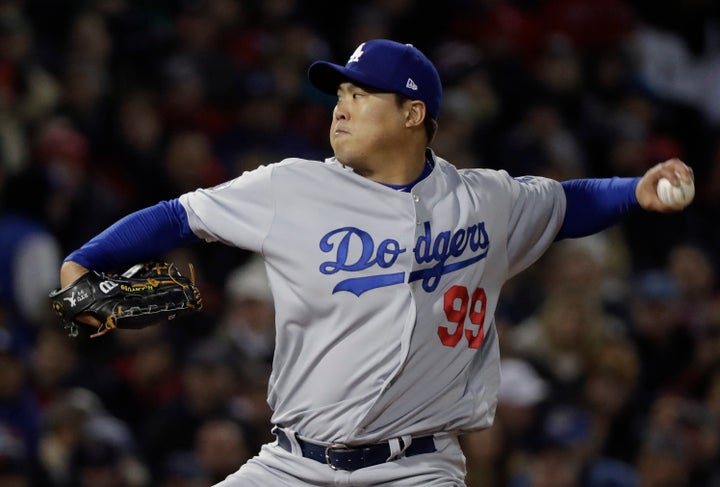 In the second game of the series, Ryu appeared as the starting pitcher for the Dodgers, making him the first Korean player to do so in the Fall Classic.
The Dodgers lost that game, but for the Korean community both in the U.S. and abroad, Ryu's start was already a win.
"Count us as Korea-based Dodgers fans. We admire Ryu and hope he can enjoy the World Series, rather than feeling pressure to prove something," Korea Times columnist and baseball fan Kang Hyun-kyung wrote. "I think he has nothing to prove. As a Korean Major Leaguer, he has already achieved a lot."
While Korean pitchers Kim Byung-hyun and Chan Ho Park have both played in the World Series, neither started in the games.
Prior to the World Series, the 31-year-old Ryu ― affectionately known as "Ryu-ttung," which translates to Ryu the cute-fat ― had only seen the Red Sox's home field, Fenway Park, on a television screen.
"My initial reaction to the Green Monster is, it's very tall," he told The Boston Globe, referring to the stadium's iconic left-field wall.
The road to the series has been a long one for the pitcher. Ryu, who pitches left but bats right, made his Major League Baseball debut with the Dodgers back in 2013, against the San Francisco Giants. Over the years, he had several arm injuries, leading some to believe he'd never pitch again. From 2015 to 2016, Ryu made just one appearance, but only a year later made a fiery comeback.
This past season, the pitcher had another injury, a left groin strain, which kept him off the field for about three months.
Outside of his baseball skills, Ryu is just a lovable dude. The 31-year-old, who rose through the ranks alongside Dodgers' right fielder Yasiel Puig, has a serious bromance with his teammate. Some have even joke the pair are a live-action buddy comedy. The friendship is even sweeter given that neither of them speaks English as their first language.
When Ryu isn't playing baseball, he shoots pretty dope commercials. Like this ramen one that's giving us #slurpgoalz.
And this bank commercial in which he plays a baker, for some reason.
And this credit card ad in which he raps because he's so money.
Ryu's love life looks pretty perfect as well. The pitcher, who married TV announcer Bae Ji Hyun, released his baseball-themed engagement photos just ahead of his wedding last December and they are just *adorable*.
Regardless of which team you're rooting for, pretty much anyone can agree that Ryu is a champion at heart.
Popular in the Community