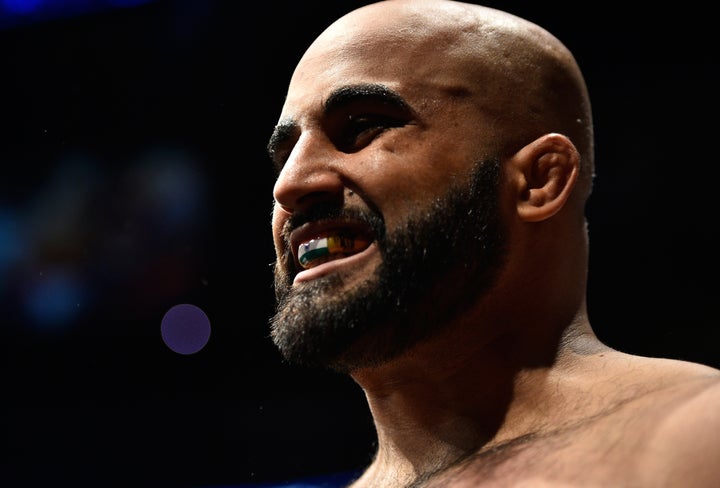 Arjan Singh Bhullar, the first Sikh fighter signed by the American mixed martial arts organization Ultimate Fighting Championship, will have another historic milestone to celebrate this week. 
The 31-year-old will square off against Adam Wieczorek on Saturday in Glendale, Arizona, and wear a turban ― a Sikh article of faith ― as he makes his way to the ring. He'll be the first UFC fighter to do so.
Gurwin Singh Ahuja, executive director of the National Sikh Campaign, told HuffPost he hopes Bhullar and his turban, also known as a dastaar, will raise awareness about the Sikh community. 
"A majority of Americans do not even know who Sikhs are!" Ahuja told HuffPost. "I think Bhullar's appearance will help introduce the broader public to the Sikh community, and I think his career will inform people that Sikhs are fighters and that we fight for equality."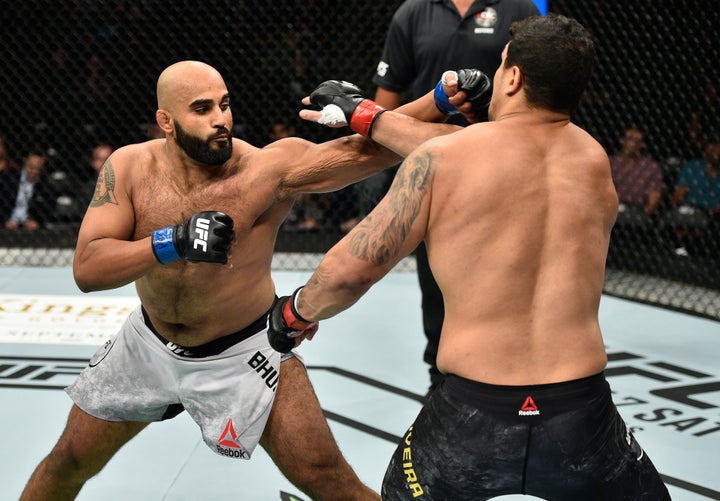 Bhullar's upcoming fight is particularly significant as it lands on Vaisahki, a festival that observes the founding of the body of fully initiated Sikhs known as the Khalsa.
Bhullar, who in his UFC debut last September also became the group's first fighter of Indian descent, hasn't always been able to showcase his pride in his heritage. He had planned to wear his turban to his initial match, but UFC policies barred that.
A UFC spokesman told HuffPost that Bhullar did not follow the group's "approval process for a change in apparel. Once UFC was given more time to vet the request, approval was granted. Going forward, he will be allowed to walk to the octagon [ring] with a turban."
Bhullar told ESPN UK that the September incident "was disappointing and upsetting and frustrating." He said that UFC officials needed "some educating and getting them on the same page, but I think we've done that."
Bhullar, who has a 7-0 record in his bouts, has said that his identity as an Indian-Canadian Sikh is central to who he is.
His grandfather arrived in Canada from India in 1959 and faced racism because of his beard and turban, the fighter told the video show MMA Hour. Bhullar's father took up wrestling as a way to protect himself at a time when the turban was not accepted, Vice Sports reported, and also used the sport as a way to connect with his peers.
Bhullar himself represented Canada in wrestling at the 2012 Summer Games in London, before turning to the sport of mixed martial arts. 
Considering his family's past and legacy, he said he has a duty to honor those before him. 
"I always try to represent, to be more than just an athlete, more than just your sport, I consider it selfish to be going in there and just fighting… So many people in my community have sacrificed for me to be in the position I'm at," Bhullar told Global News. 
More than 60 percent of Americans knew nothing about Sikh Americans, a 2015 study revealed. The survey also found that when seeing someone wearing a turban, Americans were more likely to assume the individual was Muslim or Middle Eastern rather than Sikh. And according to the poll, more than half of Sikh children faced bullying in schools, with rates even more drastic for those wearing turbans. 
"It is frankly commonly associated with terrorism and religious extremism," Ahuja said of the turban. 
Sikhs, though, wear it as a show of commitment to values that include service, compassion, and honesty. Ahuja said that with more visibility and representation, perhaps people will "correctly associate that the person who wears a turban will fight for equality and the rights of all people."
"We want UFC fans to know that ... for hundreds of years, Sikhs have fought, and many have given their lives, to protect the rights of others—including Hindus, Christians, and Muslims—to practice their own religions," he said. "Ultimately, our turban represents our commitment to fight for those values."
This story has been updated with a statement from UFC. 
REAL LIFE. REAL NEWS. REAL VOICES.
Help us tell more of the stories that matter from voices that too often remain unheard.