"Our guiding principle for choosing repertoire has always been pretty simple," said Asbjørn Nørgaard, viola player for Danish String Quartet. "We only perform music we like."

"This sounds obvious," he continued, "but sometimes as a classical music student you find yourself playing music that might be part of the canon but that you are not actually enjoying. At the end of the day, the only thing that matters to us is that we like the music we are performing."

To listeners, that enjoyment is palpable. Whether they are interpreting late Beethoven or a contemporary Scandinavian composer, or playing traditional Nordic folk music, Danish String Quartet has mesmerized audiences worldwide with its flawless intonation, infectious energy, and masterly poise. They play at New England Conservatory's Jordan Hall in Boston on January 28th at 8pm as part of the Celebrity Series of Boston.

The group's performances and recordings display a distinctive joy in music making, which has resulted in part from long-standing friendships. Now in their 30s, three members of the quartet--violist Nørgaard and violinists Frederik Øland and Rune Tonsgaard Sørensen --met when they were in their early teens at summer camp in the Danish countryside for enthusiastic amateur musicians.

"For us, friendship and music making has always been inseparable," Norgaard said. "As a quartet, you have to spend extreme amounts of time together. Many hours in the rehearsal room and traveling, plus all the high-pressure performances. Our friendship has allowed us to enjoy life as a string quartet quite a bit, and we believe that music thrives when musicians are happy, confident, and enjoying each other's company on and off the stage."

Since 2001, the group has performed under the tutelage of Tim Frederiksen, a third generation chamber musician at Copenhagen's Royal Danish Academy of Music.

"Tim gave us a way of working, a way of approaching chamber music that has been the perfect foundation for us to build on," Nørgaard said, going on to explain Frederiksen's remarkable attention to detail: "He will spend three hours on twenty bars of a Haydn quartet. When you go to a lesson with Tim, it feels like you enter a room with a jungle in your hands and leave with a nice Renaissance garden where everything is in balance and order."

In 2008, the three Danish musicians were joined by Norweigan cellist Fredrik Schøyen Sjölin --"We found him hidden away in a castle outside Stockholm," says the group's website--and the current incarnation of Danish String Quartet was born.
When they are putting together new repertoire, Nørgaard says it happens "in bursts of long rehearsal days" in their rehearsal room, a basement enclave at the Royal Danish Academy of Music.
"There is more craftsmanship than artistry in this part of the process, so we are spending lots of time on basics like intonation and pulse. We leave most artistic decisions rather open and are not talking much--normally things start to settle by themselves without us having to verbalize every single thing we are doing. We are drinking lots of coffee, and as all of us are of a rather lazy nature, there is a lot of procrastination going on."

Besides classical, what other music genres do the members of Danish String Quartet enjoy?

"Some of us are obsessed with Wagner operas, all of us are into different kinds of folk music, someone likes straight up pop music, one is a jazz fan, another likes romantic symphonies and Pergolesi, all of us love Beethoven. We get inspiration from all music that we encounter."

Their January 28th performance in Boston will exhibit the group's eclectic inspirations. The evening's program includes a quartet by Russian composer Alfred Schnittke along with three Beethoven pieces. The Schnittke quartet borrows from Beethoven's Grosse fuge and 16th century composer Orlando de Lassus; Nørgaard says it combines Lassus's Catholic faith and Beethoven's anger--"almost shaking his fist to the sky"--with Schnittke "hovering in between, unsure. All the doubt of modern man is in [Schnittke's] music and he is looking back to find some answers."
Performance information:
Saturday, January 28, 8pm | NEC's Jordan Hall | Presented by the Celebrity Series of Boston
Tickets: celebrityseries.org/danish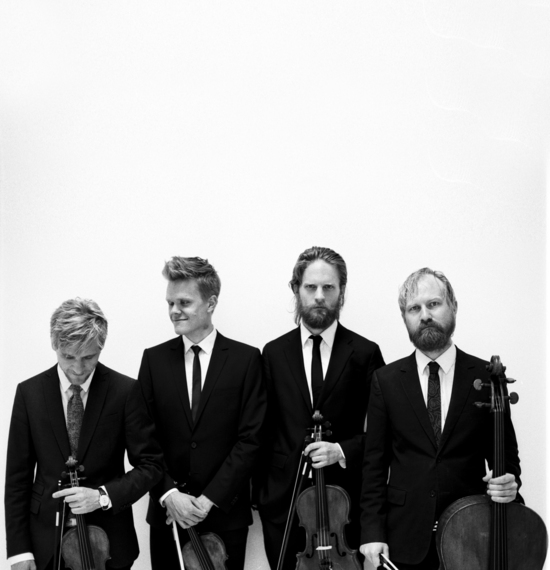 Calling all HuffPost superfans!
Sign up for membership to become a founding member and help shape HuffPost's next chapter